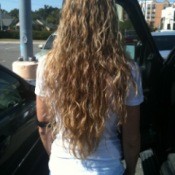 My hair is extremely long, below my waist, and naturally very curly. Due to the length of my hair, it pulls much of my curl out. I've learned many things about dealing with long hair. I didn't realize it until recently.
My brother kept cutting my niece's very long hair, complaining about how knotted it got. Recently, when Lena spent the night, I was putting her in the bath tub and began to brush her hair first. She stopped me and said " Mimi, you're so silly! You don't brush your hair before you wash it. You brush it after!" Without thinking, I responded, " Yes, baby normally that's what people do, but when you have really long hair like you and me, it's easier to brush it first. That way the knots are already out and it combs out easier when it is wet."
Later, I realized that was the problem that my brother had been having. No one brushed the baby's hair first, therefore it only got more knotted after having been washed. I told him as soon as he picked her up and it has helped a lot.
When you brush your hair first, you use less conditioner, because there are fewer knots. It is much easier to comb out because you haven't created more knots while washing it thus compounding the problem. A step in time saves nine, in other words.
I only get my hair trimmed twice a year. I don't have to cut it more often because of these few simple things I do.
I don't brush it actually, I comb it with a wide tooth comb. Brushing your hair puts stress on your hair creating more dead ends. Dead ends cause more tangles.
I very seldom blow dry my hair. Maybe 5 or so times a year. The heat of blowing it dry also causes breakage. This contributes to unhealthy, frizzy hair.
When I wash my hair, it's usually every other day. By doing this, I am not washing out the oils my hair needs to keep it healthy. Dry hair is more brittle and more prone to breakage. Also the more you wash your hair, the more you have to because your scalp is being trained to produce more oil. Another fact many don't know is that lice love clean hair. Washing it daily increases the likelyhood of getting lice and dandruff.
After washing my hair, I squeeze out the excess water, first with my hand, then with a towel. I do not flip my head over and do the oh so familiar turban with the towel. Twisting your hair up in a towel also causes breakage.
I don't use rubber bands in my hair. I use barrettes or scrunchies. The rubber in a band pulls and breaks hair.
This may sound like an awful lot just to keep healthy hair, but I promise I spend less time having to fix my hair and less products to tame it. These few simple things will keep your hair healthy and looking better therefore saving you time in the long run.
I was in cosmetology school years ago before having children, I didn't graduate, but I picked up a thing or two. Whether it's for you or that little girl in your life, healthy hair is more manageable and less time consuming.
By Mistie from Baton Rouge, LA
October 3, 2011
0

found this helpful
I don't use shampoo on my hair anymore and my hair is past my waist. I use Wen by Chaz Dean. Best thing I ever did. Using shampoo is soap, Wen, cleans my hair and leaves it soft and so manageable without soap or cream rinse on it.
I get it from QVC. Just watch one of Chaz's shows and you will never use anything else. Call QVC and find out when he will be on again and he will show you all the girls who use it. I love, love love it. Call QVC at 1 800 367 9444 and then punch 0 for customer service
Linda in Texas
October 3, 2011
0

found this helpful
It is so easy to comb or even brush hair after a shampoo if you just rub a little coconut oil through it. I do it when it is wet. Not enough to make it greasy looking. treat ends first, then the rest. Amazing product. After the coconut oil, comb the ends first then a little more till you reach the scalp.
October 11, 2011
0

found this helpful
Thanks you! I've never heard of using coconut oil. I have heard of Wen. I will say though on a budget Ive been advised to use Tresemme'. I'd heard it in beauty school and have also had several hairdressers tell me it is the best thing to buy if you must go cheap. Ill have to give both of these a try!
October 13, 2011
0

found this helpful
I just got shampoo because I want so bad to use Wen (cant afford it) when I got my hair done, she had shampoo with Tea Tree oil based. I know it's used for many things.This shampoo is great.I would try adding some to Tresemme and get benefits of both (what you are use to with not spending tons of money). I'm doing it when this is gone. It smells wonderful, plus you can use it for cleaning, someone posted they use it on acne. For cents on the dollar instead of Wen which is very pricey. Coconut oil I use in so many other ways I would think it would make hair really oily? Let me know.
August 6, 2012
0

found this helpful
I had waist/hip length hair for many many years (didn't everyone growing up in the 60-70's? With child # 2 coming I decided hair or children? The cut came. BUT I had the healthiest hair all those years, still do.
My stylist trimmed my hair every month. Same amount. My hair grows 1-2 inches in 6 weeks. But the deal with anyone who touches my hair is it must be done with a razor. We are talking old strap razor that used to be a speciality class in cosmotology classes but now a mainstay (at local college they are 15 months long). Never a split end or challenged do. And mine so so very naturally curly. Find a good brush and the old adage 100 strokes a day helps keep tangles gone as well as your hair oil well distributed.
I won't have a hair dryer or hot hair tool in the house. Scrunchies were the normal tie backs or just wrap strips of fabric is many fashion sensed ways.
Now, I wear a shortie do, and my hair has no issues yet.....cuts of 1-2 inches every 6 weeks with the razor, keeps it healthy. I am a swimmer and so it is not unusual to have 3 shampoos a day. Just know your products, protect it from the sun and other harmful chemicals that hair care seem to be full of. If your hair has issues, get your thyroid checked. First clue IS the hair. Take Omega fish oil and Vitamin E, don't wear it on the hair when the hair is dead cells pushed out. Take care of the body inside makes the hair better outside.
October 10, 2012
0

found this helpful
I also have very long hair, originally light brown, turned gray, now i highlight it myself every month. I have a tip for tangles. This works, and I have not had any dryness or split ends in many many many years. After I wash my hair, usually every other day because even the best shampoos can dry out my hair, I use a cream rinse and still sometimes have to deal with tangles, unless I spray apple cider vinegar on the tangle, wait 30 seconds or so, and it literally "dissolves" the tangle. I comb through and its perfect. It may smell like vinegar for a few hours, but not for long.
October 10, 2012
0

found this helpful
I also have very long hair. I have had long hair most of my adult life. I have found a tip for tangles which works extremely well. After washing my hair, I apply conditioner, then rinse etc. Then while combing out my hair, i inevitably still get a big tangle or two.
So, now, I spray the tangle with apple cider vinegar and let it set for about 30 seconds or so, then comb again, and the tangle almost always, just "dissolves". If it doesn't, do it again. I doubt you will need a third time, I haven't. DO NOT use white vinegar! It doesn't work the same!
March 26, 2005
0

found this helpful
Tips for caring for long hair. Post your ideas.
March 26, 2005
0

found this helpful
Don't brush wet hair. Comb with a wide-tooth comb instead.
Only condition the ends of your hair.
By suebowman
March 26, 2005
0

found this helpful
Only put the conditioner on from half way down to the ends of your hair if you have oily long hair. Untangle snarls starting at the ends. suebowman is right. Use a wide tooth comb, preferably heavy duty. Tame conditioner was the best I ever used.
By guest (Guest Post)
August 12, 2005
0

found this helpful
By accident I used my husband's Head and Shoulders and have used it ever since. My hair is in the best condition it's ever been in and it also keeps the summer frizzies away!!!
August 14, 2005
0

found this helpful
Before bed braid your hair so that you won't have many knots to brush out in the morning.
March 1, 2007
0

found this helpful
comb from the bottom up with a wide toothed comb.
By guest (Guest Post)
March 7, 2008
0

found this helpful
Tame "conditioner" is the best I've ever used, too, but I believe it is no longer available. It was also the best detangler and did not weigh down my hair. If I could find out who made it I would write to them. Anyone know?