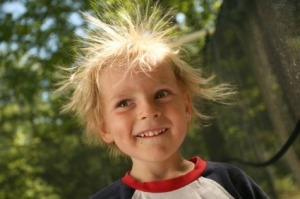 If your hair is staticy or flyaway you are probably seeking a remedy to get it back under control and smooth again. This is a guide about remedies for static hair.
Ad
---
Solutions: Remedies for Static Hair
Read and rate the best solutions below by giving them a "thumbs up".
When your hair is full of static and you can't do anything with it, just rub a dryer sheet on it. My 5 year old is always full of static and her hair is always looking unkempt. The dryer sheet works well. It will also stop static on clothes if you rub it over problem areas.
By coville123 from Brockville, Ontario
When your hair is all staticky and you're in a hurry, grab a dryer sheet and rub it on your hair. It will cure the flyaways and your hair will smell good too.
By Debbie N
My daughter has thin hair that is always full of static. I have found the best way to keep it under control when we are away from home. I keep a small tube of hand lotion in my purse. When her hair starts "fly away", I rub lotion into my hands, then onto her hair. It keep the frizzes down for a while and moistens my hands too!

By Melissa from Arizona
Give a "thumbs up" to the solution that worked the best! Do you have a better solution? Click here to share it!
Questions
Here are questions related to Remedies for Static Hair.
I need advice. My hair has lots of static electricity. I always use a conditioner rinse. What can I do to get rid of the fly away hair in my face?

Donna from Millbury, Oh
Ad
---
---
Most Recent Answer

By a person (Guest Post)02/07/2009
Use lots and lots of hair spray gel and mousse!
I have little flyaways poking up in the middle of my scalp. How do I get rid of them without using hair gels?
By Amy from Kansas City, MO
Ad
---
---
Most Recent Answer

By susan [33]08/12/2010
I use wash out conditioner after I towel dry my hair. I use a pea sized amount and rub it on the ends, this keeps the frizzies from coming after it dries.
How do I use mayonnaise to get rid of static in my hair? And what other remedies do you have for very, very staticy hair?
By nag
---
Most Recent Answer

By Louise B. [6]01/07/2013
I would use a good cream rinse. It does not have to be expensive. I am not a believer in putting food products in my hair.
Archives
Thrifty Fun has been around so long that many of our pages have been reset several times. Archives are older versions of the page and the feedback that was provided then.
I need advice. My hair has lots of static electricity. I always use a conditioner rinse. What can I do to get rid of the fly away hair in my face?

Donna from Millbury, Oh
---
RE: Getting Rid of Static in Hair
Try using a pomade as your final styling step. I've had good results from Pantene's. You might also consider applying a moisture serum before blow-drying. And if you like straight hair, a high-quality flatiron will probably do the trick. (12/05/2007)
By Chretienne
RE: Getting Rid of Static in Hair
Spray Static Guard on your hair brush before you use it, never directly on your hair and beware getting it in your eyes. I have thin, sparse, dry hair in winter and this trick has never failed me. (12/05/2007)
By Jodi
RE: Getting Rid of Static in Hair
Try getting a bottle of "Leave-In Conditioner" and using that a few times a day. (12/07/2007)
By Thrifty ME
RE: Getting Rid of Static in Hair
I have the same problem. If you're in a pinch rub some lotion into your hands then run through your hair. It won't last all day but will do for a while. Also, try using spray on conditioner. You can spray it on your hair without getting a buildup. Make your own conditioner to save money. (12/07/2007)
By Melissa
RE: Getting Rid of Static in Hair
Try a different brand of conditioner. (12/07/2007)
By louel53
RE: Getting Rid of Static in Hair
I use Jonathan's "Dirt". It is a little expensive but a little goes a long way so a jar lasts a long time. AW (12/08/2007)
By
RE: Getting Rid of Static in Hair
Hello, My Mama has the same problem. She's been using drying sheets. She says, it's works for her. Have a good one and good luck. mvb (12/08/2007)
By mvb
RE: Getting Rid of Static in Hair
Paul Mitchell's "Skinny Serum" works great! (12/09/2007)
By Heather
RE: Getting Rid of Static in Hair
I have the static problem, too! Also, don't wear leather. The static in the material could also help pick up static! (01/01/2008)
By
RE: Getting Rid of Static in Hair
I poured a small amount of Downy on a paper towel and slid it lightly down my hair. It really worked!! I have always had a problem with static electricity in my hair, but not today. (12/16/2008)
By M & M's