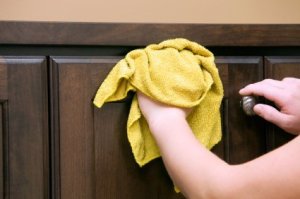 Kitchen cupboards, especially those above the stove, often get a greasy buildup that can be difficult to remove. Commercial degreasers can be expensive and may damage the finish on your wood cabinets. This page contains recipes for homemade kitchen degreaser.
Ad
---
Solutions: Homemade Kitchen Degreaser Recipes
Read and rate the best solutions below by giving them a "thumbs up".
A natural and inexpensive degreaser is to keep white vinegar, water, and perhaps a drop of dish detergent in a spray bottle. This is handy to keep in the kitchen, but can be used in any room.
By Carla from Huntington, WV
Now you finally have something useful you can make with all those annoying little soap slivers. You don't have to throw them out anymore, make an all purpose kitchen cleaner! With a few minutes and virtually no cost, you can have a bottle full of de-greaser ready to go. Re-duce, re-use, go green! :)
Approximate Time: 20 minutes
Yield: 22 ounces
Supplies:
1/4 cup finely chopped soap slivers
1 Tbsp borax
2 3/4 cup water
empty spray bottle
funnel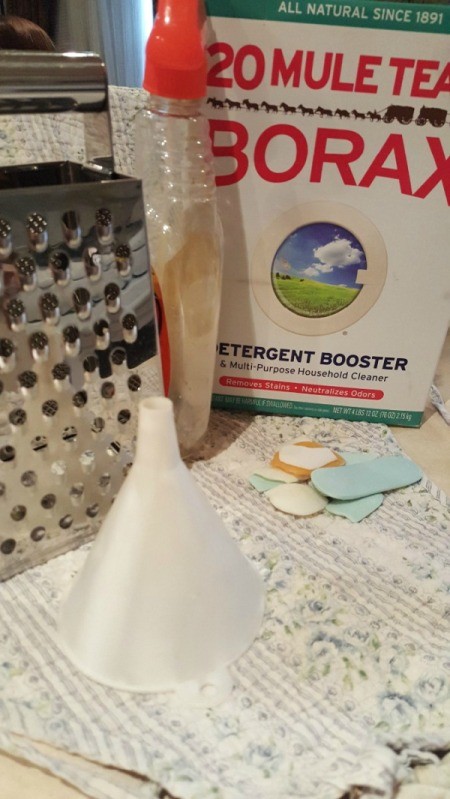 Ad
---
Steps:
As you can see, I opted for intact fingers and chose to chop the soap with a knife. The pieces are just too small. :)
Add 1 cup of water to a pot.
Add your soap.
Stir continuously with a fork or whisk over medium/high heat until soap is dissolved. This should take about 5 minutes. Soap soup, smells really clean!
Add this mixture to your bottle.
Add the borax.
Add remaining 1 3/4 cups water. Replace top and gently tilt back and forth to combine.
Make a new label so you know what it is. :) All set! Great for grimy stoves, oven hoods, microwaves, etc.
Source: Modified from an idea in a book called Make It
Don't buy degreaser. My mother taught me to use Dawn or Palmolive (or a similar dish soap in terms of grease fighting) directly on the stove top or on another area that you want to clean grease off. Just put it on thickly, let it set for about 5 minutes. Then scrub off. It is amazing how well this cleans compared to fantastic or other specially made cleaners.

Cindy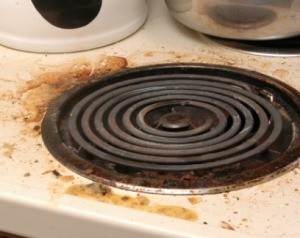 This is a guide about homemade stove degreaser recipes. Cooking usually means that there are grease spatters on your stove.
Give a "thumbs up" to the solution that worked the best! Do you have a better solution? Click here to share it!