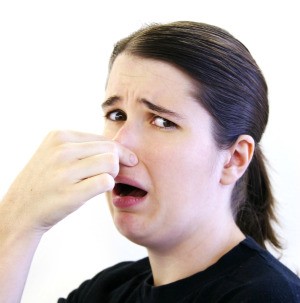 We had a can of crab meat (2lbs)explode in our kitchen cabinet, shooting something akin to wasabe mash potatoes throughout cabinet. The smell is unbelievable!
I was wondering if this is health hazard, and how to remove smell? cleaned as best we could with bleach, but it got into joints of cabinet.
Any ideas?
Thank,
jbm
Answers

June 12, 2004
0

found this helpful
Best Answer
First try and get the the crab out of the nooks and crannies with a tooth brush, dipped in baking soda, I would have suggested white vinegar, but not sure you should mix it with any bleach products. if you have other canned food items in the cabinet, check any paper labels as it might have been caught in the misfire. That could be causing your smell. if the cabinet is empty set a bowl of white vinegar in the cabinet over night. Good Luck!
By Vicki (Guest Post)
June 14, 2004
1

found this helpful
A friend of mine had that kind of thing happen & the only thing that worked was a enzyme cleaner. Since then I have also used it for stains on my carpet & it works very well.
By M.B. (Guest Post)
June 14, 2004
0

found this helpful
White vinegar (clear) and salt helps cut the fish smell
I would then use water and baking soda to rinse it good and air dry.
By Tawnda (Guest Post)
June 15, 2004
0

found this helpful
Also check to make sure you wiped it off of anything else that was in the cabinet.
We live in Alaska and use fish a lot and many times we will suddenly have a rotten fish smell in the kitchen. I have to do a thorough cleaning job with Clorox Clean-up or bleach and usually it is because something that had fish in it, like a baking dish that was sat on the counter next to the sink got fish juice around the edge of the sink or on the countertop in an area that doesn't get wiped on a daily basis, etc.
Or just from opening the package of fish, fish oil or fish juice can spray up on the cabinet, etc. and leave an odor.
You may also want to try lemon juice.
By toby smith (Guest Post)
May 25, 2007
0

found this helpful
help: I need some advice about getting the rotten fish juice out of my car seat as soon as possible. I can hardly stand to drive my car.
thanks
toby from nova scotia
By Terri (Guest Post)
July 16, 2007
0

found this helpful
I am not a happy camper! I just bought the same crab from costco and it exploded in my 40 ft 5th wheel in my friends hand! It was like a shot gun blast and the confinded space almost dropped him. He was deaf for quite a while and threw up at least 20 times. You could not get within 100 ft of our tralier without wanting to hurl. It was all over the ceiling walls cupboards behind the stackable w/d in the stove. This all happen when I was to take pictures to SELL IT.
Well I have a strong stomach, so hair in a towel and garbage bag armor I had to hose down my trailer, at least 10 times, drill holes in the floor so it could drain outside, poured staight bleach and pinesol over the entire kithen etc. I have removed most of the odor but I have done my research and vinilla extract seems to be the best bet, and the smell is nice I am hoping it will soak into the wall boards that swelled a little and I will leave cotton balls in the floor holes. If you want to know if this works drop me a line tturcott @ telus . net
Answer

this Question