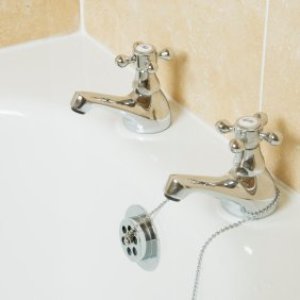 Bathroom fixtures need periodic cleaning to remove the mineral deposits left by hard water. These calcium and magnesium scales can be difficult to remove and can make your tub look dull and chalky. This is a guide about cleaning lime stains from a bathtub.
Ad
---
Questions
Here are questions related to Cleaning Lime Stains from a Bathtub.
How do I clean lime from my bathtub? It's an older house that I just moved into, probably built in the 1950's or so. The bathtub looks as if the last person that lived here never cleaned it! I tried the regular bathtub cleaners and nothing has worked. It seems to be built up from hard water stains and gets worse towards the drain. I'm thinking it's a thick layer of lime. It's so freagin gross! There is also some grout on the sides.

Erica from San Antonio, TX
AnswerWas this interesting? Yes No
Ad
---
---
Most Recent Answer
By gbk [45] 11/05/20110 people found this helpful
Be careful using lime away as it can etch your tub and very careful if it is a new one as the finish is not as tough as the older tubs. Clr is good but I used vinegar and baking soda. Spray the vinegar on then a strong solution of baking soda and water but I applied it with a cloth and let them sit. Had to do a couple of times but it took off the white scale. On the commode I used the vinegar then about l/4 cup of baking soda and let it sit for about 30 minutes and a nylon bath scrubber got it clean. Hope you find your answer.
---
How do you remove accumulated calcium stains or lime stains from a porcelain tub?
Solutions: Cleaning Lime Stains from a Bathtub
Do you have knowledge about this guide topic? Feel free to share a solution!