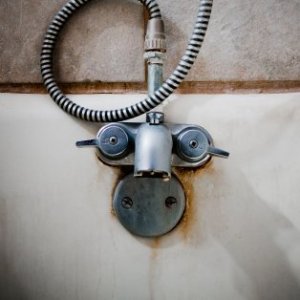 Minerals from well water can leave stains that are tough to remove. Removing them as they occur will help keep them from building up. This is a guide about cleaning well water stains from a bathtub.
Ad
---
Solutions: Cleaning Well Water Stains from a Bathtub
Read and rate the best solutions below by giving them a "thumbs up".
This may be more classified as a warning to those of us with fiberglass tubs, but here goes. Be very careful with the toilet bowl cleaners, CLR, and anything that reads that it could etch your toilet bowl, as you will remove the finish a little at a time. The vinegar and baking soda will take a little time if it is bad when you start, but it won't harm the finish. After you get most of it off, you may use Zud and when all is gone, then use marine polish.
This recommendation came from the repair person who factory fixed my tub after it was put into our new house 16 years ago. My tub is still shiny. All fiberglass tubs and older tubs aren't made the same. You may also want to go to a tub and tile shop and ask what to use to clean your type of tub and then maybe you'd get something different to share with all of us. Happy cleaning.
By gbk from south GA
I tried everything to clean well water rust stains, also. Then I decided to try the dollar store version of the Mr. Clean erasers and the Kaboom Foam-tastic. The erasers will do the job by themselves, but it takes a lot of work. Just spray on the Kaboom and let it sit for about 10 minutes. Then clean with the erasers. Your tub should be rid of the stains. If it's really bad like mine was it may take a few tries. Good luck!
By Diana from Jennings, FL
We have a well and our toilet, bathtub, sink, and washer all get stains. I tried everything and finally I went to a Mercantile Store, they have items that others don't. I asked the owner about the stains and she said she uses The Works, it's in a white bottle. It works great.
Be sure to rinse the bathtub out really good. I have used the green bottle, but it doesn't work for what I need it for.
By Terri from Hawk Point, MO
Give a "thumbs up" to the solution that worked the best! Do you have a better solution? Click here to share it!
Questions
Here are questions related to Cleaning Well Water Stains from a Bathtub.
Where can you buy The Works or Barkeepers Friend? I am looking for something to clean my tub; I have well water.
Darlene
AnswerWas this interesting? Yes No
Ad
---
---
Most Recent Answer
By Betty 104 753 11/10/20110 people found this helpful
I bought The Works at WalMart for a little over a dollar. Also bought some at Dollar Tree. I've tried all kinds of "stuff" and nothing works for me like The Works. Great stuff.
---
We have hard water where I live. My bathtub is white, but for some reason, it is getting grey stains on it. I have tried every product that I can think of, none of them has helped remove the stain. I filled the bathtub and put a full bottle of bleach (4 litres) in the water hoping this would help, and left it overnight. It did nothing. Is there anyone who could please help me. Thanking you in advance.
AnswerWas this interesting? Yes No
Ad
---
---
Most Recent Answer
By Dawn Baldi 5 11/09/20110 people found this helpful
Lysol Toilet Bowl cleaner works great in tubs and showers as long as its not a stone one. Squirt it on and use a flat scrub brush to spread and cover entire surface. If you do not cover entire surface you will have clean streaks. Let sit for 30 minutes and rinse off with warm water. No scrubbing involved at all. I have been cleaning homes for 25 plus years and this secret ingredient works wonders. Owners are amazed and say they haven't seen it that shiny clean in years.
---
I am building a house. My plumber left well water in the bathtub. It has been 6 months now because I am building slowly,due to funds. Will the water stain the bathtub, and will it be difficult to clean?
AnswerWas this interesting? Yes No
---
Most Recent Answer
Archives
Thrifty Fun has been around so long that many of our pages have been reset several times. Archives are older versions of the page and the comments that were provided then.
Please help, I am looking for something to clean my bathtub from our well water stains. I have tried everything I can get my hands on, nothing seems to work. Please help. Tell me I don't have to replace my tub. I have tried CLRand all those products they claim to clean it, "IT don't" Thank you. - Sweets