Solutions: Cleaning Tennis Shoes
Read and rate the best solutions below by giving them a "thumbs up".
I spray the tennis shoes with Shout laundry stain remover and rub off dirt with a rag. Then I take a water dampened rag, wipe shoes off and wipe dry. Next, I polish over the shoes and the laces with white polish. I wipe off any excess with a dry rag and let the polish dry.
By ddc700
When trying to clean white tennis shoes in the washing machine, drop in one plain, regular aspirin tablet along with whatever detergent you wish to use. For some reason, the shoes will come out whiter.
By RJ from Sugarland, TX
Share Your Feedback:
Once you try any of the above solutions, be sure to come back and give a "thumbs up" to the solution that worked the best for you. Do you have a better solution? Click "Share a Solution" above!
Questions
Here are questions related to Cleaning Tennis Shoes.
Cleaning Ryka Shoes
I have a pair of Ryka (ryka-rocker) open-back tennis shoes. They are very light grey/taupe? Does anyone have any idea of how to clean them? I really don't want to wear them out anymore. I'm embarrassed. These shoes were so comfortable from the very start. I cannot afford to buy another pair now. These are not old, just a few months.
By djw from southern IN
Cleaning Leather Athletic Shoes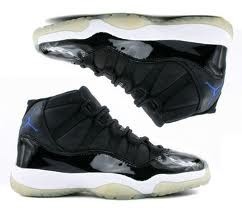 I messed up my SpaceJams, the 11s. They can't seem to get back that pretty shine. Surely someone knows hot to create a homemade cleaner to get back that shine on the leather part. Can you help me?
By Shawty
---
RE: Cleaning Leather Athletic Shoes

By SSSdy
05/06/2012
Hmm I do not know how to create a home care leather cleaner. However, when there are stains you may use white erasers and lightly erase the marks away.

If you want the leather to be back to its new condition, it is better to send it service at shoe cleaning stores.

or purchase a leather cleaning kit for leather handbags. I have lot of handbags and I use "apple care" leather creams. What I do is clean the targeted leather item, followed by moisturizer cream. It always makes my bag shine and look brand new again.

Put the cream on a piece of clean cotton cloth and rub onto the leathers gentles in circular motions.

Also please remember to do a small patch test on your shoes before applying the creams though.

Hope this helps. Good luck