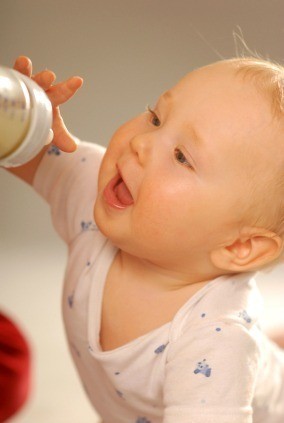 Formula stains can be quite persistent. This is a guide about removing baby formula stains from clothing.
Ad
---
Solutions: Removing Baby Formula Stains from Clothing
Read and rate the best solutions below by giving them a "thumbs up".
Got formula stains on baby clothes? Soak in Cascade dishwasher soap. Removes stains instantly.
By Kay from Pitts, GA
Give a "thumbs up" to the solution that worked the best! Do you have a better solution? Click here to share it!
Questions
Here are questions related to Removing Baby Formula Stains from Clothing.
How do I get stains out of clothes from baby formula?
By Shelley
AnswerWas this interesting? Yes No
Ad
---
---
Most Recent Answer
By Frances Adams 11 557 04/29/20120 people found this helpful
Try using powdered dish washer detergent (any brand). Wet the spot on the clothes. Make a paste of the dishwasher detergent and water, and scrub in.
Then in a clean sink, pour hot water over the clothes, being careful not to burn yourself, and rinse the detergent out.
---
Is there any way to get out set in baby formula stains?
By Elizabeth from Mt. Vernon, OH
AnswerWas this interesting? Yes No
Ad
---
---
Most Recent Answer
Archives
Thrifty Fun has been around so long that many of our pages have been reset several times. Archives are older versions of the page and the comments that were provided then.
Baby formula stains UNTIL NOW were almost impossible to get out. I recently bought a can of OXYGEN CLEAN at the Dollar Tree, just thinking it might actually do what it says it will do. I have a new GRANDDAUGHTER (thought I'd throw that in!) and I found some really nice sleepers and bibs at a used clothing store. Soaked the for several hours in a bowl of hot water with a lot of that in the water. I also added some to the wash cycle and the stains all came out. This product is GREAT!

Sharon,Ky
If you have baby clothes with formula, food or puke stains (even old ones), this works:
Soak the clothes in a bucket of water with a powder oxygen cleaner (like Sun or Arm and Hammer). Put lemon juice on it, if it's white. Lay them out in the bright sun on a really cold day for several hours (they will be stiff like a sheet of ice), then wash them like normal. Repeat until the stain comes out, but I've only had to do this twice at most. The most important part is it must be sunny and cold. I even tried this with a comforter with Sharpie marker on it and it came off before I even washed it!
By Mandi from Cleveland Ohio
---
RE: Removing Baby Formula Stains
The best trick I have ever seen for getting out ANY baby stain (meaning something coming from their body - spit-up, pooh, etc) - is meat tenderizer. Just buy the powdered meat tenderizer and add a little water to make a paste - smear onto stain and let stand a couple hours (I usually do this overnight just for ease) and wash as normal. The stains lift right out.
What keeps a biological stain in the clothing is the protein base of the stain and until you break down the proteins - the stain can't release. Also makes you go eww just a little when you realize that the spit up stain means some part of that spit up is literally still in the garment in order for color to remain....yuck - even if it's technically still sanitary since it's been washed it's not a nice thought. Much nicer to just get the stain gone.
This also works great on blood stains! (11/17/2007)
RE: Removing Baby Formula Stains
I read that using hydrogen peroxide would work for old stains. I tried it and was not happy with the results. Some of my baby clothes yellowed dramatically when I sprayed them with the peroxide. So I soaked them overnight in half a kitchen sink full of hot water and added 6 denture cleaning tabs. I knew this worked on antique linen stains, so I figured it wouldn't hurt to try on baby clothes. All the stains came out - even the yellowing from the peroxide. All my little gowns are sparkling clean and look like new! (05/27/2008)
By isto357
I have some lovely baby clothes that were given to me. Unfortunately they have what might be formula stains on them. Can anyone out there tell me how to get the stains out? Thanks bunches.
By anbsmommy from Spanaway, WA
---
RE: Removing Baby Formula Stains
Soak in Cascade before washing. This works well. (06/11/2009)
By kkharp
RE: Removing Baby Formula Stains
If the items are white (sometimes beige or very light colors), try Rit Whitener and Brightner or Rit Color Remover. I use them in a soak cycle first. Good luck. (06/11/2009)
By Lake Lady
RE: Removing Baby Formula Stains
I've had great luck using OxyClean on baby formula stains that were 5 years old and had been in the attic. Just follow the soaking instructions on the can. Most stains come out after the first soaking and then the more stubborn ones can be soaked again. Good luck. (06/12/2009)
By khaney2847
RE: Removing Baby Formula Stains
We used Resolve Carpet Cleaner on some work clothes that were ready for the trash. They came out wonderfully well. Worth a try if the other suggestions don't work out. (06/12/2009)
By daiquiri
RE: Removing Baby Formula Stains
In the late 70's, I soaked my formula stained baby clothes in dishwasher detergent (powdered kind) then finished up in the washer. It worked great on the little t-shirts and bibs. Now, with the grandkids, I use OxyClean to soak. (06/12/2009)
By Polly G
I was just given a bunch of baby clothes. Some of them are stained with formula and a few have mildew stains. Any suggestion on how to remove the stains?
By duckie43 from Tell City, IN
---
RE: Removing Baby Formula Stains
My BABY is now 36 years old. I was getting out old formula stains in baby clothes I bought for him at garage sales way back then! You need BIZ ( it's an "enzyme" cleaner, not a detergent!) and some non chlorine bleach (like Clorox II). I would take my plastic bucket (3 gal. ?) and dump in about 1/2 cup of BIZ and 1/2 cup dry, non chlorine bleach. Pour in about 1 gallon of the hottest water you have and stir the granules around until they have dissolved. Then add cold water until the bucket is about 2/3rds full. Then submerge the stained clothes in the water. I left some in the mixture for 5 days before all the stains came out, but they all DID come out stain free. I would check them every day and stir them around. I do think the new "Oxy-Clean" products that we have available today would probably be helpful too. I still use a BIZ and Clorox II "soak" in my washer about every two months just to keep my pastel and white tee-shirts very bright and clean. (06/16/2009)