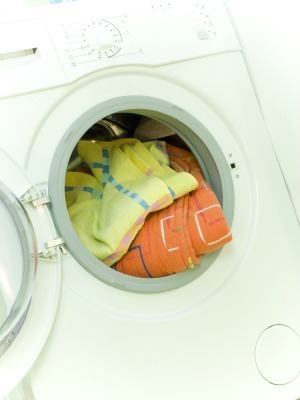 The proper way to do laundry is an art form that some people missed out on learning. This guide covers the basics of how to do laundry.
Ad
---
Solutions: How To Do Laundry
Read and rate the best solutions below by giving them a "thumbs up".
We have 6 people living in our house. This makes it hard to keep everything clean and our laundry done. I have asked each person to do their own laundry on a specific day. We are never waiting for someone to get done and are not stressed about it.

By Shirley from Henderson, NV
While parents are preparing to send their children off to college, they try to think of all the material items to take with them to supply their dorm rooms. One thing that some parents don't think of, is showing your child how to do his/her own laundry.
Last year, my nephew in college was approached by a fellow student, who complimented him on his every day appearance and wanted to know the secret of how to make your clothes look neat. My nephew explained "how to." The fellow student wanted a more 'hands on' approach. He asked if my nephew could accompany him on his next wash day to see what he was doing wrong with his laundry. My nephew agreed. My nephew, with his own clothing, showed the fellow student how to sort clothing, which products to use and why, how to dry on certain temps and why, how to fold or hang, etc. The fellow student was in awe, as he'd never been shown all the procedures. His mom had always done the wash, as most do. He'd never took the time to learn the techniques or the art of proper laundry.
As when my nephew asked how the fellow student had been doing his laundry, the young man lifted up his collapsible laundry bag filled with dirty laundry and stuffed it in the washer and turned on. Added the detergent!! LOL, as funny as this is, my nephew said the young man would have continued to put the laundry bag filled with clothes, in the dryer, too. That's one Mom who won't be having to wash a mountain of dirty clothes that come home from college, and can spend precious time with her college son.
By Terri from NV
Hopefully you have found yourself at a school that offers free laundry facilities. If so, do laundry all the time and be proud that you are saving hundreds of dollars annually in washing and drying costs. If you live off campus, bus the laundry in and do it for free.

If you end up at a school that charges for laundry, check the local laundromats to compare prices and go with the cheapest option. Or, befriend someone with their own washer and dryer and do all of your laundry there. If all else fails, try to never do laundry at school. Save it up, for months at a time (washing only those things that absolutely must be clean) and take everything else home to wash.

Be aware that at many schools that charge for laundry, there is a coveted free laundry day - generally coinciding with a day where parents are invited to come to campus. Get in line early on free laundry day. Once you lay claim to a washer, do not give it up until all of your loads are done. Same with the dryer, otherwise you'll be at the end of the line again. I once did 20 loads of laundry for free on one of these days, just remember to always be present when the washer or dryer goes off or you will lose it to the crowd.

By Brandi M. Seals
Give a "thumbs up" to the solution that worked the best! Do you have a better solution? Click here to share it!
Questions
Here are questions related to How To Do Laundry.
How can I make my clothes smell like detergent? Can someone help me out. After I'm done washing my clothes I can smell the detergent. When I am done drying them I don't smell anything. I use concentrated detergent. I also use dryer sheets. Can someone help me. I want my laundry to keep the smell of my detergent.
By headache from Miami, FL
AnswerWas this interesting? Yes No
Ad
---
---
Most Recent Answer
By carne00283 2 11/03/20130 people found this helpful
I can't wait to try this! I have tried what I feel like is everything to get the scent to last! As for those lecturing about chemicals and so on, no one asked about the health hazards it's not polite to tell others how to live their lives. Everything in this world has negative effects and if you live your life being so worried about everything you'll never enjoy life! So I would suggests keeping lectures to yourself unless asked for.
---
I just did a load of laundry without soap. How could I? But this got me to wondering if anyone out there knows what our ancestors did or used to wash before those convenient (detergent) brands became available.

Thank you,
Soapless in USA
AnswerWas this interesting? Yes No
Ad
---
---
Most Recent Answer
---
I would like to know what is the process to get a fresh mint smell in after wash garments? Can we achieve this by doing garment wash? If possible how many washes it will stay in garment?
By EJI
Archives
Thrifty Fun has been around so long that many of our pages have been reset several times. Archives are older versions of the page and the comments that were provided then.
I can't get my clothes to smell good after I wash them. I buy really nice smelling detergent and liquid fabric softner, but after they come out of the dryer, they don't smell like anything.
My friend's laundry always smells good and smells good for days.

Thanks,
Jodi from CA
Answers:
RE: How can I get my laundry to smell good?
I add just plain old baking soda to my laundry detergent (dry). I probably add about a cup. It makes my sheets smell SO GOOD! Smells very fresh. I also use about 1/4 cup bleach, no more, because it will only smell like bleach and wash in hot water. (07/26/2005)

By Paula
RE: How can I get my laundry to smell good?
Without saying anything about your laundry, why not just ask your friend how she gets her laundry to smell so good? Some people use a fragrance like lavender or something and spray it on a dry towel and toss into the dryer. I haven't done it, but makes sense to me. You could even ask her if she does something like this. (07/26/2005)

By Angellface
RE: How can I get my laundry to smell good?
I know what you mean. I sometimes pass people whose clothes smell so fresh and wonderful. I have used Cheer and that works ok. (07/27/2005)

By texasteacher
RE: How can I get my laundry to smell good?
I use Gain, original scent, detergent. When I bought my house the former owners left some here, and I loved the scent so much I've been buying it ever since. (07/27/2005)

By SusannL
RE: How can I get my laundry to smell good?
I use Gain detergent (powder) and Gain liquid fabric softener too. I LOVE IT! All my family smells the clothes and tells me how everything smells so good. I used to use the fabric softener sheets but they really didn't do much. I think the Gain detergent and the same type liquid fab. soft. that's what makes the difference but try Gain a few times. I think you'll like it. (07/27/2005)

By peggygv
RE: How can I get my laundry to smell good?
Do you use fabric softner sheets? I use the liquid softner in the washer for certain items like jeans and sheets but always use the fabric softner sheets in the dryer. I use Bounce sheets and the laundry always smells good to me. (09/01/2005)

By phishphan98
RE: How can I get my laundry to smell good?
I know the answer. I have been attempting to figure this out for years. Use 3 times the normal amount of liquid fabric softener (whatever you like. I prefer downy ultra) and the key is, either do not put the clothes in the dryer or just dry them a little and put them on a hangar. You won't believe the difference! (12/11/2005)

By April
RE: How can I get my laundry to smell good?
My laundry smells fantastic. I use Persil detergent and it smells good for weeks. (07/26/2006)

By Stephanie Macceca
RE: How can I get my laundry to smell good?
I usually buy some of those dishwashing liquids that smells almost like perfume and mix them with my laundry detergent. The result is good, the clothes smell so good. (07/26/2006)

By irlande
RE: How can I get my laundry to smell good?
I like to wash my clothes in One cup of white vinegar, One cup of baking soda and Half cup of borax along with the detergent. If you can during your rinse cycle try putting between 20-30 drops of some lemon, orange, lavender, etc oil essence in your laundry, (you can get these from any health food store). (08/19/2006)

By 1bigmama
My clothes don't keep the fragrance of my laundry detergent or fabric softener after they have been dried. They smell great after I wash them, but when I put them in the dryer they lose the scent.