Removing Hair Dye Stains from a Bathtub
Solutions
Share a solution for this guide today!
Questions
Here are questions related to
Removing Hair Dye Stains from a Bathtub
.
Removing Hair Dye Stains From Bathtub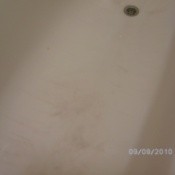 Could someone tell me what will clean my bath, as my daughter dyed her hair black and now it won't come out. I've tried vinegar and baking powder, bleach, and other cleaning products. I would be most grateful if you could help me. Regards.
By Juli from Hull, UK
---
Most Recent Answer

By MRSKAT
10/23/2010
Where fabric dyes are sold, they also sell dye out products. I would test a small hidden area first so not to mess up tub finish. :)
Related Guides
Related Posts