August 27, 2007
0

found this helpful
I would like to know of anyways to save money for a $87 American Girl doll. I am 11 years old and am kinda out growing 'baby dolls' so my Mom suggested 'girl dolls'. If you know any other 18 inch doll brands or similar sizes, please post back! Thanks in advance.
August 29, 2007
0

found this helpful
There are several ways - save
$ for it yourself & then say you have an "American Doll Fund" that you want everyone to contribute to instead of a birthday or Xmas present! And look out for good deals on eBay and used, but in good shape elsewhere....A lot of girls outgrow their dolls....
As, suggested, in the meantime, for sewing, etc., get as good a match for one as you can - I am sure they are out there.
August 29, 2007
0

found this helpful
Hi Mackenzie - My name is Lisa-Marie and I own an internet store: http://www.doll es-emilyrose.com
We sell clothes, accessories and furniture for the American Girl Doll and other 18 inch dolls and we recently added 18 inch dolls to our site. They are very pretty, very high quality and look like the AG doll. They have opening/closing eyes, soft bodies, wigged hair and fit all of the AG clothes and accessories. We have them listed for $39.99 (which is less than half of the AG doll) but if you can save $35 you can call this number and ask for me (800) 615-7048 and I will give you a special coupon so you can buy her for that price as a reward for saving.
August 29, 2007
0

found this helpful
I know this is coming from an older adult, but have you tried the Dollar Tree store. They have a lot of name brand dolls and they may have an American Girl doll for around 10 to 20 dollars. Just a suggestion check for them at WalMart too. Good luck.
August 29, 2007
0

found this helpful
Thank you! I have seen some there awhile ago... I recieved a TollyTots doll from my grandfather one christmas and played with it for awhile. But August of 06 he passed away so I decided to pack her up as a keepsake, even though she wasnt a high quality I did'nt want her to get messed up because she was very special (because me and my grandaddy were very close, and you probally understand). And I loved playing with her (my sister got one just like her) and we would play like they we're best friends. She had honey blonde curls and I believe the box said her name was Quinn. So the reason I want one that I buy is so I will be able to play with her and not break out in tears if she gets a scratch on her.
-mackenzie
August 31, 2007
0

found this helpful
Once you get your doll, get a pattern from the fabric store. There are lots of cute outfits there. Some of them match the ones in your American Girl magazine in every way except for fabric. What girl doesn't like to pick her own fabric? Have a blast!
By guest (Guest Post)
September 20, 2007
0

found this helpful
Try Ebay I have seen brand new and used dolls with accessories pretty cheap on there. Good luck.
By guest (Guest Post)
September 20, 2007
0

found this helpful
I actually managed to find 3 different similar 18 inch dolls at Michaels Art Supplies and bought one for 12.50 Canadian using a 1/2 price coupon. They sell clothes for them as well. If you are into sewing, there are also many patterns out there for this doll so you can make your own clothes. I found a book of patterns for $5.00 and can now make her any original outfits my heart desires. That way, no other doll will have the same clothes as yours!
By guest (Guest Post)
December 3, 2007
0

found this helpful
Hi Mackenzie, I hope you are still looking for your doll similar to AG, I came across this on Amazon and ran back looking for your post (I am looking for one too, for my 3 year old daughter), they have a version of an 18" doll that looks just like the AG, here's the link below, and best of all, as of today, the price posted is on sale for only $13.29! I believe they have two types, one with auburn hair/green eyes, and another with brunette hair/brown eyes.
Amazon is a safe and reliable website to purchase online, please ask your parents to assist you on the purchase.
Hope it helps,and I hope you have a wonderful Christmas with your new doll!
Cheers, Claudia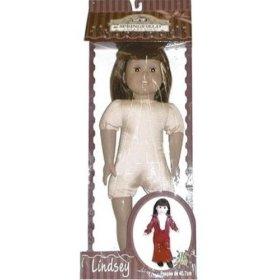 By guest (Guest Post)
January 16, 2008
0

found this helpful
I love the American Girl Dolls(I have two marisol,2005&niki,2007) I think there well worth the money, But, because of the price, I get most my accessories from target, Our Generation, is alot like american girl and is one of my favorivte non-american girl brands, I also would look into getting one of there horses, they come with more accessories then american girl horses
By guest (Guest Post)
August 19, 2008
0

found this helpful
If you go to Target, they sell "Our Generation" dolls there. They are of less quality, but only 30 bucks.
Read More Answers