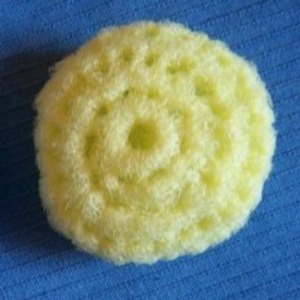 Crochet nylon net scrubbies are quick, easy, and fun to make. They are useful in the kitchen for the crafter and make great gifts and craft sale items. This is a guide about making crochet nylon net scrubbies.
Solutions: Making Crochet Nylon Net Scrubbies
Read and rate the best solutions below by giving them a "thumbs up".
I like net scrubbies, but I had no luck in trying to crochet them. So I folded the netting in half then in half again and cut 3, 2 inch strips. I knotted the top and braided them to the bottom and made another knot. Then I coiled it and used a large needle and plastic, fine fishing line or plastic thread to catch all the coils, using a pliers when the needle would not go through easily. Now I have a nice thick scrubbie and am very pleased. Works good, too.
By Angelina from Glendale, CA
Give a "thumbs up" to the solution that worked the best! Do you have a better solution? Click here to share it!
Questions
Here are questions related to Making Crochet Nylon Net Scrubbies.
How do I find a pattern for a nylon scrubbie?
By Lisa J.
How much nettings do you buy to make one?
By M
Where do I find the actual pattern for crocheting nylon kitchen scrubbies?
By czech945
---
Most Recent Answer

By Laurie Young F. [2]08/22/2013
Do try Noel Wright's website 'Treasures of the Heart' at: www.noelwright.blogspot.ca
She has a wonderful site with lots of crafty ideas!
I have been making scrubbers for years, however, recently, JoAnn's has a very stiff material that says it's to use for scrubbers. I cut the 2 inch strips, however, I don't seem to be able to crochet with it. I am using a size K hook. Any ideas as to what I am doing wrong? Help please!
By Myrla
---
Most Recent Answer

By Jazmine N.06/20/2013
http://cody-simplyhomemade.blogspot ... 2011/05/scrubby-tutorialpattern.html This is ware i learned how i hope this helps :)
Does anyone have a pattern for the nylon scrubbies that are made of two crocheted circles and then they are crocheted together? A friend bought one and asked me if I knew how to make them and I told her I would try to find the answer on here. Thank you in advance.
By Linda L.
---
Most Recent Answer

By tasana [3]02/27/2014
To make a two sided pot scrubber, just crochet two face scrubbies and single crochet them together. You can find pattern here: noelwright.blogspot.com
Does anyone know where I can get patterns for working with netting? Not just the scrubbie, but book marks, and more.

Thanks!
By Dawn from Junction City, KS
I want to make some scrunches with mesh netting. Can you please tell me how to make them? I have mesh netting fabric, but don't know how to make them.
Thanks
Patty
By Patty from Lizton, IN
---
Most Recent Answer

By tasana [3]11/05/2011
What are scrunches? Do you mean pot scrubbers?
http://noelwright.blogspot.com/2011 ... attern-for-crochet-pot-scrubber.html
When I try to crochet a pot scrubber with nylon netting it comes out with a totally frayed look from the cut edges. The stitches are not distinct so it is difficult to find the hole for the next stitch. I am looking at a scrubber that I purchased and the stitches are very obvious and it has a very neat look. What am I not doing wrong?

Verna from Urbandale, IA
---
Most Recent Answer

By nstitcher01/22/2012
You might try a larger hook to start the first one, till you get the hang of it. I found several patterns on the internet and a youtube video of how to do it. You might be cutting the nylon strip too small, or the netting is on the larger size which might fray on the edges more. I have found crocheting with cotton yarn helps to keep the nylon from fraying too. I used red netting and tan cotton yarn. Hope this helps.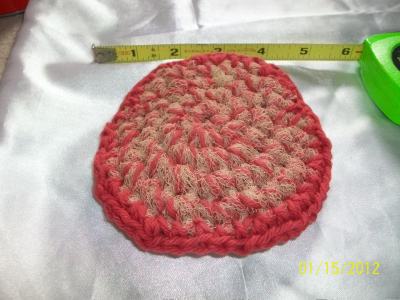 What size do you cut the strips to crochet pot scrubbers?

Donna from Millbury, OH
---
Most Recent Answer

By Shar11/27/2008
How do you tie the pieces together on the nylon netting?
Thanks
Shar crawsi@aol.com
Archives
Thrifty Fun has been around so long that many of our pages have been reset several times. Archives are older versions of the page and the feedback that was provided then.
I can not crochet nylon netting scrubbies with out my hook catching on the holes of the netting. (Mary of your guest post dated 2/11/2008 had same problem). How was this solved?

Jane
---
RE: Trouble Crocheting Nylon Netting Scrubbies
Maybe you could thread the lengths of netting through a small bias tape maker/folder. It's used in making bias tape or braided rugs. It folds the 2 edges to the center. You'd probably want the smallest size, and would crochet it as it comes out. (04/30/2008)
By Jantoo
RE: Trouble Crocheting Nylon Netting Scrubbies
Use a larger hook, one that can't fit into the holes of the netting. (05/01/2008)
By susanmajp
RE: Trouble Crocheting Nylon Netting Scrubbies
I make scrubbies but never crocheting them. I take a length of 3 feet long by 4" wide and fold like a fan and sew through all in the middle with cotton thread, then pull the material out like you would do a fan on both ends. Hope this helps. (05/01/2008)
By cece
RE: Trouble Crocheting Nylon Netting Scrubbies
Hi Jane, I make a lot of scrubbies and I use a large hook. I use a size L in crystalite hook. They are so smooth and work so fast. I recommend them for all kinds of crocheting, good luck. Scrubbies are so nice to use on dishes and an extra tip, I make big ones for the men to wash their cars with. They do not scratch and take all the bugs right off. Barb from Michigan (05/01/2008)
By dameemag
I am wondering if anyone knows where you can buy the tulle on rolls to make the net scrubbers.
Connie
---
RE: Looking For Tulle To Make Nylon Net Scrubbers
Look in any store that sells material for making clothes, if that fails try a store that makes wedding dresses. (03/21/2008)
By ebt alta
RE: Looking For Tulle To Make Nylon Net Scrubbers
If all else fails, go to a thrift store and buy used wedding or prom dresses. (03/21/2008)
By MartyD
RE: Looking For Tulle To Make Nylon Net Scrubbers
Fabric store -- super cheap ! (03/21/2008)
RE: Looking For Tulle To Make Nylon Net Scrubbers
Wal-mart carries it, and so does Jo-ann fabrics (03/21/2008)
By teatimelady
RE: Looking For Tulle To Make Nylon Net Scrubbers
Thanks for the help with tulle for scrubbies. I was looking for it on rolls and I have found a place. Connie (03/22/2008)
By cmr44
RE: Looking For Tulle To Make Nylon Net Scrubbers
You need plain net. It is about 69 cents a yard (at Walmart), is 72 inches wide, and comes in many colors. I think tulle is a finer grade fabric and more expensive. Net is quite stiff. (03/24/2008)
By WIsgal
RE: Looking For Tulle To Make Nylon Net Scrubbers
Well, I guess I'm the only stingy person here. I use the bags that onions come in and they do a super job. I even have one in the bathroom to use in the sink there, and if I could get down to it, I'd use it in the bathtub, but my husband takes care of that. (03/24/2008)
By Sallie
RE: Looking For Tulle To Make Nylon Net Scrubbers
I found a place to buy the netting on the spools. It's www.knitsandbitsbylinda.com. I've ordered from her and get very good service. She's in New York, and I'm in Pa., and it took 2 days for me to get it. She also has a phone # for questions, and I did call her before hand about the shipping (and a few other questions). You can get 4 spools for one shipping price, but to get 8, the shipping isn't doubled, it's only a little more than the 4. She's a very nice lady, and was very helpful on the phone.
The netting is the same as what you get from Walmart, or JoAnns, or Hancock Fabrics, but it's already cut 3 inches wide, and 40 yards on a spool. And she has 32 colors. This is the netting, for scrubbing, not the tulle. The tulle is a finer mesh, not as good for dishes, but maybe good for the body. The tulle you can also get at JoAnns, or even A.C. Moore. That comes on a 6 inch roll, but only has about 25 yards on. Hope this helps. (03/26/2008)
By Pat in Pa.
RE: Looking For Tulle To Make Nylon Net Scrubbers
Unravel a nylon mesh wash ball. It is likely to be one tube of nylon mesh. Cut to suitable length and tie it into a ball shape. (03/29/2008)
By Carole
RE: Looking For Tulle To Make Nylon Net Scrubbers
Hobby Lobby has the netting on rolls. I hope you find it. (04/11/2008)
By bjptl