Making Easter crafts is often a family tradition, whether for the kids or as home or dinner table decorations. This is a guide about Easter craft ideas.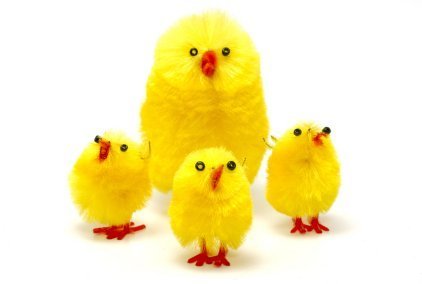 This is a cute project to make with your children. It would also be a great gift for the Easter Bunny to deliver to grandparents! Inexpensive and fun to make!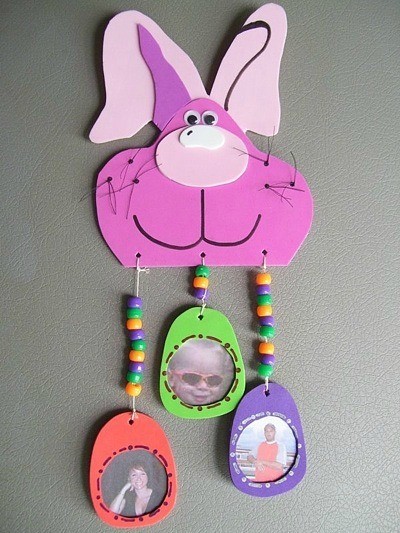 Approximate Time: 1 hour plus drying time
Supplies:
foam (dark pink, light pink, white, and assorted colors for eggs)
beads (assorted colors)
google eyes
string
black thread and needle
black marker
glue
photos
Instructions: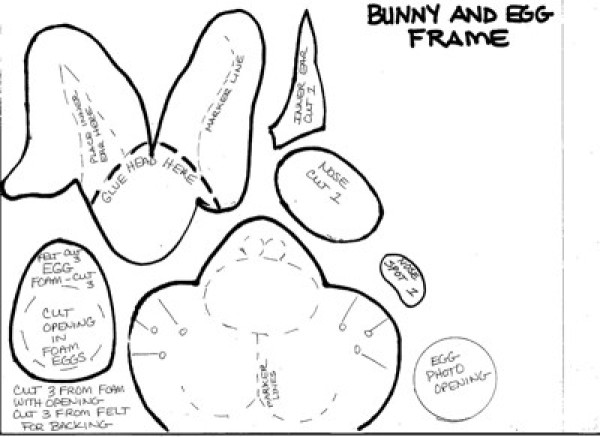 Cut out foam parts using pattern.
Tip: Use sticky back foam for bunny head, but do not peel backing paper off. This will make bunny firmer. You can punch a hole at top of head to hang as a mobile or glue magnet on back.
Glue bunny pieces together. Use black thread for whiskers and insert with needle. Tie knots in back of head. Draw features using black marker.
Depending on how many eggs you want, punch holes at bottom of bunny. Just alternate lengths of string when hanging eggs so all photos show. Knot strings on bunny head and thread beads on.
Cut two pieces for each egg and insert photo between and glue closed. Decorate eggs, if desired. Punch hole at top of each egg and tie with knot to each string.
Happy Easter!
By Mary from Palm Coast, FL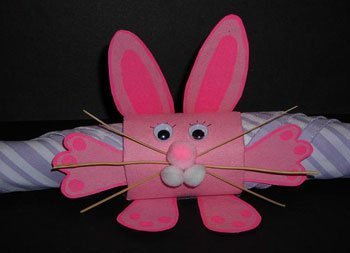 This project is sure to put a smile on the face of each and every dinner guest.
Crafting Time: about 20 minutes
What You Need:
paper towel tube
scissors
pink construction paper
pink marker
glue
wiggle eyes
three strands from a broom
three pom-poms, two white, one pink
pen
cotton ball
Directions:
Cut a two and a half inch piece of cardboard tube. Cover this with pink construction paper.
Draw and cut paws and ears from pink paper. Decorate these with pink marker. Glue one pair of paws to the bottom of the pink cylinder. Glue the second pair of paws to the inside of the pink tube. Glue the ears to the back of the tube.
Glue wiggle eyes to the front of the tube. Glue three broom strands below the eyes for whiskers. Glue the pink and white pom-poms over the whiskers as indicated on photo. Add eyelashes above the eyes and a tiny mouth below the pom-poms with a pen.
Glue a cotton ball to the back of the tube for the tail.
By Marie from West Dundee, IL
By lalala... 731 97
This colorful string of Easter eggs hides a daily surprise!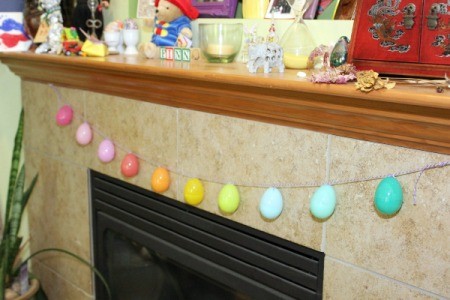 Supplies:
plastic Easter eggs
twine
candy
ruler
scissors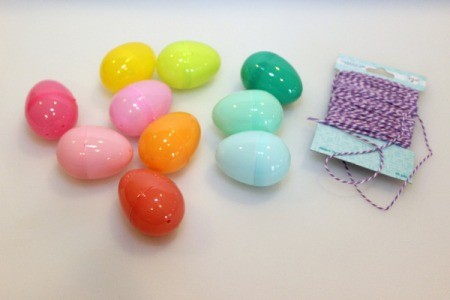 Steps:
Put the twine down through one of the holes in the top of an egg, then push the twine up through the second hole. Leave some twine at the end for hanging it later. Tie a knot at the top of the egg.
Continue adding eggs until you have strung all of them.
Now measure out the desired distance in between each egg and tie each egg in place. Cut the twine, leaving some at the end for hanging.
Fill the eggs with a small treat (preferably lightweight). Hang it up and have fun!
This is a quick and easy craft that can be done with children or made for a Easter decoration.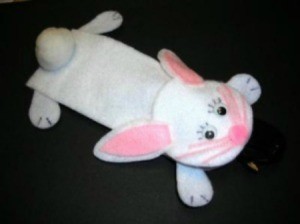 Fill this cute little bunny with Easter treats or a new pair of sunglasses, then stick it into your child's Easter basket.
Approximate Time: 45 minutes - 1 hour
Supplies:
felt - white and pink
ruler
black fine tip marker
scissors
glue
pom poms, one large white, one smaller pink
wiggle/google eyes
pink yarn
Instructions:
Measure and cut 2, 8 inch pieces of white felt. Cut the corners from one end of each rectangle to make a curved end.
Draw and cut four paw shapes from white felt. Glue the paws to the sides of one of the rectangles, and then glue the rectangles together around three edges, leaving the curved end open, and sandwiching the paw ends in between the rectangles.
Draw and cut a circle head and ears from white felt. Glue these to the top of curved end, covering the curve on one rectangle. Now, draw and cut two smaller ear shapes from pink felt and glue the pink inner ears to the white ears.
Glue on the white pom pom tail and wiggle eyes.
Cut pink yarn whiskers and glue them in place on the face, and then glue on the pink pom pom nose.
Your bunny can be filled with Easter treats or a spiffy new pair of sunglasses and then added to your child's basket of treats for Easter.
By Marie from West Dundee, IL
This charming egg-themed piece of art is created from 3 tiny, colorful plastic eggs and adorable pink ribbon. It can be used as decoration for a doorknob, wall, cabinet, window, drawer, or even rear-view mirror. The eggs can be decorated in a variety of ways, the only real limit is the crafter's imagination. Little gems or stickers can be glued to the egg, or designs can be painted by hand. Glitter spray or plain old glitter and glue can create a really fancy looking piece of art. Small ribbons and fabric flowers are perfect for a true springtime effect. It's a super easy, super fast, and very cheap way to bring some springtime joy to any area.
Approximate Time: about 45 minutes without drying time
Supplies
3 small plastic eggs, 1 and 1/2 inches long
69 inches of pink ribbon
10 inches of "other" colored ribbon
yellow craft spray paint
pink craft paint
paintbrush
super glue or craft glue
scissors
one decorative flower or bow, at least 1 and 1/2 inch big.
Instructions
Take plastic eggs and use a toothpick, needle, or straightened paper clip to poke a small hole in the wide sided bottom. Use a toothpick or paper-clip stuck in the hole as a handle while painting.
Use craft spray-paint or regular craft paint and paint the eggs in assorted colors. Keep the handle in the egg, and place egg in small cup to let dry. You'll probably have to do a second coat for an even and smooth finish, so paint the eggs again, and let dry once more. If hand-painting the eggs, a third coat might be needed, so don't be afraid to repeat the paint and dry step again. Spray paint gives a shiny looking finish, hand-painting with craft paint will not. If a shiny look is desired when using craft paint, try some clear, glossy varnish made for general crafts. But wait and do the egg decorating in the next step before varnishing the craft paint.
Use a little craft paint and a paintbrush to create a design on the eggs. Try "natural egg" blotches like in the photo, or try a glitter spray, stamping, stickers, or whatever you want to decorate the eggs. Let dry. If spray varnish is desired, now is the time to spray it on and let dry completely.
Pick a shiny, thin pink ribbon, and cut 2 pieces 13 and 1/2 inches long, 2 pieces 16 inches long, and one piece 10 inches long. Pick a different colored ribbon and cut one piece 10 inches long.
Fold the 10 inches pink ribbon in half and use a tiny dab of glue on the wide sided bottom of the egg where you made the hole. Press the fold of the ribbon into the glue and hold for five seconds. Wipe off any glue that got on the egg outside of the ribbon. Attach 13 and 1/2 inch ribbon to an egg as described, and a 16 inch ribbon to an egg. Let dry.
Once dry, gather up the ribbons with eggs and make sure that all ribbon ends meet evenly, so that the eggs are hanging unevenly. Tie the top of the ribbons in a sturdy knot. Take the two remaining pink ribbons and drape them loosely around a doorknob and tie them in a loop with a knot. Slide the two knots next to each other, the one with the eggs hanging down, and the one with the plain ribbons on-top. Use assorted color ribbon to securely tie the two knots together with a bow. Now there are lots of easy, festive ribbons dangling around. Use a bow or flower and tie or glue it over the knots, in the middle of the bow.
Hang from door, wall, cupboard, or rear-view mirror and enjoy!
By Aysha from Boise, ID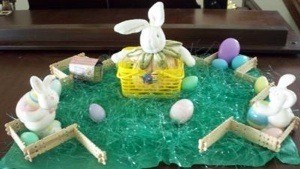 This is a craft stick fence for your happy Easter scene!
Simply interlock craft sticks, to form a zigzag fence to frame a nice little Easter village scene! You can snap off the ends of other craft sticks to interlock the open ends together, as seen in the picture.
Remember to keep track of the craft stick heights, as in have the fence even. Make sure that every other fence length of the zigzag (as in every "zig" part) is level on your hard work surface. I had to go back and level mine out because I accidentally stacked craft sticks in unequal heights.
By Erin R. from Seffner, FL
Make a lamb out of butter for your Easter table. You need 4 sticks of butter or margarine (softened) and a potato ricer (or a play dough thing that makes hair).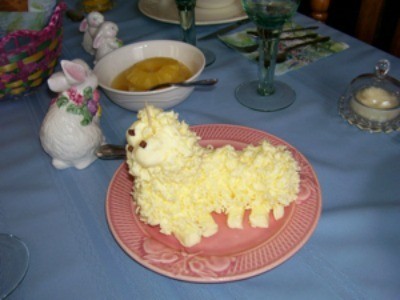 I just wanted a simple but fun idea to decorate my dining room so I added cut colored pieces of ribbon to some plastic eggs. The eggs were hinged, so I simply laid the ribbon over the hinge and closed it. Then I tied the eggs to my dining room light.
By Mom2Gracie 7 1
Supplies:
cotton balls (10-20 per tail)
glue
string, yarn, or twine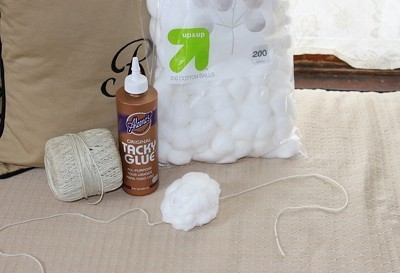 Directions:
Cut enough string, yarn, or twine to wrap around the waist of the one who will wear the tail. In the middle of the string, start gluing the cotton balls in a clump. This is the messiest part, as the glue won't easily spread on the cotton balls. Keep adding cotton balls until you get the fluffiness you desire from the tail. Once dry, tie around the waist of your adorable bunny and have fun!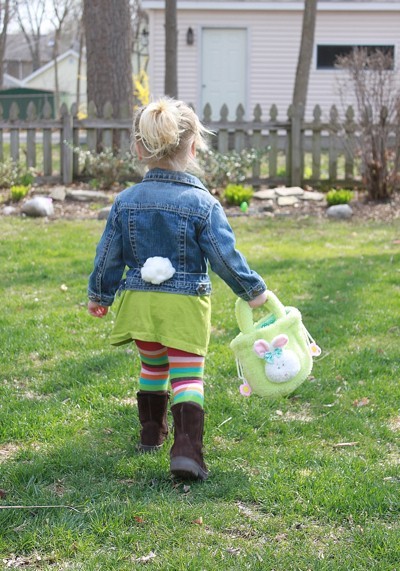 The best part is, this craft is SUPER cheap depending on supplies on hand. It also makes a great prop for adorable pictures.
By mom2gracie from Wheaton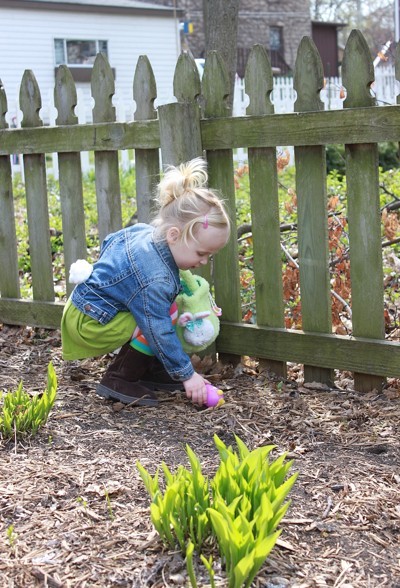 By JOYCE 1
Does anyone have instructions for making quick and easy Easter pins? I am looking for a rabbit, chick, or an Easter egg. Thanks.
By Joyce from Dubois, PA
---
Most Recent Answer
By Jill Holmes 5 1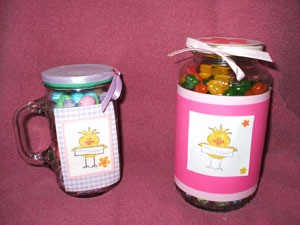 These are little Easter jars. The first was filled with preserves and the other with spaghetti sauce. I got a dollar stamp from Michaels and some spring paper and made these jars for Easter for the grandkids. They were very easy and I love recycling the jars

By Jill from Albert Lea, MN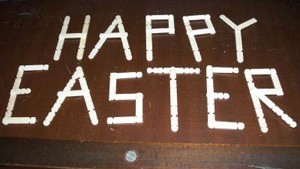 These wooden "Happy Easter" letters work well for a window sill, garden, or to string on or as a banner!
Using the picture as a guide, make craft stick letters. For the smaller and horizontal parts of letters, as in the bar in "A" and the right-side parts of "P", snap (break) the inner most wood cuts. Be sure to have the pieces, such as in the letter "S" evenly overlapped; left sides over right, or the opposite.
Use the picture as a guideline! Paint if you'd like with spray paint or wood stain, etc.
Ideas for uses:
Lay on serving or food table at your Easter party

Stand on a window sill, leaning up against the glass of a window, facing outside or inside

Spray with aerosol sealer or cover with "Modge Podge" brand sealer, let dry and stick in the ground by your front door, in a garden bed, or a (rectangular) flower pot; or hot glue sturdy wire to each letter, then stick the wire into the ground

Hot glue letters to a strip of fabric and hang as an Easter banner

Hot glue ribbon from the tops and tack above a door way
Make names and celebrate other holidays with this craft stick letter-making!
By Erin R. from Seffner, FL