Oops, bunny fell into the flower pot looking for those hidden Easter eggs. Kids will enjoy creating this craft to decorate their rooms for Easter.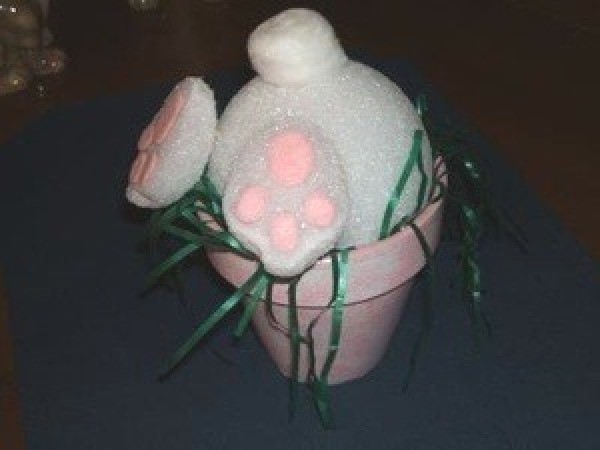 Approximate Time: Approximately 1 hour
Supplies:
4 inch Styrofoam ball
2 1/2 inch Styrofoam egg
4 inch clay pot
pink and white acrylic paint
sponge
pink felt
white felt
cotton ball
artificial Easter grass
2 toothpicks
floral clay
wooden pick
metal spoon
pencil
scissors
paper towels
paint brush
craft glue
serrated knife
Instructions:
Using paint brush and white paint, paint clay pot. Dip sponge into pink paint; blot excess off onto paper towel. Lightly sponge paint the clay pot; let dry. Apply glue to inside top edge of clay pot. Press artificial grass into glue, allowing it to drape over edge of pot. Place small amount of floral clay into bottom of pot and insert the wooden pick.

Trace bottom of pot onto white felt, cut out and glue to bottom of pot. (Prevents pot from scratching furniture.) Press 4 inch Styrofoam ball onto wooden pick. To create the feet, cut foam egg in half lengthwise using serrated knife. Using back of metal spoon, round cut edges of egg. Use spoon to shape three toes on large round end of each foot.
From pink felt, cut two large foot pads and six small foot pads. Position and glue them to bottom of feet. Poke toothpick into top of each foot. Position feet onto body just above pot rim (as shown), approximately 1 1/2 inches apart; secure with glue if necessary. Glue cotton ball to body above feet.

By Rachel's Mom from Wilkesboro, NC