Solutions: Homemade Bird Feeders
Read and rate the best solutions below by giving them a "thumbs up".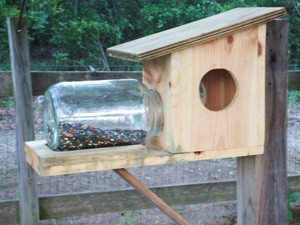 Here is a bird/squirrel feeder hubby made for our yard. Although the design is not his own, he saw one in his customers yards and came home, made it out of scrap wood (leftover from a boat he is working on), and a large pickle jar we had in the house.
We neglected to coat it with a clearcoat to protect it from the elements, but we'll make another and be sure to do so. It has already has repeat visits from a family of titmice, and squirrels, and one bumblebee who we had to let out due to him bumping into the glass *grin*.
By HICKCHIC3 from North Augusta, SC
Cut your orange in half and scoop out the edible part. Poke two holes in each side of the orange Peel, use a piece a string and thread through the holes. Then put bird seed in it, and hang on a tree.
By Coville123 from Brockville, Ontario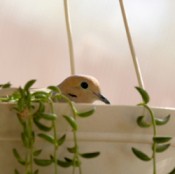 I remove the dead plants in the fall from my hanging plastic basket. I leave the soil in tact, and add seed over them. The birds love eating off my hanging basket while I watch. Sometimes 'mother' or 'father' stand guard while "family" eats away. Its easy to refill about once a week, just top it off with more seeds. Squirrels, cats, nothing can get to the seeds!
By G. de Souza
Share Your Feedback:
Once you try any of the above solutions, be sure to come back and give a "thumbs up" to the solution that worked the best for you. Do you have a better solution? Click "Share a Solution" above!
Questions
Here are questions related to Homemade Bird Feeders.
How Can I Sell Homemade Bird Feeders?
My husband and I would like to sell our Swing Birdfeeders. We would like to sell them assembled and unassembled.
Does anyone know where we could sell them?
Thank you.
By Jackie from Salisbury, MD
---
Most Recent Answer

By cherylvogan
05/10/2013
Try Craigslist.com It is free.
Photos
Here are photos related to this page. Rate the photos that you like the best.
Click here
share a photo.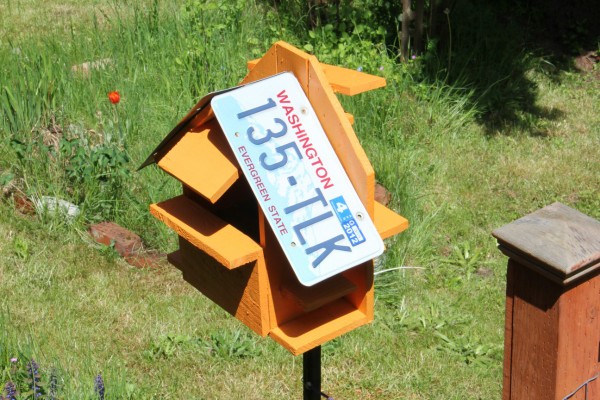 I had never made a bird house before but I got the inspiration one day, this is the result. I had some wood scraps I had laying around and some old license plates and some left over paint.
READ MORE