You can easily and relatively inexpensively attract birds to your garden by making your own bird feeders. This is a guide about homemade bird feeders.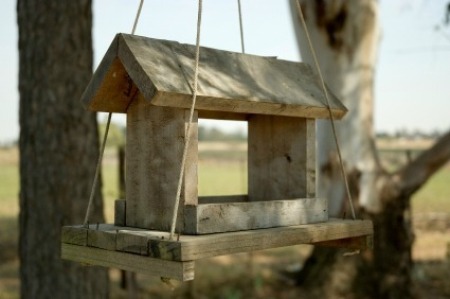 By Viet 5
I had never made a bird house before but I got the inspiration one day, this is the result. I had some wood scraps I had laying around and some old license plates and some left over paint.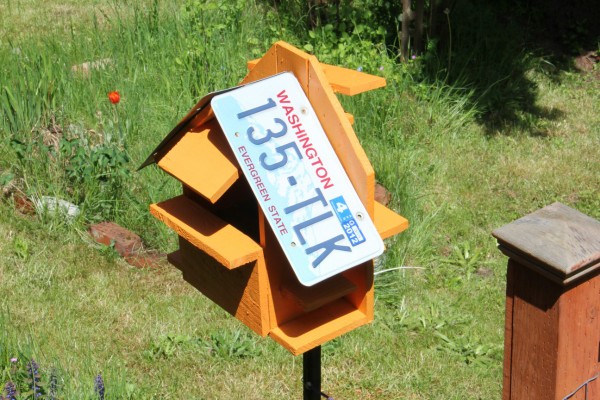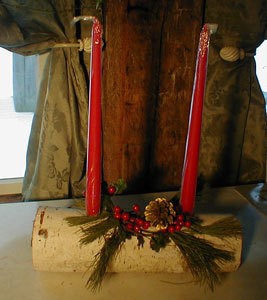 This is not only a good gift idea for bird lovers (like me), but also for homebound/seniors that enjoy watching the birds.
Get a 12 inch long log off a birch tree branch (at least 8 to 10 inches wide in diameter). Drill a few 1-2 inch holes into the log and add a hook to the top to hang. These logs also make great centerpiece yule logs by placing the holes on one side and adding candles and greenery.
Homemade Suet
Instructions
1 cup lard, fat or shortening
1 cup crunchy peanut butter
1 cup whole wheat flour
2 cups quick cook oats (uncooked)
2 cups cornmeal
optional: bird seed, nuts, raisins, or unsalted pretzels
Directions
Soften lard and peanut butter in microwave, add other ingredients and mix. Don't make too sticky.
Roll into tube-like shapes about 4-5 inches long.
Freeze on a cookie tray in the freezer.
After frozen, either wrap in waxed paper or you can insert the suet into the drilled holes in the logs. Or you may provide the frozen logs to the recipient and let them insert the suet into the logs and hang outside.
Woodpeckers and other birds will hang on and peck at it Great fun to watch!
Speaking of watching, if you know of a bird lover that does watch their feeders, inviting them to join the Feederwatch.org program would be a fun and useful program to get them involved in. We count how many birds come to our feeders during a time we choose to watch. It is for scientific study on our wildlife. The site to find out more is: http://www.feederwatch.org and is handled by Cornell Lab of Ornithology.
Source: Feederwatch info from Cornell Lab of Ornithology
Suet recipe from Lackawanna Sanctuary.
By BeBeEyes from Sterling, PA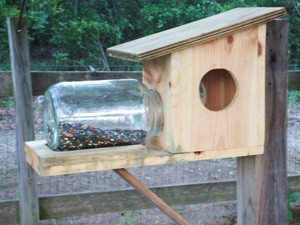 Here is a bird/squirrel feeder hubby made for our yard. Although the design is not his own, he saw one in his customer's yard and came home, made it out of scrap wood (leftover from a boat he is working on), and a large pickle jar we had in the house.
We neglected to coat it with a clearcoat to protect it from the elements, but we'll make another and be sure to do so. It has already has repeat visits from a family of titmice, and squirrels, and one bumblebee who we had to let out due to him bumping into the glass *grin*.
By HICKCHIC3 from North Augusta, SC
Please do not reuse the plastic onion/vegetable bags for the wild birds. I had used the bags for well over five years without a problem. It took one incident to change my mind about using these bags.
On a cold winter day, a bird had its' leg tangled in the netting and could not get loose. It was a horrible sight to see and hear. Luckily, I was home and able to cut the netting to release the bird. It was so stressful for the bird, and also for me. Fortunately, it happened in an area that I was able to reach. We had several bags filled with suet high on tree branches that my husband hung and it would have been impossible for me to reach.
If I was not home to free the bird, it would have died from the cold or exhaustion, and its' leg would have definitely been broken since it was twisting and turning to free itself.
I see this idea used very often and I hope everyone reconsiders using these netted bags to feed the birds. It only happened once to me and after that incident, I would not ever want to take that chance again.
Use the wired cages to feed the birds. I have purchased them in dollar discount stores at times, and at the end of season in clearance at a reasonable price. Even at the full price, it is well worth the purchase since they do last a very long time.
The plastic netted bags can be reused for other ideas. You can ball them up and use for a scrubby or use them when you shop for your produce. I like to use the larger bags for what I call "throw-away" rags. I save old worn out articles of clothing that I cut into various sizes. I hang it so it is easy to find. When anyone has a messy clean up, and the rags are too dirty/greasy to wash, they use the "rag bag" and throw the rags away.
By mkymlp from PA
My husband and I would like to sell our Swing Birdfeeders. We would like to sell them assembled and unassembled.
Does anyone know where we could sell them?
Thank you.
By Jackie from Salisbury, MD
---
Most Recent Answer
---
By coville123 326 89
Cut your orange in half and scoop out the edible part. Poke two holes in each side of the orange Peel, use a piece a string and thread through the holes. Then put bird seed in it, and hang on a tree.
By Coville123 from Brockville, Ontario
You do not need to throw away old gardening tools, this rake functions very well as a bird feeder.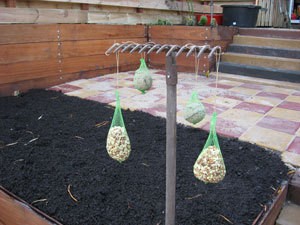 A birdfeeder (or birdbath) can be made easily using a large glass lid, a wire clothes hanger, some string, and grape vines.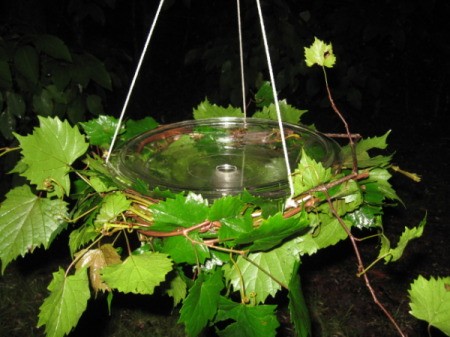 Supplies:
1 large glass lid
wire clothes hanger
string
artificial grape vines
Steps:
Cut off the hook on the hanger and then bend hanger into a circle.
Place 18 inches of string in 3 equal places around the hanger, then tie them together securely into a strong knot.
Decorate and cover the hanger with grape vines.
Place the lid into the 'frame' you have made.
Place bird seed (or water) into the lid.
Hang on a shepherd's hook or a tree, and watch the birds appear!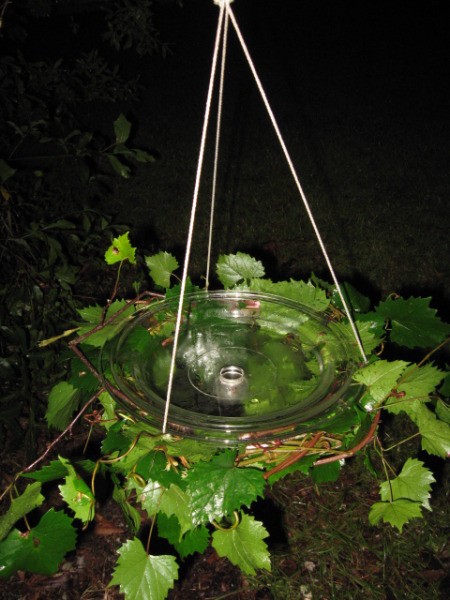 This is how to make a bird feeder for absolutely no cost. First, I ask the butcher in my supermarket for suet. I've never been charged for this because they throw it away anyway. Then I tie the suet in an empty mesh onion bag and hang it from a tree. I do this only during the cold months to meet birds' wintertime nutritional needs.

By Kathy
Brenda from Beaverdam, Virginia
A: Brenda,
Different species of birds have different ways of feeding, just like they have different food preferences. To attract the widest variety of birds, you'll want hanging or platform feeders, a ground feeder and a feeder filled with suet.
I'm an advocate of using recycled items for bird feeders (like plastic milk jugs, pie tins and scrap lumber). An easy and inexpensive way to make the non-natural look natural is to use silicone glue to add bits of moss, lichen, bark, stones, twigs, etc., to the outside of the feeder.
Suet Feeders:
Drill 1" to 1 1/2" wide holes into a 6" to 8" long log that is 1 to 2 inches in diameter. Drill the holes completely through. If you want to add perches, drill smaller holes below the large holes to insert dowels. Secure the dowel perches with wood glue. Attach an eye hook to one end of the long for hanging and fill the large holes with suet.
For another easy suet feeder, fill a small onion sack or fruit sack with suit and hang.
Hanging Feeders:
Take a coffee can (with a lid) and using a bottle opener, punch three to four holes near the bottom of the can. Place the can on top of a saucer (like the type put under plant pots) and center both the can and saucer on top of a small block of wood. You're going to attach the saucer to the can by drilling a small hole through the center of the bottom of the can, and through the center of the saucer and screwing them into the block of wood. You can punch holes near the top of the can and attach a coat hanger to hang it from, or secure the can to a post. The lid will make it easy to fill and keep the birdseed from getting wet.
With scraps of wood and a small piece of window screen, you can make a simple ground feeder. Nail together a rectangle frame and staple screen across the frame for the bottom. Attach a 1-2 inch leg on each corner of the frame. This will keep the feeder slightly off the ground to let water drain out. This is really all you need for a ground feeder. To convert this to a hanging feeder, skip the legs and attach an eye hook to each corner so you can secure ropes or small chains for hanging. If you want to make a roof, drill holes in each corner and insert dowel rods (use wood glue). For a flat roof, simply attach a piece of plywood with nails to each dowel. For a pitched roof, attach two pieces of wood together with L-brackets. Drill shallow holes in the roof at the four corners to attach the roof to the dowels.
Other natural looking feeders that work well are hollow gourds and citrus halves, and pine cones rolled in peanut butter and birdseed.
By Ellen Brown
http://www.sustainable-media.com
---
Most Recent Answer
---
I have been able to make what seems to be squirrel proof suet cage covers that work beautifully from a clean 1 gallon bleach bottle, a metal wire coat hanger. and a twisty tie. I cut the top 'funnel' portion off the bleach bottle which I discard or recycle. Then I make a U shaped cut on one side of the remaining bleach bottle a little smaller than the width of the suet cage, also leaving about 2 inches at the top of the U. This portion of the bottom of the bleach bottle now becomes the top of the suet cage cover. The now upside down U that is cut out leaves space for the birds to access the suet block/cage.
I poke a hole in the top (bottom of the bleach bottle) to run a length of straightened metal coat hanger through making a small hook on the inside of the bottle and a large hook on the other end for the over the branch. I hook the suet cage on the small hook inside the bottle and use a twisty tie to hold the back of the suet cage stable through a hole poked through the back of the bleach bottle. I usually make the large 'hook' that goes over the branch to have a second hook that 'locks' around the length of the metal coat hanger where it attaches to the branch so the squirrels cannot lift it off the branch and drop it.
I have 4 of these feeder covers around my yard and enjoy watching the wood peckers, titmice, and chickadees feeding from them without the squirrels being able to hold on to the rounded edges of the bleach bottle to access the suet blocks. They only cost you a little time and effort as all the components are things that we would normally discard. Watching the frustration of the squirrels is a bonus :)
Source: My own idea. I'm recently retired and now have the time to try to foil the squirrels from stealing my bird food. I can't afford to feed all the tree rats on my retirement!
By marycrane from Orange Park, FL
Clean an empty 2 liter bottle. Replace the cap and cut a hole on the side close to the top. For a feeder, cut a hole on both sides of the bottle. Tie a shoe string around the neck of the bottle and tie on a sturdy branch. Fill the bottle with bird seed, or water for a bath.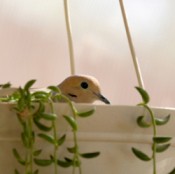 I remove the dead plants in the fall from my hanging plastic basket. I leave the soil in tact, and add seed over them. The birds love eating off my hanging basket while I watch. Sometimes 'mother' or 'father' stand guard while "family" eats away. It's easy to refill about once a week, just top it off with more seeds. Squirrels, cats, nothing can get to the seeds!

By G. de Souza