Whether you sew, quilt, crochet, or knit, making potholders is a fun craft that even children may become involved in. This is a guide about homemade potholders.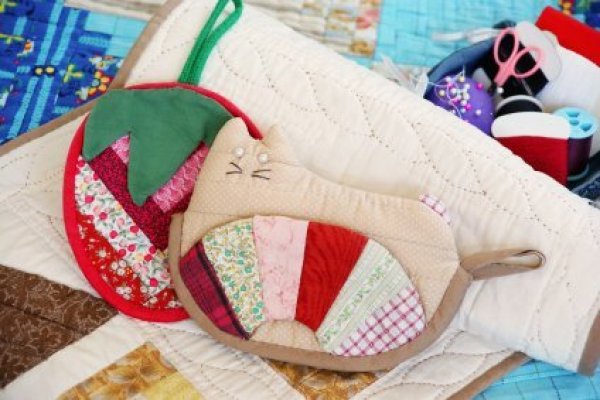 Filter

: All Articles
Sort

: Relevance
I thought it would be fun to have a Halloween themed potholder. A candy corn shape popped into my head and after a trip to the fabric store this is the result. I think it is so cute I will probably make some more.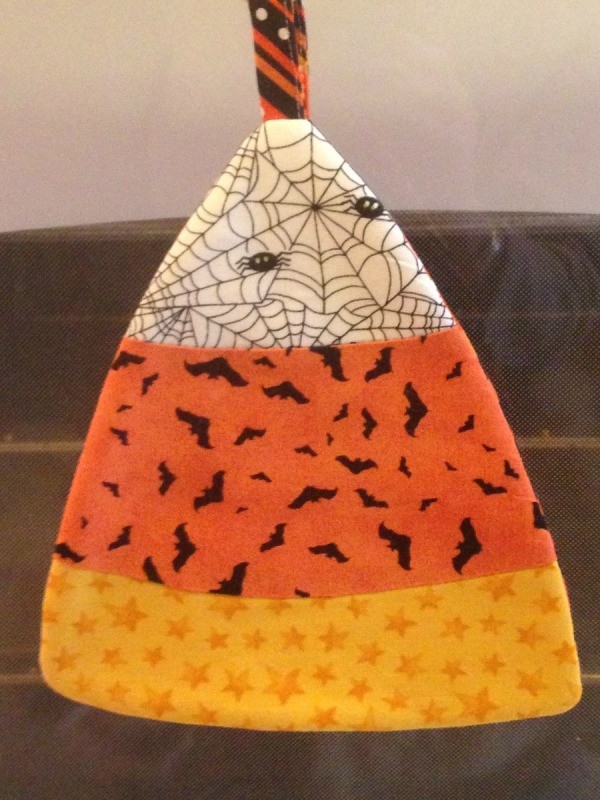 I love to make scrap potholders. These will take less than a hour to put together, but probably that long to "prep".
Materials:
1 piece of 13 inch material for backing
1 piece of scrap blanket material 10 1/2 inches square
8 pieces of 7 inch squares in TWO different colors (16 pieces total)
1 piece of 5 inch material for the center..
Directions:
Lay the five inch center piece directly in the middle of the blanket material.
Iron fold the 8 - 7 inch squares into triangles as shown in the picture. Lay 4 triangles out 3/4 inches form the center of the blanket material. Sew them down. Then, lay the remaining four triangles as shown and sew down.
You should now have 8 squares remaining. Iron fold four into triangles as you did for the last row. Lay the triangle edges at the edge of the blanket and sew down. (See picture) The last four 7 inch squares need to be folded into a squares. Place at the corners and sew down.
You are now ready for the backing. Fold forward two sides and sew down. When completed sew the other two sides and you are finished.
The pot holder is machine washable and able to be tossed in the dryer. I use them and give them to friends.

The last picture is of my hand crank sewing machine.
By Tedebear from San Jose CA
I have a lot of fabric and a lot of scraps leftover from my projects so I decided to make some potholders from the scraps. I have not been able to master the binding that goes around the edge so I tried something different.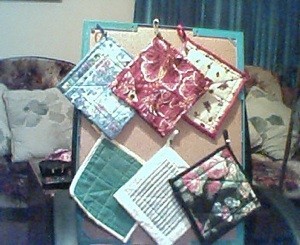 Use those scraps of material for a quilted potholder.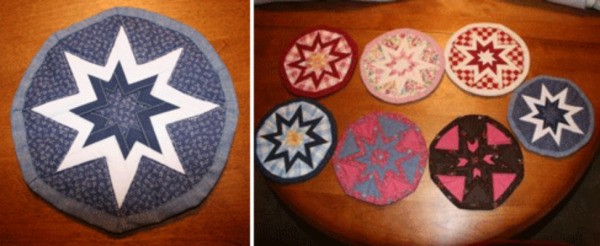 I came across some plain potholders at a dollar store and thought they would go good with my denim child's apron. So I painted all the members in the birthday girl's family and called them her little peeps.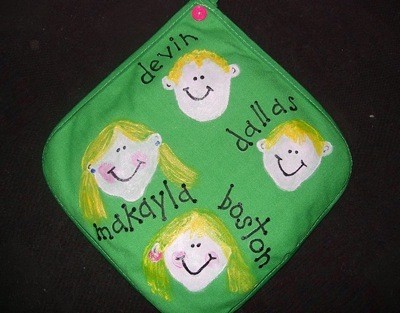 Durable pot holders in large sizes are easy to make by stitching cotton fabric onto both sides of a cotton washcloth.

By Porphuropolis
Answer
Was this helpful?
Helpful?
Yes
I crochet granny squares and stitch them to squares of the same size cut from worn towels Stack them granny square, towel square, and a second granny square. You can stitch them together by hand, or machine stitch them by stitching around all for sides and then stitch them in a large X that runs diagonally from corner to corner.
Harlean from Arkansas
Reply
Was this helpful?
Helpful?
Yes
Read More Answers...