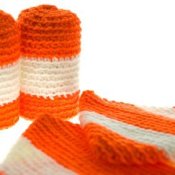 These potholders are thick and safe, so long as you crochet tight stitches. If you use a larger hook, you may get air spaces where the hot pan can burn your fingers. If a size H hook is too loose, get an F or G hook. We all crochet at different tensions. I have made many for gifts as well as for our home, and they always see lots of use.
They look nice in a Christmas basket along with kitchen utensils, specialty foods and/or a little cookbook. You can use up scraps of color-compatible yarns as I did here, and they make an interesting pattern. I like the mixed colors better than a solid color.
Instructions
Using one strand of 4-ply knitting worsted such as Red Heart, and a size H crochet hook, chain 35. SC in second stitch from hook working tightly and SC in each stitch (33 stitches). Turn work and SC along the other side of the chain. Continue working around the piece SC in each stitch. You are working in rounds. Do not increase! At first it looks as if you are making a pocket.
After a few rounds, you will have a canoe-shaped piece. Make a total of 24-25 rounds. Press the ends toward the center, and you will see a diagonal pattern develop. The two sides should meet in the middle. If they do, and the result makes a square shape, cut the yarn leaving a 24-inch tail. Whipstitch the two sides together using a darning needle or feed sack needle with a flat tip. Anchor the first stitch by going back through it once. If you enter the stitches on the right, and then pick up the right side of the other row, your seam will look like part of the crocheting.
Make the hanging loop: At the other end, anchor the stitching again by taking an extra stitch in the right side of the corner, and pull the yarn through. Tie the tail end of the yarn back onto the rest of the yarn. Push your hook through the hot pad at the corner and pull a stitch through. Chain 10 stitches. Push hook through the hot pad at the left of the same corner and SC. Move over one stitch to the left and SC again. Now SC over the CH10 loop to cover, using 18 SC. Cover the ends of the knot. Make another SC in the potholder next to the first one and end off. Work in the loose end using a darning needle or feed sack needle.
Source: I copied one from an example a friend made, then made it bigger.
By Coreen Hart from Rupert, ID
Read More

Comments
I am looking for crocheted potholder patterns.

Judy from Traverse

Answers
November 20, 2008
0

found this helpful
Lots of patterns take your pick:
November 26, 2008
0

found this helpful
Just saw some cute (free) patterns on the Lion Brand Yarn website.
By Judy (Guest Post)
November 26, 2008
0

found this helpful
Thanks very much for sending me the web pages.
November 27, 2008
0

found this helpful
Just don't crochet these out of polyester yarn that melts. I bought some at a craft sale, and they melted when in contact with hot pans from the oven. Sort of defeated the purpose of potholders.
Answer

this Question
I am looking for crocheted pot holder instructions.
By SPittam

Answers
April 13, 2010
0

found this helpful
April 15, 2010
0

found this helpful
I have to second the reply to go to crochetpatterncentral.com - it's a wonderful treasure trove of crochet patterns. For a wonderful, thick potholder try the "Magic Potholder" pattern. Easy, quick, double thick. I've made a lot of these with acrylic yarn and also cotton yarn. Both work well.
April 19, 2010
0

found this helpful
www.lionbrand.com and then go to 'all free patterns' you'll see free crochet patterns for the home.
Answer

this Question
I am looking for a crochet pattern for a hot pad using the rings from the top of pop cans. I have made them before but it has been a long time ago and I have forgotten how to lay them out to interlock.
Beth from Fort Deposit, AL
Answers
December 31, 2008
0

found this helpful
I could not find a hot pad; but this purse tutorial might jog your memory. One of the rounds might be extended for a hot pad?
January 6, 2009
0

found this helpful
Plastic Pop Ring Potholder
Materials:
1 six-pack of pop rings cut apart into rings and trimmed into circles.
Knitting worsted yarn: Main color and contrast color.
G crochet hook
Potholder:
Using main color. Sc around each individual ring until full(do not force sts).(6 rings)
With contrasting color, ch 50 sts. Turn and skip 3 sts. Then dc in each remaining ch. End off.
Spread out rings and overlap the edges like a deck of cards spread out. (See first image)
Take the contrasting color strip and weave over and under the rings to weave together. When back to beginning, tie the strip to the beginning and arrange the rings so they look nice. (Takes a little pulling and twisting.)
Sc with contrasting color around the outside of the potholder to anchor the rings in place(See 2nd image).
Images
The rings are drawn in different colors to make them easier to see. The strip and contrasting color are drawn in blue.
Image #1
Image #2
you can also find it at the following website:
www.geocities.com/.../potholder.htm
By beth (Guest Post)
January 6, 2009
0

found this helpful
Thanks trishaj, that is the one I was looking for. Jilson has also sent a great ideal. Love the purse made out of tabs. Ihave already started collecting the tabs.
Answer

this Question