Crafts Using Books
Used books can be recycled and used to make a variety of beautiful crafts. This is a guide about crafts using books.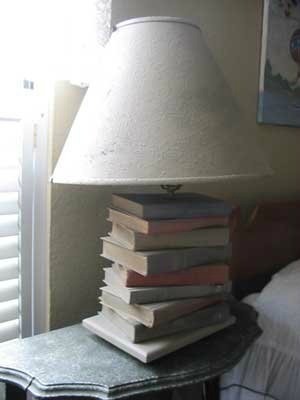 Filter

: All Articles
Sort

: Relevance
Using an old book, I created a cute picture frame!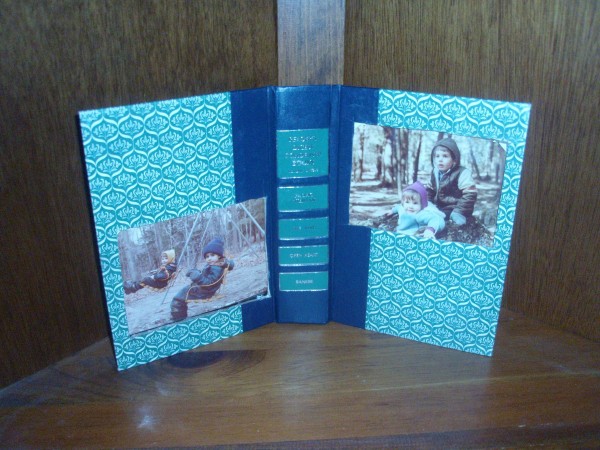 This is a novel idea for a succulent plant. It is made with a thick book and succulent plants. Succulents take very little moisture. They are great for arid places or inside in the winter with the dry heat. They are like a cactus. They take moderate light and are exceptionally easy to grow.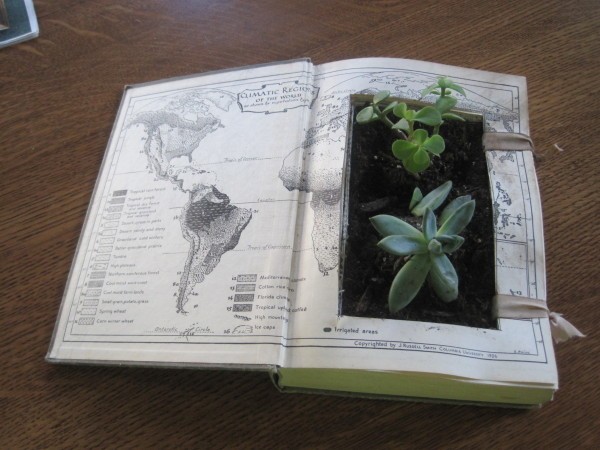 Approximate Time: A couple of hours
Supplies:
thick old book
2 succulent plants
1/2 yd. ribbon or hemp
box cutter
Instructions:
This does take some time, but I like the results. Find an old book that you no longer want.
Mark on the beginning page a margin around it so you will know where to cut. I left a 1-1/2 inch margin. This will vary depending on how large the book is. Mine is 6-1/4 inches by 9-1/4 inches and 2-1/2 inches deep.
Then, using a straight edge and a box cutter, I started cutting through as many pages at a time as I could do. When you are almost through to the end, tie a ribbon or hemp around the pages to hold them together.
Line the planting cavity with either parchment paper or some type of plastic wrap.
Add potting soil for succulents.
Plant succulents.
By Elaine from Belle Plaine, IA
Shauna Smith Duty
1

found this helpful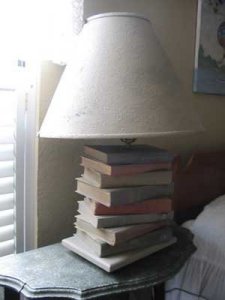 Need a light? Have a bunch of old books laying around that you're not interested in reading? Make a library lamp! This unusual and functional work of art is sure to get great reviews from friends.
Supplies:
lamp kit from a craft store or pieces from an old lamp
wooden base if a base is not included in the kit
sack of hardcover books that you'll never read
drill bit a little larger than the diameter of your lamp kit pole, and a drill
clamp
lampshade (the one in the photo is painted and recycled)
light bulb
ruler
marker
Instructions:
With a ruler, mark the center of each of the books.
Clamp the books closed, then drill a hole in the center of each book. Go slowly!
Assemble the lamp kit (or recycled lamp parts) using the books as the body of the lamp.
Insert the pole through the drilled holes and stack the books on the base.
If you are creating your own base, paint a piece of wood that measures larger than the bottom book, and drill a center hole in it.
For a frosted look, like that of the lamp in the photo, you can lightly spray paint the lamp with a tan or gray paint.
For a shiny look, varnish the books. Add your light bulb and lamp shade as the final touches and voila! Another bright idea for Thrifty Fun lovers.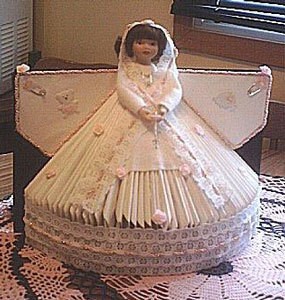 First of all I would like to just say I love making these for any occasion. They are cheap and easy to make and best of all its a great way to recycle all those hard cover books you don't read anymore or the ones you can get at a yard sale for dirt cheap.
Approximate Time 1 day and 2 hours
Supplies:
1 hard cover book: free-$1.00
1 small porcelain doll from a dollar store or thrift shop: $.50-$1.00
1 can of white paint (I get mine free from our hazardous waste facility) or maybe you have some left over in the garage from a new paint job in the house
1 small can of black paint, I get it from the dollar store: $1.00
1 spool of lace: $1.00
a small piece of felt: $.50
1 spool of any type of corrugated string: $1.00
small flowers, stars, beads, gems, etc. for decorations, which are usually laying in your craft drawers
hot glue gun
foam paint brush: pack of 5 for $1.00 at dollar store
So total to make these books are between $4.00 to $10.00
Instructions:
First, take 20 pages from the front of the book and, two at a time, fold the bottom corner to the middle of the book with the folded part facing the front cover. Press to crease.
Then do the same for the last 20 pages at the back of the book with the folded part facing the back cover, thus forming the wings.
Then figure out how many pages are left and find the center.
Turn the book upside down and fold two pages in the center the same way as before so you don't lose it.
Go back to the front of the book, take the first two pages after your recent folds, fold bottom corner into the center. Press to crease. This will give you the same fold as before, just upside down.
Keep folding towards the front of the book.
When you hit the center fold start, folding from the back of the book the same way (folding towards the back cover).
Keep going until you have folded all the pages. Here is your dress. Ta-Da the hard part is done!
Now when I first made these, I left the wings folded and just put a few drops of hot glue so they don't pop out too much. As I got making more, I decided to cut the creases so that I still had the shape, but not the bulk (I prefer to cut), but to each their own, I guess. It's all trial and error. I will try to post one of each, if I can.
The next step is to paint the wings and dress using the foam brush. These work better to get in the creases in the dress.
As that is drying, you may need to altar the doll. The ones I get, the arms and legs are separate, but the head is attached to the torso so I use needle nose pliers to slowly and carefully detach the head (starting in the arm hole) making sure I keep at least some of the neck still attached. Don't forget to keep the arms.>
Now that the paint is dry on the front, take your black paint. Cover the whole back and any other parts on the front that the wings and dress don't cover.
Next after all is dry. Glue head on book.
Cut your felt shape. Take your felt and glue the neck part to the head.
The arms can be tricky. The arms should only use half of the length of the felt cut for the arms. With the dolls being so small the whole arm only makes the hand to elbow.
You can stuff the rest of the sleeve or leave it (it will be covered later). I usually play around with them for a while until I get the felt to wrap them the way I want and the arms to place on the dress the way I want them too. Once I get them the way I want them, I then glue the arms into the sleeves. Don't attach to dress yet just in case you want to add things under the arms, for example: lace, gems, etc.
Trim bottom of dress with lace and make a long strand to wrap as a shawl over head and shoulders then down as far as you want. This helps to hide the fact that the arms are too short.
Next glue shawl to head, then glue arms where you want them. Sometimes I can even get them to pray.
Then I hang a cross earring (from the dollar store) from her hands.
Trim wings with corrugated string, add decorations to wings and dress.
Check for any spots that may need a dab of hot glue.
And you have your very own book angel for any occasion. I have made these for baby showers, teachers gifts, anniversaries, Christmas gifts; next is a wedding one.
Well I hope I didn't forget anything. Enjoy! My favorite one so far is the pink one.
By Libby from Canada

Is there any way I can connect three hard cover books together at different angles? Then I would like to spray paint them a bronze color and put a coating of something on them to preserve them for staying outside on my small table for the summer?
By Catherine P.
January 6, 2013
0

found this helpful
I would check out what different types of glues there are and I would glue them together. What a good idea! I am starting to think what I can do to make bookends out of books this way!
Thanks for getting my mind to rolling on how to use this tip for my house!
Blessings, Robyn
January 7, 2013
0

found this helpful
How about drilling a hole through each and stacking them with a long screw or metal rod with end caps? Even a wood dowel might work.
January 8, 2013
0

found this helpful
You'll want a really strong, weather and waterproof glue. I assume you mean they will be stacked one on top of the other, or do you mean side by side as you would find them on a shelf? Sand the surfaces to be joined thoroughly and wipe off the dust. Try E600 glue or the like in a well ventilated area. Sounds like a great idea. Makes sure your paints and varnishes are also outdoor formulaes.
I need to know what process to use when making a hard bound book into an "open antique book". I'm pasting a wedding invite to the open book. I want the pages in the book formed. I'll have to dip the pages or something. Does anyone have a recipe for this or directions?
By Lorena1210 from Webster, SD
April 3, 2009
0

found this helpful
I have made a hardcover book look very antique and individual with a wedding invitation. open book to middle,either use decoupage or white glue mixed with water. paint this on the edges and as it dries shape the pages in a pleasant way, pages curved. once you have the design put several more coats of finish on. use gold paint and paint the edges of the pages. now you can use whatever you want for the finish, I have done the invitation and used some of the bouquet and bows to embelish the other side. I gave it as the wedding gift. I tore the invitation and singed the edges to make it more antique looking.
June 13, 2009
0

found this helpful
If I remember right, from back in the 70s when I made several of these, besides what glooyg stated, you have to but something under the pages, towards the center of the book, so that they will be slightly curved towards the center. I think the lady that taught me this used a half a toilet paper roll, cut lengthwise. Then we used something to fill in under the ends of the pages, I think what we used was called wood putty, If I remember right it, it was a light tan powder that we mixed with water. She also went through the pages of the book and glued them together, maybe every 12 pages or so.
We also used a product called Gesso, but I can't remember what the purpose of that was. The top pages we curled on the corners. Back then a person could buy gold and silver toned paper borders, that looked lacey, to put on the edges of the paper. We also gave the books an antique look by applying a light coat of brownish paint to it and quickly rubbing it off with a rag. gollyg's idea of painting the edges of the pages gold sounds a lot nicer than just leaving them them whatever color. The lady that taught me this, made them to sell. One year I made one for my parents anniversary. I put a nice verse from an anniversary card on one side (they didn't have a wedding so there was no invitation left to use), then I put their wedding picture on the other side.
I am 14 and I badly wanted a way to decorate my door but had no money! I am really into books... then I had an idea. I went to the local thrift shop and got books with cool covers (paperbacks only really work.) That cost only around 50 cents. Old ones around the house that you have already read work great, too. So then I tore off the books covers and put them on my door, which I painted black. It has an awesome look, and is definitely different if you are looking for something new like I was!
By Audry
© 1997-2016 by Cumuli, Inc. All Rights Reserved. Published by
ThriftyFun
.
Page
generated on July 28, 2016 at 11:05:31 PM on 10.0.2.141 in 2 seconds. Use of this web site constitutes acceptance of ThriftyFun's
Disclaimer
and
Privacy Policy
. If you have any problems or suggestions feel free to
Contact Us
.