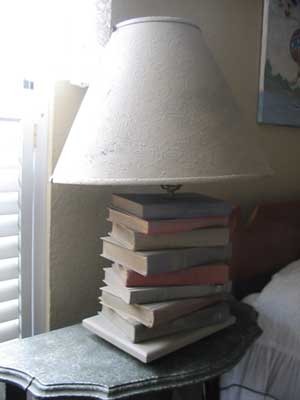 Craft and recycling ideas for old Reader's Digest books.
Folded Christmas Trees
I remember years ago, making Christmas Trees out of Readers Digests, just by folding the pages a certain way. I'll try to explain the best I can. Take the upper right hand corner of the page and turn it as if you were going to "dog ear" a page. Bring that piece to the center so that it is folded down quite a bit. Then take the right hand side of the page and fold that to the center too. It now should look "like" the page has been folded in half. Do the same with all the pages. Spray paint and there you go. I remember using them as door stops.
Decorator "Bookcase"
Years ago, I remember seeing a backdrop along a wall made out of the books. Due to space, the decorator wanted to give the rich look of a bookcase to a room. He used a circular saw and used only 2 or 3 inches of the book using the spine only. The rest of the book was discarded. The book spines were then glued down along a frame attached to the wall to give the illusion of books in a book case. It added depth to the room without taking up the space. Yard sales, as well as book sales, have an abundance of these books on hand. It's a thrifty way to use them even if you do have to throw out the covers of the book. The paper pages themselves could be recycled.
Stack Of Books Lamp
The library in Grand Rapids MI is selling lamps made with Readers Digest condensed hardcover books. They are $35.00 each. Take 6 different color hard cover books, paint the edges of the pages all gold (when books closed) Drill a hole thru the center of each book (same spot) to put the rod with the wiring through stagger the books so they aren't stacked nice and straight, top with an attractive shade. The base is also a book with little wooden ball feet painted and glued to the bottom book. Really neat next to your chair for reading. I hope I wrote these directions well enough. Good Luck!
By Carol Tewksbury
Book Purse
I have seen pictures of purses made with old hard cover books.
By Tera
Get Them At Yard Sales
Yard sales and flea markets are great for picking them up. They have attractive bindings. A few will look good in a bookcase. They are super cheap! They run from .10 cents to .25 cents in my area.
If you have an over abundance of them, they are good to use in craft projects. Glue ribbon on the book like you would do a package and then glue a piece of Styrofoam on top and it can be decorated with artificial flowers. Use as a gift or donate to a nursing home.
By Syd
Comments
Read More Comments