Recycling Sweaters Into Crafts
Sweaters can be used in a variety of recycled crafts. This is a guide about recycling sweaters into crafts.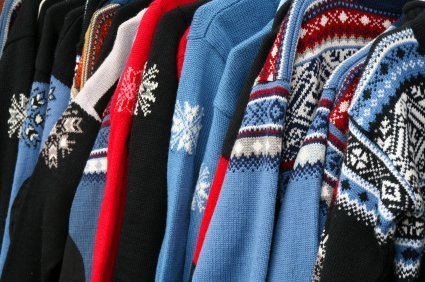 Filter

: All Articles
Sort

: Relevance
Don't throw away old sweaters. Recycle them! I have even bought them at thrift stores to recycle. Most projects can be done in under an hour.
Total Time: 1 hour or less
Supplies:
old sweaters with the ribbing still intact
thread
needle
sewing machine
Steps:
Save old sweaters or find them at thriftstores to recycle into "new" items. Wash and dry before starting.
Sweater sleeves make cute leggings for little girls. Cut them off at the shoulder, and sew into a straight line. You may wish to add elastic depending on the size of the girl and the size of the sleeves. Position so that the ribbing (cuff part) of the sleeve is at the ankle.
Use the body of the sweater to make mittens. Again, use the ribbing of the sweater to be the cuff of the mitten (at the wrist).
Use the body of a cotton or wool sweater to make hot trivets for your dining room table. This is fun to do for the holidays. For example: use an old Christmas sweater for Christmas trivets, a pink or red one for Valentine's, or a green one for Saint Paddy's Day. Don't use acrylic sweaters for this as they can get too hot and melt.
Sleeves cut and hemmed to size make good water bottle socks to absorb sweat off a cold bottle or to help insulate it.
Large sized sweaters can be cut down to make jumpers or sweater dresses for toddler girls or sweater vests for toddler boys.
Source: http://www.goodshomedesign.com/sweater-mittens-sweater/
This is a guide about recycle yarn from old sweaters. Old outdated sweaters of your own or thriftstore finds are a great source for reclaimed yarn.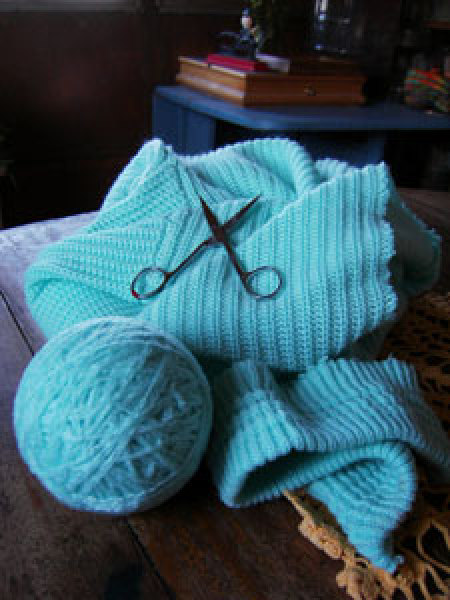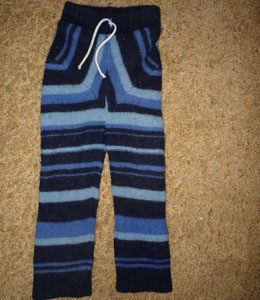 Turn your old wool sweater into a pair of pants for your baby! Wash the sweater with hot water and dry with high heat to shrink it. Cut off the sleeves, and sew them together to make a pair of "legs". Finish the waist with a draw-string (an old shoe-string works great) or elastic. You can even use the collar or bottom of the sweater to make it look more professional around the waist. And, wool makes a great diaper cover, too!
By Jackie from Burlington, KY
I have several old sweaters that my family and I love and would like to recycle or re-use. I want to put large squares from the sweaters together to make a king-sized quilt.
Can I stitch the blocks of sweaters before cutting them apart, to keep them from unraveling, then cut them out, and attach them to each other by stitching them along the prior stitch line?
I do not knit at all and have very little experience sewing. I only know how to make some hand stitches, and I don't have a sewing machine.
If my idea is ridiculous, please advise me how I can do the "quilt" or submit these sweaters to someone else to do it for me.
By Miss Bonnie from Denver, CO region
October 22, 2011
0

found this helpful
If you go to buy a used sewing machine please take a sewing person with you as you could end up with nothing and have spent your money. I rebuild old machines and can find a lot that have a little wrong with them for 20 dollars but you have to know how to use one to buy used.
Go to a Sewing place that fixes machines and 50.00 with a 30 day guarantee is a good price and you are covered and they will instruct you or you can order a book if one doesn't come with it by googling the name of the machine. You seem to be wanting to tackle an awful big job so be careful, get some help.
May 2, 2016
0

found this helpful
Your question gave me a brilliant picture of a "quilt" made from sweaters! OOOOOO! cozy!!
Try going to a quilt shop with your idea and find a class to join. It could be the start of a wonderful new hobby for you!
Read More Answers...
At garage sales, I always keep an eye out for turtlenecks. I don't like the way I look in them; rather, what I do is bring them home and snip off the "turtleneck" part, which I then wear as a stretchy headband!
Leg-warmers are back in style and can easily be made from the sleeves of old sweaters, even sweaters with holes! Just turn the sweater inside-out and cut the seam out at the arm-hole using sharp scissors.
Look at the latest holiday edition of www.threadbanger.com for instructions how to make easy beanies and matching mitten from an old sweater! Kids are always losing theirs, so this would be great for a wintry mom.
How can I recycle old knitted cotton sweaters?
By Loretta from Steep Falls
March 3, 2012
0

found this helpful
I made an old sweater of mine into a hot water bottle cover! I didn't have a pattern, just snipped off the arms, ballparked the size, and did a quick stitch around. I kept the turtleneck opening of the sweater around the spout of the bottle. Keeps it very warm and cozy!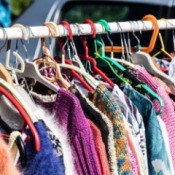 Enhance your shabby chic or vintage decorating with crafts from old crocheted sweaters from the thrift store. These sweaters are often torn or pulled in one area so are not useful as sweaters anymore. I have bought them for between $1-$3 each.
Lampshades: cut the bottom off under the arms and draped this tube over plain white paper lamp shades. tape to the inside to avoid burning the loose threads
Drawstring Bags: Try cutting a circle out of the front or back of the sweater and a contrasting fabric, sew a hem, thread cord through and gather. Store lingerie or other items and drop a bunch of them into a wire basket so they show.
Window valance: Cut off the bottoms just below the arms, separate the front and back pieces, sew binding tape along the sides and top, add some fabric yo-yos along the bottom edges in your room's colors, add tabs or rings and hang side-by-side.
Antimacassars: Instead of doilies, use colorful squares, circles, or diamonds cut from the sweaters. Edge with bias tape or roll over edges and crochet an edging.
Bedspread or throw: This is a little tricky, but you can cut squares and piece together with or without a backing.
Lavender sachets: Cut shapes from the sweaters. Match with fabric. Lay down fabric right side up, the sweater piece, and another fabric piece right side down on top. Sew three edges and turn right side out. Fill with lavender and sew closed. Tie matching ribbon around one or two together.
Planters: Paint pots white. Cut sweater piece to fit around. Apply glue to wrong side of crocheted piece and wrap pot.
Tabletoppers: Cut to fit night- or end table and cover with glass cut to fit.
Other: Used with fabric: tea cozies; kitchen appliance covers; clothespin bags; book and phone book covers. Without fabric backing make: dishcloths; dainty bathroom face cloths; curtains; or mug sweaters, etc.
You can decorate using one or two main colors of sweater - like all white or all cream or white and blue, for example. Or you can use many colors throughout.
You can create a romantic wedding with sachets out of white or cream sweaters, napkin rings out of strips of white or cream sweaters tied around rose colored napkins and a silk rose on floral wire, whatever you can think of to add that vintage look!
Using these sweaters has been my favorite crafting ever!
By Allison
My daughter is 14 years old and very particular about her clothes. Luckily she is happy to shop at thrift stores and is willing to spend her own allowance and money from relatives on clothing she doesn't "need".
I like making them into pillow tops. The sleeves can be bolsters and the backs can be the main front of the pillow. Keep in mind that some pillows are for decoration only, so it's OK to put things like the buttons, any rosettes, embellishments, etc. on them.
Old sweaters are excellent (and beautiful) for recovering throw pillows, or making pillows for the kids to use on the floor while playing video games. Another great use for them is to cut them into huge squares and sew together.
Related
© 1997-2016 by Cumuli, Inc. All Rights Reserved. Published by
ThriftyFun
.
Page
generated on August 22, 2016 at 7:12:38 PM on 10.0.0.66 in 3 seconds. Use of this web site constitutes acceptance of ThriftyFun's
Disclaimer
and
Privacy Policy
. If you have any problems or suggestions feel free to
Contact Us
.