Making Homemade Soap
Soap making is a popular hobby that can easily be done in your own kitchen. There is a wealth of information available, whether you are interested in making bath, beauty, or liquid hand soap. This is a guide about making homemade soap.
Filter

: All Articles
Sort

: Relevance
I've found that all soap products have continued to rise in price for many years, so I started making my own. I was so afraid of using Red Devil Lye that it took me a long time to get enough courage to do my first batch of bath and beauty bars.
I was determined, and I began to read everything I could get my hands on regarding making soap from scratch; all the way from rendering out beef tallow (which makes a wonderful and gentle soap), to the melt and pour type (which allows you to avoid using the lye). It's just way more expensive, and I was looking for the least expensive and the best soap in the world.
On the day I made my first "batch" of soap, my husband helped me. First, we locked all the pets out of the way so that they could not possibly get in the way or splashed if (God forbid) there was an accident of any kind.
When we ended up pouring up that first batch of soap in the big Rubbermaid containers, it was one of the happiest days I've ever spent doing anything.
It was ready to cut into bars the following morning, and we stacked it allowing the air to circulate through it, then patiently waited the 4 weeks for it to "cure" before using it, but Oh My Goodness, what a treat it was using that first bar of our own soap.
From there, I made our own shampoo, dish-washing and laundry soap. I can't even tell you how much cheaper it is. Any soap product is expensive today, and if I can make our own, that's what I want to do.
We in America will most likely see the day when knowing how to be more independent in almost every aspect of our lives will prove to be beneficial. I consider cleanliness a necessity, and I'm so glad that I can take care of that necessity all my myself now.
Of course, I am still having to buy some oils, fragrances and a few other items in addition to my Red Devil Lye, but I'm staying way ahead of the game by saving money and making the best possible face and bath soaps, shampoo, and the other soap products we use every day. Soap, when made properly will probably last for many, many years, so I'm making and packing it away now while I still can.
It is a very satisfying and rewarding craft and I'm so glad I spent the time learning how to do it right. I'm also very thankful that I'm not having to leach wood ashes to make my own "lye" or butchering the beef to get the tallow. If I really had to, I guess I'd soon learn to do those things too.
By Julia (pookarina) from Boca Raton, FL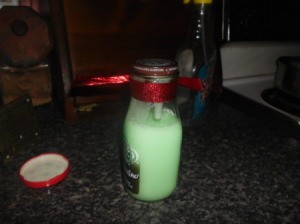 Put 3/4 cups of white sugar into a glass jar and add some dish soap. Then stir, you don't want it too runny. If it is, just add more sugar until you get the right consistency. Put a lid on it.
You can use pink soap, it looks really nice. Great for gifts.
By coville123 from Brockville, Ontario
Here is a tip to help encourage children to love washing their hands and bathing with lots of soap without a huge hassle. When making your own soap, a very cheap thing to do is to buy a bag of small plastic toys from a dollar store.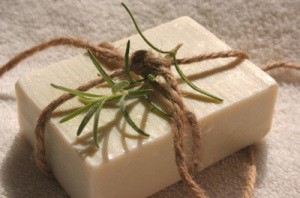 From the culinary to the medicinal, there are hundreds (maybe thousands) of ways to use herbs - including making scented herbal soaps. From the simple to the complex, there are dozens of methods for making soap. Here's one that is both easy and economical because it uses only fresh herbs from your garden, and slivers of leftover soap - no lye required!
Using Leftover Soap
Ideally, the leftover pieces of soap you use should be unscented or, at least, only very lightly scented. Highly scented soaps will compete with and overpower the aromas from your essential oils. The color of the soap doesn't matter, in fact, if you want to change the color, you can find soap coloring at craft stores that carry soap-making supplies.
Remnants from glycerin based soaps (soaps that you can see through) will melt fairly quickly and evenly. The opaque (solid colored) soaps like Dial, Ivory, etc., melt a lot more slowly. To speed up the process, grate your leftovers with a vegetable grater or chop them into tiny pieces. Melt your soap scraps on the stove top in a double boiler over simmering heat. Whatever you do, DO NOT melt opaque soaps in the microwave or you'll have a huge, foamy mess on your hands. Once you start experimenting with soap recipes, you may run across several calling for Castile soap. This pure, white, concentrated soap (with no scent) works very well for making soap. You can usually find it in health-food stores and some larger grocery store chains.
Making Essential Oils
Essential oils are what give herbal soaps their scent. The strongest and longest lasting aromas come from oils that contain herbs like rosemary, lavender, and thyme. Other herbs to experiment with include mints (spearmint or peppermint), lemon verbena, lemon balm, chamomile, comfrey, and roses. To make essential oils, place about 4 ounces (1 1/2 cups, tightly packed) of a single herb's leaves or petals in an airtight glass jar with 4 ounces of extra virgin olive oil. Keep the jar in a cool, dark place for about 3 weeks. After 3 weeks, strain the oil to remove the plant debris. You now have an aromatic essential oil. Use it to make your soaps, or add a few drops to your bath water for a refreshing and relaxing aroma.
Making Bar Soap:
Ingredients:
slivers of leftover soap
essential oil of your choice
Directions:
To make "new" soap, collect slivers of used soap, then grate them with a vegetable or cheese grater and melt them in a double boiler over simmering heat. Stir often! As the soap starts to soften, help it along by adding a few drops of water and mashing it with a potato masher. Add water as sparingly as possible. Too much will keep the soap soft and prevent it (or at least prolong it) from setting up. As it is, your finished soap will probably be softer than the soap you started with.
Once the old soap is melted, add about 1 tablespoon (more or less to your tastes) of the essential herbal or floral oil of your choice, and continue stirring for several minutes. Pour the mixture into plastic molds (available at craft stores), or into small containers that have been lightly greased with olive or vegetable oil. Leave soaps for at least two days before unmolding and/or cutting. After removing your soap from the molds, you may find that you still need to cure them (let them dry out and harden up) a bit longer. Depending on your preferences, this can take several days to a few weeks. Once they set up sufficiently, wrap them in plastic wrap or wax paper to store.
Honey Lavender Soap
Ingredients (makes 1 bar of soap):
10 Tbsp. of grated leftover soap
1/2 tsp. olive oil
2 tsp. of clear honey
2-3 drops of essential oil (use more or less as desired), such as lavender or rosemary
Directions:
Put the grated soap in the top of a double boiler or into the microwave set on low power. Melt the soap. Stir in the olive oil, a drop or two at a time. Stir in the honey and essential oil, then remove from the heat. Continue to stir until the mixture is well blended. Pour into molds, cover and leave them to set up and harden - this may take up to two weeks. Unmold and wrap in wax paper to store.
Additional tips:
The addition of essential oils to soap "batter" can sometimes (not always) cause the soap to darken in color. Also, adding bits and pieces of dried herbs to your soap will give it an interesting look and texture, but don't be surprised if they turn brown. The exception seems to be calendula petals, which are generally good at retaining their color.
A lot of different variables (e.g. combination of herbs, amounts of water and oil, curing time) work together to affect your end product. Getting the exact results you're looking for may take experimentation and practice.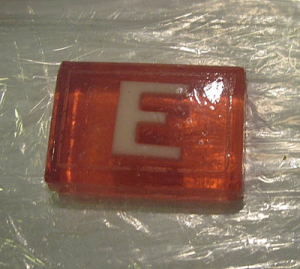 A very easy, cute gift that looks hard to make.
Approximate Time: 1/2 hour
Supplies:
block of clear unscented soap (for one soap, about 8 oz., depending on size)
dye (optional)
scent (optional)
small amount of white unscented soap
square/rectangular mold
letter molds
freezer
microwave
knife
alcohol in spray bottle
microwave safe container
Popsicle sticks
Instructions:
Melt a small amount of white soap in the microwave, 25 seconds, mix (with Popsicle stick), repeat another 25 seconds and repeat until melted.
Pour into letter mold of choice.
Place mold in the freezer for about 15 minutes or until solid.
Remove letter from mold.
Melt about 8 oz. of clear soap (or as much needed for the square mold) in the microwave, 25 seconds, mix (with Popsicle stick), heat for 25 seconds, until fully melted.
Add dye or leave as is.
Add a drop of scent or leave as is.
Pour into square mold.
If bubbles form, spray with alcohol.
Wait about 2 minutes so the soap cools a little and doesn't melt the letter, then place the letter in the center of the melted soap in the mold.
Let harden for about a day.
Remove from mold.
By Esther from Baltimore
Is it possible to skip the grating of bar soap such as Ivory and just use the liquid version?
Thanks.

September 21, 2015
0

found this helpful
I bet not..I think they add something to the liquid soaps to prevent them from solidifying...
Buy bar soap at rummage and garage sales-any kind including guest soaps. They can be beat-up, dried up, broken,etc. Grate them up with a coarse grater and add in any leftover soap slivers you may have on hand.
How can I apply sugar, milk, beer, and honey to soap recipes? How can I test to know that finished home-made soap is good for the body?
Kachi
September 27, 2011
0

found this helpful
When making the lye soaps which need to be stirred and then poured into a mold, add your honey or lavender or even oatmeal right before pouring to mold.
Read More Answers...
What can I do with the end bit of a bar of soap? How can I put the bits together to make one bar, of any shape?
By Sandra
July 15, 2014
0

found this helpful
I brought one of those loofah gloves. I store my leftover bits of soap in there. I will keep it in a dry place,until it gets full. I tie off the top and use the glove until it is empty. Rinse and wait for the next bits of soap.
Read More Answers...
Patti McKenna
0

found this helpful
Melt the following ingredients together in a saucepan over low heat.
Ingredients:
1 Tbsp. liquid glycerine
5 oz. unscented glycerine soap
4 tsp. liquid soap
Directions:
Remove from heat. Add 1 tsp. your choice fragrant oil (i.e. hydrangea, rose, apple, pear, etc.). Pour into molds until set.
For a unique scent, mix and match the oils to create your own fragrance. Optional, 2-4 drops of food coloring.
When correctly made, homemade soap is of high quality, ranking with some of the better commercial brands of soap. It can well be referred to as "one of the few remaining bargains" for homemakers today.
Slowly add lye to cold water, stir to dissolve. Melt fat and let it cool. Pour into lye and use a wooden spoon to stir until it gets too stiff to stir.
Are there any soap makers out there? Would you like to share some tips to those wanting to learn to make soap?
Related