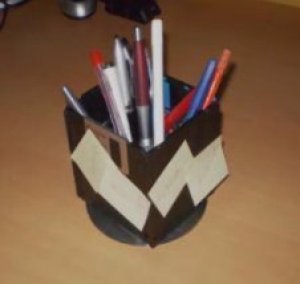 There are some ways to recycle those outdated floppy disks to make something useful. This guide contains uses for floppy disks.
Ad
---
Solutions: Uses for Old Floppy Disks
Read and rate the best solutions below by giving them a "thumbs up".
If you are still using floppys like I am, and store them in a floppy box you can't see what's on the floppy unless you take it out of the box. Using a black Sharpie, write on the metal edge, i.e. Thank you graphics, Good morning graphics, Jokes, Labels, etc. Easy to read at a quick glance stored in the box.

By Syd
Give a "thumbs up" to the solution that worked the best! Do you have a better solution? Click here to share it!
Questions
Here are questions related to Uses for Old Floppy Disks.
I am looking for crafts using old floppy disks and non-working CD discs.
By Kelly from Medina, OH
AnswerWas this interesting? Yes No
Ad
---
---
Most Recent Answer
By Carol Overholt 5 30 10/08/20100 people found this helpful
The sewing ornament is very unique, but it looks quite heavy, might be something fun just to hang in the sewing room. The coasters look very well done also. I love the Christmas tree idea. I've made the sun catchers before. Will try this next month! I wonder if you could also make other shapes like an angel using triangles for the body and wings and a diamond shape for the head. Could add color to the CD's on the body. Thanks for the inspiration!
---
Does anyone have a use for old floppy disks? I have many that I don't know what to do with or how to get rid of them. Can they be used in any other way?
By Cheryl from Phenix City, AL
AnswerWas this interesting? Yes No
Ad
---
---
Most Recent Answer
By Michael Ruger 19 115 08/01/20110 people found this helpful
A Challenge! Foot Floor Hockey or Shuffleboard, a divider for card file box, construct small boxes out of them. Create art out of them, possibly jewelery. How about ice or pottery scrapers, sew up in material with say crumpled up paper, make bean bags. Magazine bookmarks. Those two small square holes? Possible decorated tree or wall ornaments. Most everything has many reuses.
Mike
---
How can I make use of old diskettes? What about broken and old cartridge?
By Aveneg from Iloilo, Philippines
AnswerWas this interesting? Yes No
---
Most Recent Answer
---
Archives
Thrifty Fun has been around so long that many of our pages have been reset several times. Archives are older versions of the page and the comments that were provided then.
Now that computers no longer use floppy discs is there any use for all the unused ones I have? I hate to throw anything away that can be used for something else. Coasters are the only thing coming to mind.
Audrey from Enfield, CT
---
RE: Uses for Floppy Discs
I use mine to back up what I do each day, such as pictures, cute email, information from a site, etc. Then I can look at it again, and decide if I want to keep it, and burn to a CD. (01/25/2006)
By Lee
RE: Uses for Floppy Discs
I use them as backing for fridge magnetic hangers that I make myself. I stick a magnet to the back and I glue all kinds of things to the front, like photos or make pictures with left over scraps from my crafting. Or even a few small flowers. They make a good stable backing, easy to move around the refrigerator door. And when you feel like a change, either pull off the old decor and make a new one, or throw it away all together. (02/10/2006)
By Marion
RE: Uses for Floppy Discs
Make a floppy disk bag. Look at
instructables.com
(11/05/2007)
By Billy
RE: Uses for Floppy Discs
They are still useful if you have old backup disks lying around. My dad has so many disks and they still have useful stuff on them, but I could burn those things on a CD. Coasters might work. (09/07/2008)
By Leopardclaw
RE: Uses for Floppy Discs
Frisbees. (11/24/2008)
By Lolcat