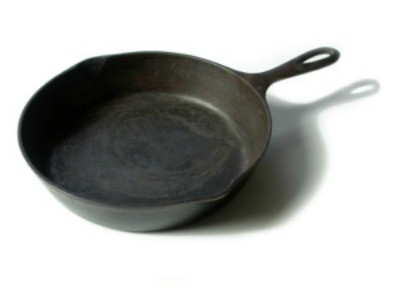 Easy, excellent nonstick way to clean and care for cast iron! For years I washed my cast iron skillet with water, thinking that was the only way to get off stuck-on egg. The shiny black surface (called 'seasoning') was constantly breaking down so that things would stick, and rust was always a danger. Then I stumbled on the easy, traditional way to clean it, and it keeps it so smooth and nonstick that getting stuck-on food off is no longer even an issue!
By the way, if you sniff your cast iron, and it smells metallic, the seasoning is in need of repair. If it is well seasoned, it will not smell that way, and will be shiny and black as coal. If the skillet is in seriously bad shape, you can put it through a self-cleaning cycle in the oven to burn it down to bare metal and start seasoning over from scratch, or you can just start treating it as I describe, and the seasoning will repair and become maintained over time.
Here's what you do: after cooking, you remove whatever food scraps or liquid may remain, put about half a teaspoon (more for a big job) of regular table salt in, and scour it with an old rag. I cut up ratty holey socks and other ruined cloth and keep handy for things like this.
When the surface is clean and smooth, tip the dirty salt into the trash or sink, and then rub with a clean soft bit of cloth with a dab of shortening or grease until the surface is again shiny and black. Again, I keep a small square of clean soft cotton cloth in my shortening can, for this purpose, and reuse it. So long as the skillet was scoured clean with the salt, the shortening cloth stays clean enough to use many times before washing or replacing.
Hang skillet on the wall until next use (or store in the oven). By not washing or rinsing my skillet in water, and never using soap (or especially detergents) on it, the natural nonstick surface stays healthy and food never sticks.
The other trick is, you have to know what level of heat is best, and heat the skillet thoroughly before adding food. Eggs require a much gentler heat than things like bacon or other meats. Cooking eggs on high will glue them to the pan (and result in tough eggs).
So, watch the heat level for the type of food, heat the skillet 5 to 10 minutes before adding food, and keep the natural "seasoning" healthy by scouring with salt and oiling after each use, and cooking with cast iron will be a pleasure!
By Crunchymamamaine from Maine
June 11, 2015
0

found this helpful
I do like happy.now from Louisiana - I wash my 100 year old cast iron skillet in Dawn detergent, then dry it with paper towels. I then heat it up just a little & then smear the inside with a very thin coat of bacon grease, & set back on the low fire for about 30 minutes. After that I wait for it to cool down & wipe out any excess grease, & I store it in the cabinet upside down.
To the lady who is having trouble with her pan not seasoning correctly & you use canola oil & an electric stove - use bacon grease or lard instead. I have used both canola & veggie oil on my 2 skillets & used the skillets on both gas & electric stoves & found years ago that the canola & veggie oils do not season the pan well enough to keep foods from sticking in them... use bacon grease.
Read More Comments
July 5, 2006
0

found this helpful
I like to grill bagels with butter in my cast iron skillet. However, sometimes the bagels will not lay flat and part of the bagel will not be grilled. I priced a grill presser which was made out of heavy cast iron for $20. The kind they use in restaurants to lay on top of bacon. Before I purchase this expensive item does anyone have any other ideas that might help?

Onesummer from Georgia
By guest (Guest Post)
July 11, 2006
0

found this helpful
Hit a couple of flea market/junk stores, I have seen them in the past. Should not cost too much, just clean real well.
By guest (Guest Post)
July 11, 2006
0

found this helpful
I vote for another cast iron skillet on top to smoosh 'em down. That's how I cook panini-style sandwiches!
By guest (Guest Post)
July 11, 2006
0

found this helpful
I always put a fry pan on top of the item and weight it down with my "cooking brick". I bought a new brick, scrubbed it down well and covered it with aluminum foil, which can be changed as needed. Works great.
Fran H
CT
Read More Answers
My friend gave me a cast iron Dutch oven. I made a beef stew in it. It appeared as though some old gook from the pot had made its way into the stew. It looked kind of greenish. Does it mean that the pot is no good?
By Tyara
September 18, 2011
0

found this helpful
I've never heard of cast iron going bad. I would scrub the inside like crazy (I'd start with a green Scotch Brite, and move on to steel wool if necessary), then season it. That's what I had to do with a wonderful old rusty pan I picked up at an antique shop. I scoured away all the rust and seasoned it and it was fine. Do you know how to season cast iron? My mom puts oil/grease on hers and sets it on a high burner (gas) for a while. I have a pan my dad bought for me when I moved out, and it has instructions on the bottom. It says to scour the pan, coat in cooking oil, leave in a 300-degree oven for one hour, then wipe off excess oil. It took time for mine to get a good finish on it, but this should help. After it is well-seasoned, you shouldn't have to soak it in soapy water and scrub too much. If I cook something that sticks (like something that caramelizes), I put hot water in it and let it sit while I'm washing the rest of the dishes. Then I just use the green Scotch Brite to clean it. Afterwards I wipe on a little more oil, and that's it. I don't heat it in the oven again. With experience, you'll be able to tell how it looks after you've cleaned it if you need to season in the oven again.
September 18, 2011
0

found this helpful
Thank you, Mrs Story, I will do that and post a feed back. I threw out the stew. Afraid to poison everybody! I am a little scared to try again. I must admit.
September 27, 2011
0

found this helpful
The food is turning black because either it isn't seasoned well enough, you're using very acidic food, or you're letting the food sit in it too long. As far as I know, it's not going to really hurt anyone to eat the food if it's not a real dark color, but it might have a metallic taste that's not too great. However I wouldn't recommend letting small children or pregnant women eat much of the food that is black/greenish, because of the high iron content.
I used to cook my spaghetti sauce in my cast iron dutch oven, because acidic foods draw even more iron out & I had a problem with anemia. I discovered that if I didn't season the pot after cooking acidic food, then the next time I used it to roast a chicken & veggies in the oven, they all came out with that greenish/black tinge. I was horrified the 1st time it happened & threw everything out. Then I learned it was safe & didn't taste bad if it was only slightly discolored - if you can get past the color, LOL! When I finally remembered to re-season after my spaghetti sauce, the problem was solved.
Here's a great site with all kinds of recipes & information on how to use your cast iron cookware:
I want to buy a cast iron griddle for grilling chicken indoors. Are the long rectangular flat bottom cast iron griddle designed for electric stoves? It seems like they would slide off. Never owned one before and would like your input. Thanks.

Onesummer
July 3, 2007
0

found this helpful
I use one on my electric stove and have no problems with it sliding off, they are heavy enough to stay in place. I also use it in the broiler and have no problems.
July 10, 2007
0

found this helpful
Mine works great.
ps Never thought of using it in the broiler, thanks!
June 19, 2010
0

found this helpful
If you have a smooth-top range, do not slide the skillet on it. This will scratch the cooktop. I pick mine up and then set somewhere else. I use my cast iron skillets for everything. I even have a cast-iron dutch oven that makes the best anything I choose to cook, especially stews.
August 11, 2009
0

found this helpful
I have a cast iron pan that has been around for many years. It is very well seasoned and I don't clean it with soap, just hot water. But after making ground beef with chili seasoning or any other meal with a lot of spices, (stir fry, fish) the aroma stays in the pan.

If I want to make pancakes or grilled cheese or anything that would absorb the prior seasoning, I first take some canola oil, or butter if I am making pancakes or grilled cheese, heat it up in the pan and then use a paper towel to wipe out the hot pan. This absorbs most of the seasoning aroma and only a few times have I had to do this twice. This method keeps the pan well seasoned but removes aromas that would transfer to whatever I am cooking. Just be careful as the pan will be hot!

By Cindy from Spokane, WA
Answers:
Cooking With Cast Iron Pans
Just an interesting item. I have heard that the use of iron karhais (something like a wok) in Indian cooking prevents anemia as a certain amount of iron is absorbed into the food. (06/20/2007)

By Grandma H
Cooking With Cast Iron Pans
My mom has had the same cast iron pan all my life. I love borrowing it. She uses dish soap to wash it but she dries it on a hot burner.Maybe that will help your problem. i've made cake and meat loaf in it often and everything comes out delicious. (06/20/2007)

By Rubyred777
Cooking With Cast Iron Pans
To clean I would Never use soap on cast iron pans just water and elbow grease. Next time you bake put it in the oven. When seasoning comes off smear on the lard-shortening cooking oil to refresh the pan. I have been doing this for 50 years. Cast Iron is forever!(02/10/2009)

By Jerry