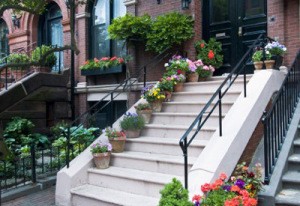 Space is at a premium for most gardeners, but especially for people living in large urban areas. A few may have limited access to a small backyard plot, but most consider themselves lucky if they have a small balcony or rooftop terrace on which to grow plants. If you live in a large city, you can still grow own edibles and flowers, you just have to get a little creative. Here are some tips for making the most of the little space you have.
Rule #1: Ask For Permission
If you live in a condominium or a town home, be sure you receive approval from your co-op board or HOA, (or if you rent, your landlord) before planting or modifying your balcony or patio space in any way. Most have very specific rules in place regarding gardening and landscaping - for example weight loads for balconies, and what type of alterations, if any, can be made to exterior walls.
Build Beds Out of Boxes
A small corner on a balcony can usually accommodate several 2 x 2 foot wooden boxes (6-inches deep) for growing vegetables and flowers. Fill them with a light weight potting soil and make an attractive display by stacking them at different heights using concrete blocks. For climbing plants, attach a vertical frame to the side of the boxes and tack on some netting.
Capitalize On the Sun
Vegetables require plenty of sunlight - at least 6 hours or more a day. What you can grow depends on how your outdoor space is orientated to the sun. Crops like tomatoes, peppers, and beans will be happiest in a warm, light-filled exposure to the south or west. Lettuce and root vegetables need less sun and can be grown in northern and eastern exposures, where sunlight is more limited. To maximize the amount of sun your plants receive, try using mirrors, light colored paint, and shiny accessories in the space to help capture and reflect the light.
Compost in Your Kitchen
Kitchen compost pails are the perfect way to recycle food scraps in apartments, small homes, and condominiums, because they allow you to produce compost directly in an airtight pail, which eliminates the odors. Larger systems could be placed on a rooftop, or - if the law allows - on a fire escape for shared use by several neighbors. For the more adventurous types, a shallow 2 x 2 foot box located in a broom closet is adequate space for vermicomposting (composting with worms). Worm boxes placed outdoors in colder climates need to be well insulated.
Consider Your Neighbors
Be sure to consider your neighbors (and their pets) when planning your garden space. More than likely your garden will be considered a welcome addition, providing that your plants don't block any scenic views and your container garden doesn't "rain" down on your neighbor's balcony every time you water your plants.
Get Creative with Containers
The latest trend in gardening is to mix flowers and vegetable crops within the same container. This is great news for gardeners with limited space, and easy to do as long as you choose plants that have similar overall growing requirements (e.g. both need full sun). When designing containers, the traditional concept of thriller (a "look-at-me" plant), fillers (middle level plants that fill in the gaps), and spillers (the trailing elements) still applies. Look for dwarf varieties of vegetables that are specially bred to grow in containers.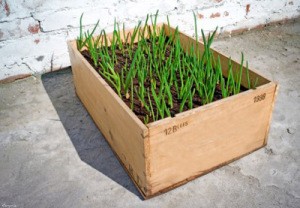 Plant for Pollution Tolerance
Trees and plants growing near busy city streets need to be able to endure constant exposure to soot, salt, car exhaust, and other toxins. They must also be able to withstand heat from the pavement, drought-like conditions, and tolerate growing in acidic soils. Tree species like oak, ash, elm, ginkgo, linden, and gray birch, are considered more "pollution-tolerant". For flowers, native species are usually more adaptable to sparse conditions. If you want to plant roses, choose some of the heartier Rugosa varieties. Keep the foliage of your trees and plants clean and healthy by occasionally spraying them with water or wiping their leaves clean with a damp sponge.
Plant Fruit Trees in Pots
A few well-placed dwarf varieties of apple, plum, pear, and cherry trees can make an attractive backdrop while giving you a delicious harvest. These small, attractive trees reach a height of 5 to 7 feet and bear fruit quickly. Figs, citrus, and soft fruits like strawberries and blueberries also do well in containers. Check the pollination requirements of each fruit. You may need more than one variety unless the tree is self-fertilizing. Make sure you use planters with wheels to make moving and rotating heavy pots easier.
Utilize Railings and Window Boxes
If your railings wide and flat, simply set a railing box on top of it and bolt it securely into place. Holders are also available for hanging standard size boxes on metal railings. Hang them on the outside of your railings to save balcony space. Hang them on the inside if you're worried about things falling to the ground. Use window boxes to grow dwarf vegetables like tomatoes or peppers and your favorite herbs. Some easy-care choices are sage, chives, thyme, oregano, and basil. If you're above the first floor, be sure to put a drip tray or saucer underneath your pots and planters to prevent any excess water from dripping down below.
Join a Community Garden
Few things are more rewarding than access to a steady supply of delicious fresh vegetables that you have grown yourself. No space of your own? Then consider joining a community garden. It's not as hard as you think and offers you opportunities to meet like-minded people that share similar interests. To find a community garden near you, or to find out how to start a community garden in your community, visit the American Community Garden Association http://acga.localharvest.org/
Has anyone ever tried "vertical gardening"? I am very excited to try this. I have a small balcony and love gardening and this sounds like the answer to my problem.
By Sweet_tammy from Parry Sound, ON
March 24, 2010
0

found this helpful
Vertical gardening is exactly what it sounds like: gardening vertically rather than horizontally, as we normally do.
It's ideal for those with limited space who garden in a small yard or on a terrace, deck or patio, but it also can be used effectively by any gardener who is interested in experiencing different types of gardening.
You can use fences, walls, trellises, arbors, pergolas and many different types of containers to garden vertically. As you add lush, draping plants, you can't help but appreciate the sense of artistry that vertical gardening can bring to the landscape.
A vertical garden creates privacy and helps hide unattractive views. It also can cool off your landscape and help shade your property. It allows you to grow more plants with less space while offering excellent air circulation for those plants. You'll be able to enjoy your tomatoes and cantaloupes ripening at eye level.
And plants suited for vertical gardening tend to have less disease because some pests don't climb vertically. Another bonus: You won't have to weed vertical gardens as frequently because you'll be using less soil.
Vertical gardening also allows people with disabilities or those who can't bend or kneel to continue gardening.
Structures
Ready to get started? Here are several structures that are ideal for vertical gardening:
Fences. These are a great way to make use of upward-growing plants, especially climbers and those that have tendrils. And if your fence is unsightly, vertical gardening is a great way to hide it.
Trellises. These structures stand alone and can be made of wood, metal, stone, bricks, plastic or even PVC.
Arbors or pergolas. There are many styles and materials from which to choose, and these structures can either stand alone or be attached to your house. My rule of thumb is that all outside gardening structures should complement the style of your home.
Miscellaneous. Poles, cages, string or large stakes all can work to support your vertical plantings. Also, containers are the foundation for several combinations of vertical gardening. Some unusual objects upon which plants can drape or be trained to grow upward are barrels, old window frames and bed frames or even old kitchen stools.
Lots of plants work well in a vertical garden, including the following:
Vegetables. Tomatoes, cucumbers, peas, beans, winter squash and gourds are perfect choices. Some of these plants will entwine themselves around your structure of choice, while others will need to be tied to it for support. Another ideal vegetable is corn because it needs a lot of vertical space to flourish. One of the benefits of growing corn is that you can plant other veggies along with it, such as beans and zucchini, and use the corn stalks as a supporting structure. You'll get double the harvest, and it will look beautiful.
Vines. A vertical flowering vine can add beauty to your landscape. Plus, it will attract birds and butterflies to your garden for you to enjoy. Morning glory, clematis, climbing rose, honeysuckle vine, sweet potato vine and cardinal climber are good choices.
Fruits. The larger fruits -- melons and pumpkins -- can be trained to grow vertically and can be supported with old pantyhose, strips of cloth or, depending on the size of the fruit, heavy rope. Tie them loosely to avoid damaging the vines. Grapes and kiwi fruit also grow well vertically. Good luck.