EllenB
Gold Post Medal for All Time! 858 Posts
No matter how small your garden plot is, intensive gardening will maximize the productivity of your available space. Intensive gardening does this by utilizing season-extending tools and specific planting techniques. Sometimes called "square foot" gardening, or "French intensive gardening" (the French developed it), here are some intensive gardening techniques to give you the biggest garden possible for your small space.
Intercropping Techniques
Intercropping is the practice of planting a quick-maturing crop within or between rows of a slower growing crop in order to utilize all the available space. Lettuce, radishes, or onions, for example, are fast to mature and can be planted within rows or between rows of slower-growing plants like peas, cabbage, broccoli, eggplant, or tomatoes.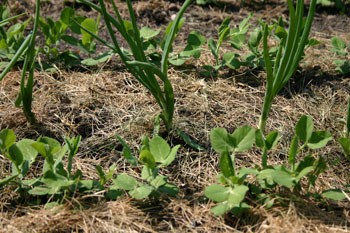 Wide Row Planting:
A form of intercropping, but instead of single-file rows, plants are planted in groupings or rows 1-4 ft wide. This leaves less space for walking paths, but allows you to water and fertilize more economically and makes it harder for competing weeds to become established. For consistently sized groupings, make an easy grid system by marking off 1ft squares with string or sticks before transplanting.
I use the plastic slats from an old Venetian blind. If your sowing seeds, keep them spaced evenly with a planting grid made out of chicken wire mounted on a wooden frame. Lay the grid down flat and drop a seed into each space in the chicken wire.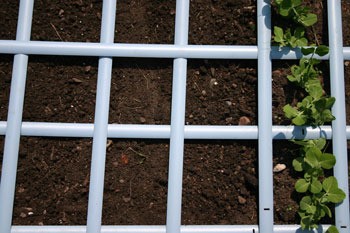 Catch Cropping:
Depending on the climate, when one crop is harvested it may be several months before another crop can be planted in the same spot. Planting quick-maturing crops in the unused space in the meantime, like radishes or lettuce, is called catch cropping.
Relay Planting:
With this technique, a new and different crop is planted in the same space as a crop that is about to mature. By the time the more mature crop is ready to harvest, the recently planted crop has gotten a head start. This allows more crops to be planted per year in the same space.
In addition to intercropping, consider combining tall crops with low-spreading crops. Try planting caged tomatoes with melons, peas and radishes or lettuce with corn.
Succession Planting
Succession planting staggers the planting of the same crop over a period of 1-3 weeks (depending on the crop). This insures a constant supply of short-season or quick-maturing vegetables all season long. For example, plant a row of lettuce, radishes and spinach and leave a space nearby reserved for a second and third planting 1 to 2 weeks later. When the first row is gone, the second will be peaking and the third well underway. Once harvested, the first row can be raked clean and the planting process repeated.
When combined with raised bed gardens and vertical plantings of "climbers" like cucumbers, peas, beans, and small fruit varieties, intensive gardening techniques are effective ways to produce big yields in small spaces.
Comments
By sandy (Guest Post)
July 10, 2005
0

found this helpful
i would love tips on growing on my wood deck. it is about 4ft by 5 ft. i have 5 pots on there now. i suspect there is much better way to garden than i am now.
i have no access to water except buckets. i did buy a hose that was supposed to hook to my kitchen sink but it wont fit and cant find a proper fitting.