To make a tipsy flower pot stand, get at least 76 inches of rebar and pound 1 foot of it into ground. Place a 12 inch pot over/down rebar through the pot drain hole and fill with dirt so that your second pot will rest on top of dirt. Lace remaining pots through rebar (size of you choice) and tip to your desired position. I used 4 (10 inch) pots and 1 (8 inch) pot on top.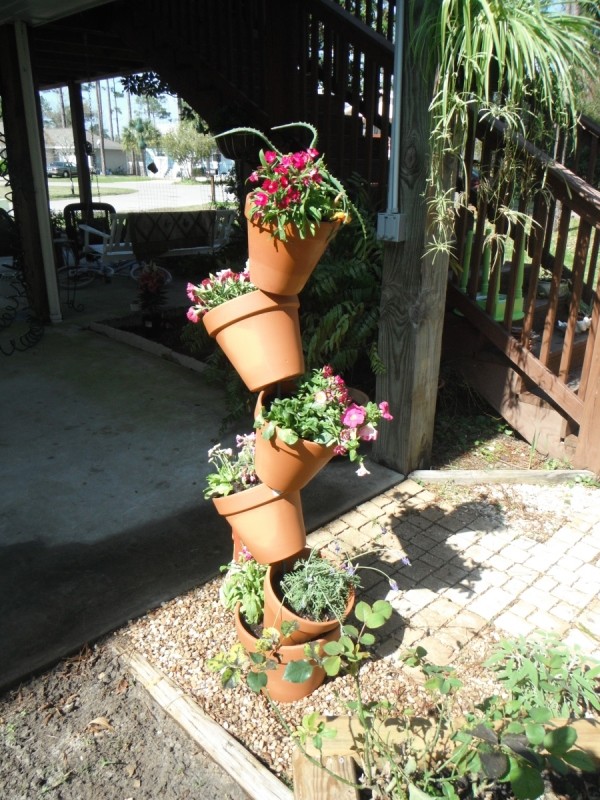 Fill with plants and pound any remaining rebar down so it doesn't show outside the top pot. It would probably be a good idea to put a layer of mulch on top of the soil as clay pots dry out fast in the hot summer sun.
Source: http://www.gardenandcrafts.com
By Tracey V. from Santa Rosa Beach, FL
March 4, 2012
0

found this helpful
How cute! I'd like to do that!
March 5, 2012
0

found this helpful
Love it! But, some of my pots have smaller drain holes. Anyway that you know of to enlarge the hole without cracking the pot?
March 5, 2012
0

found this helpful
There are different sizes of rebar that you can use but it may not be sturdy enough. I found this project is best for 12"10"8" pots. Bigger pots have bigger drain holes that fit the rebar. I did make a smaller version with smaller pots/drain holes using a thinner rebar, but it is only stacked a couple of feet high.
I had been wanting to make on of these planters for The Path Garden for a couple of years. Just hadn't gotten around to it. The 99 Cent store had the clay pots so I got 5 and asked DH to go get the rebar for it. He did and then couldn't wait for the gardener to help pound it into the ground. He went ahead and finished it and I got it mostly planted before the gardeners came. Now the gardener's wife wants one. LOL!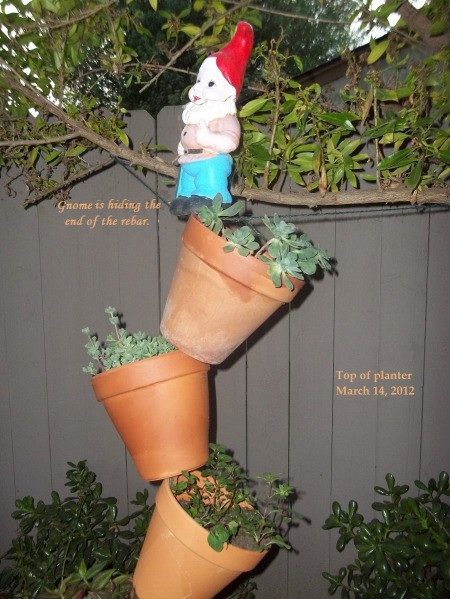 Thanks to the TF reader that showed us their picture just recently. It reminded me to get on the ball. We'll make a smaller one for farther down in the garden. Also we're planning a POT PERSON next.
Now if you count the pots , notice there are 6 on this planter ( 5 are the norm) plus the one on the ground that I planted "Forget-Me-Not" seeds in. The planter top is tied to the tree to make sure it doesn't get pushed over by accident. So easy and lots of fun. Give it a try!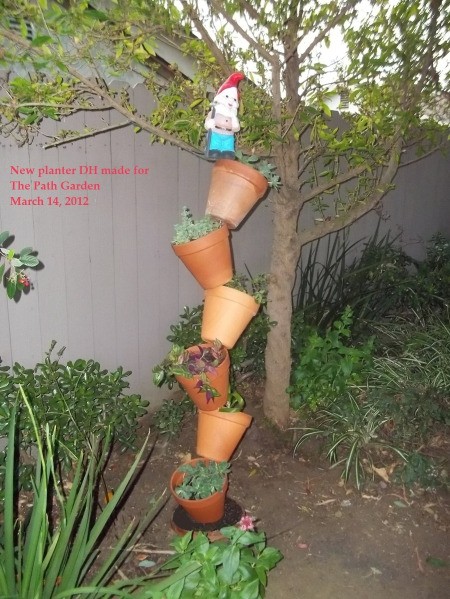 By Great Granny Vi from Moorpark, CA
March 20, 2012
0

found this helpful
This is so nice! It is a lot of fun, too. People are going to wonder how you did it! It'll brighten a lot of days for you, and everyone who sees it. Thank you for another great pic!
March 20, 2012
0

found this helpful
You and dear hubby certainly have the coolest decorations and assorted items in both the path garden and your yard! Very wise to tie the gnome to the tree branch for extra security ;-) I am jealous because I only have a little patio to decorate and putter around in now.
March 26, 2012
0

found this helpful
I'm going to use your idea to grow strawberries. Thanks!
May 31, 2016
0

found this helpful
I am waiting to see if I get one. The elderly lady next door passed away and family have been hauling stuff away and on the patio among her pots is a topsy turvy and I asked one of the family members if I could buy it unless of course it held sentimental value, she said she would ask her daughter so I am waiting to see.
I am looking for instructions how to make an upright plant stand out of terra cotta pots. I have seen them at flea markets and craft shows in TX. I think they have a steel rod that goes through the hole in the bottom and the pots are kind of zig zagged. I don't know how else to explain it. I never examined one close enough to really see how it was held together. They were like 5 feet tall. Thank you!

Amanda from NC
February 19, 2009
0

found this helpful
I think these are called Topsy Turvey pots. Just Google it and you'll get a ton of directions on how to make them.
February 19, 2009
0

found this helpful
They are called tipsy pots. I agree they are cute, I had quite a spectacular one last year and am excited about planting it again this year. You can google tipsy pots for the instructions.
February 20, 2009
0

found this helpful
You can also go to Friendshipgarden.com to purchase a stand that is very sturdy. Also you can find alot of decorating ideas.
February 20, 2009
0

found this helpful
A PDF file is available at www.gardensandcrafts.com. They are called Tipsy Pots.
July 3, 2009
0

found this helpful
There is a metal stand available to make a stack for your porch or deck. Also, I saw a hanging pole in 2 sizes. Very affordable, I paid $10.00 for mine and got instructions.
http://www.tinntreasures.com/tipsy_pots.html
I am looking for instructions on how to make a flowerpot tree. A rod goes through the center hole of the pot. Then the next pot is slid on and tipped, all made 5 pots high. I thought I saw it here, but can't seem to find it now.
By Polly G from Turtle Creek, PA
April 27, 2010
0

found this helpful
April 28, 2010
0

found this helpful
Thank you! That's exactly what I'm looking for.
May 6, 2010
0

found this helpful
You need a larger pot for the base to support the tree part. Fill with soil then With length of rebar inserted in the larger pot, put the smaller pots on with the rebar thru the holes. As you put them on fill it soil. Lean each one a different direction. when last one is full of soil, fill each pot with different kinds of flowers and plants. Some of them trailing. Your choice.