Solutions: Tipsy Flower Pots
Read and rate the best solutions below by giving them a "thumbs up".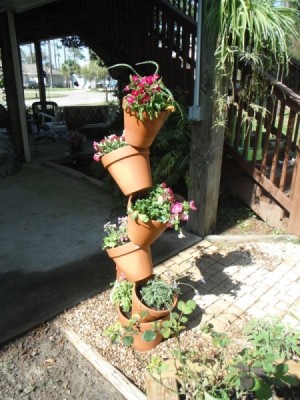 To make a tipsy flower pot stand, get at least 76 inches of rebar and pound 1 foot of it into ground. Place a 12 inch pot over/down rebar through the pot drain hole and fill with dirt so that your second pot will rest on top of dirt. Lace remaining pots through rebar (size of you choice) and tip to your desired position. I used 4 (10 inch) pots and 1 (8 inch) pot on top.
Fill with plants and pound any remaining rebar down so it doesn't show outside the top pot. It would probably be a good idea to put a layer of mulch on top of the soil as clay pots dry out fast in the hot summer sun.
Source: http://www.gardenandcrafts.com
By Tracey V. from Santa Rosa Beach, FL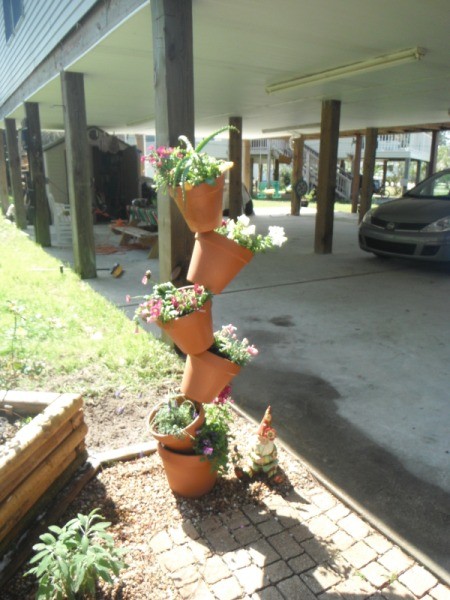 Share Your Feedback:
Once you try any of the above solutions, be sure to come back and give a "thumbs up" to the solution that worked the best for you. Do you have a better solution? Click "Share a Solution" above!
Questions
Here are questions related to
Tipsy Flower Pots
.
Stacked Terra Cotta Pot Plant Stand
I am looking for instructions how to make an upright plant stand out of terra cotta pots. I have seen them at flea markets and craft shows in TX. I think they have a steel rod that goes through the hole in the bottom and the pots are kind of zig zagged. I don't know how else to explain it. I never examined one close enough to really see how it was held together. They were like 5 feet tall. Thank you!

Amanda from NC
---
Most Recent Answer

By suesgreentouch
07/03/2009
There is a metal stand available to make a stack for your porch or deck. Also, I saw a hanging pole in 2 sizes. Very affordable, I paid $10.00 for mine and got instructions.
http://www.tinntreasures.com/tipsy_pots.html
Photos
Here are photos related to this page. Rate the photos that you like the best.
Click here
share a photo.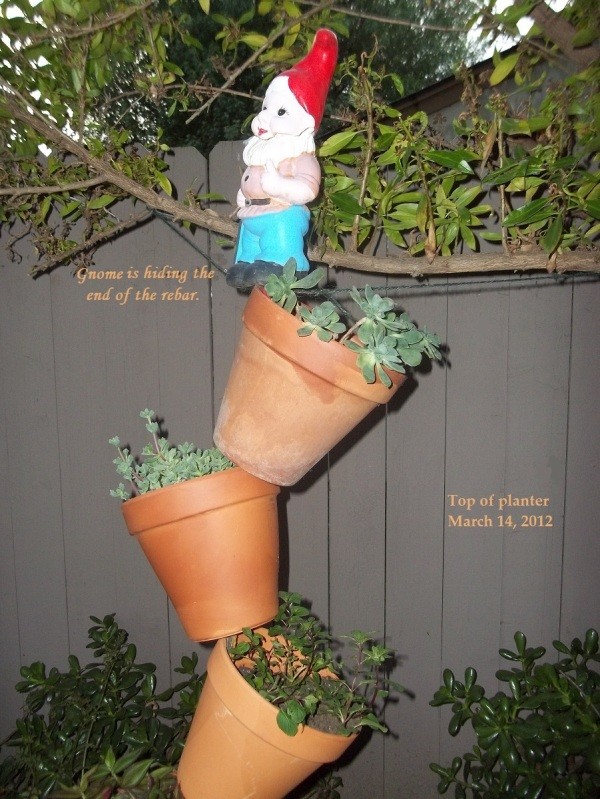 I had been wanting to make on of these planters for The Path Garden for a couple of years. Just hadn't gotten around to it. The 99 Cent store had the clay pots so I got 5 and asked DH to go get the rebar for it.
READ MORE
Related Guides
Related Posts