Create interesting vertical planting space by making your own tipsy flower pots. This is a guide about tipsy flower pots.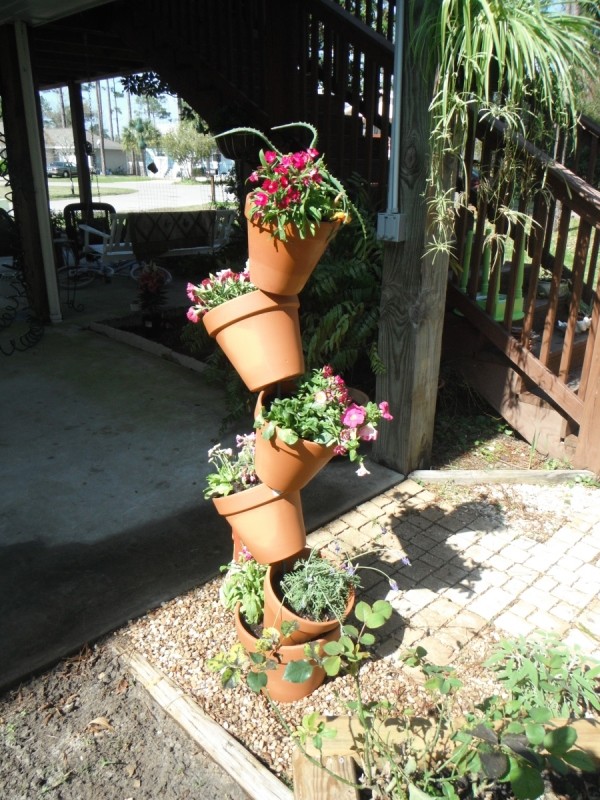 Filter

: All Articles
Sort

: Relevance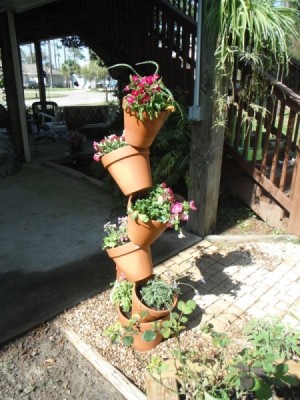 To make a tipsy flower pot stand, get at least 76 inches of rebar and pound 1 foot of it into ground. Place a 12 inch pot over/down rebar through the pot drain hole and fill with dirt so that your second pot will rest on top of dirt. Lace remaining pots through rebar (size of you choice) and tip to your desired position. I used 4 (10 inch) pots and 1 (8 inch) pot on top.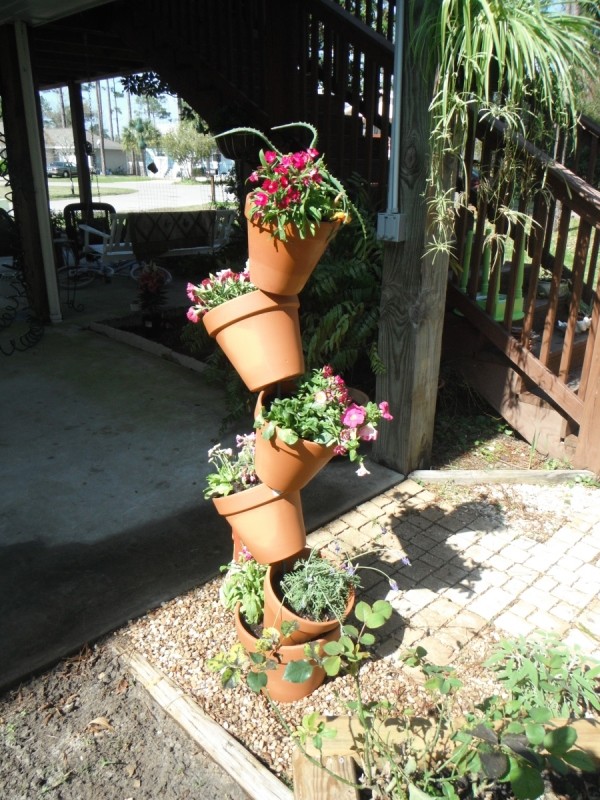 Fill with plants and pound any remaining rebar down so it doesn't show outside the top pot. It would probably be a good idea to put a layer of mulch on top of the soil as clay pots dry out fast in the hot summer sun.
Source: http://www.gardenandcrafts.com
By Tracey V. from Santa Rosa Beach, FL
I had been wanting to make on of these planters for The Path Garden for a couple of years. Just hadn't gotten around to it. The 99 Cent store had the clay pots so I got 5 and asked DH to go get the rebar for it. He did and then couldn't wait for the gardener to help pound it into the ground. He went ahead and finished it and I got it mostly planted before the gardeners came. Now the gardener's wife wants one. LOL!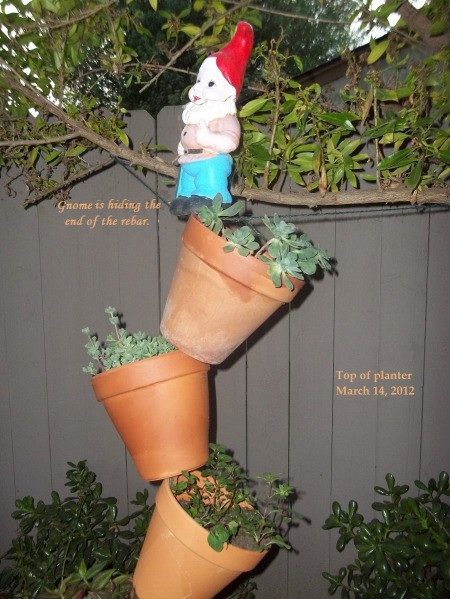 Thanks to the TF reader that showed us their picture just recently. It reminded me to get on the ball. We'll make a smaller one for farther down in the garden. Also we're planning a POT PERSON next.
Now if you count the pots , notice there are 6 on this planter ( 5 are the norm) plus the one on the ground that I planted "Forget-Me-Not" seeds in. The planter top is tied to the tree to make sure it doesn't get pushed over by accident. So easy and lots of fun. Give it a try!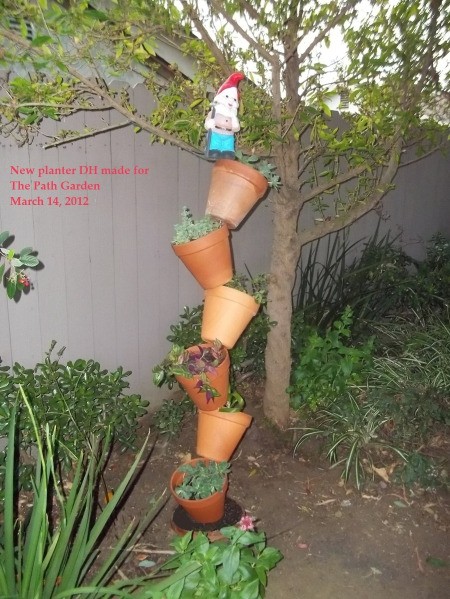 By Great Granny Vi from Moorpark, CA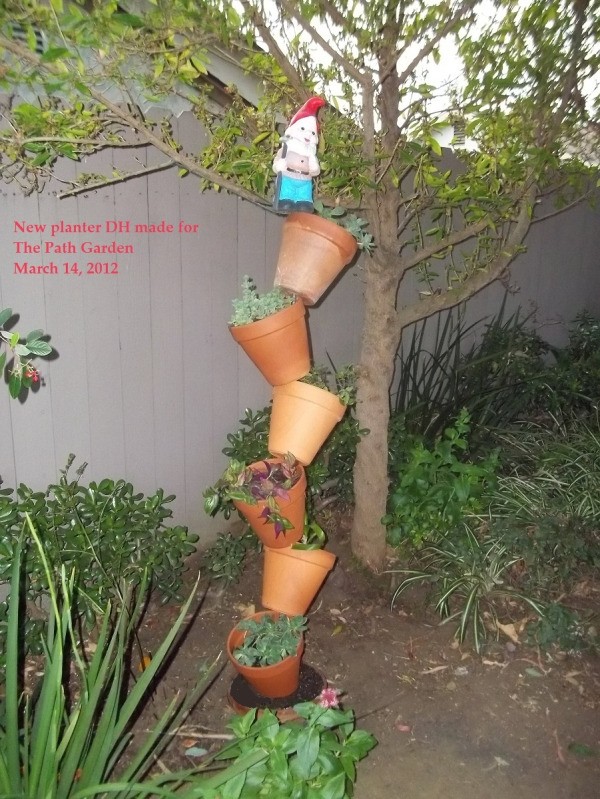 I am looking for instructions how to make an upright plant stand out of terra cotta pots. I have seen them at flea markets and craft shows in TX. I think they have a steel rod that goes through the hole in the bottom and the pots are kind of zig zagged. I don't know how else to explain it. I never examined one close enough to really see how it was held together. They were like 5 feet tall. Thank you!

Amanda from NC
Answer
Was this helpful?
Helpful?
Yes
There is a metal stand available to make a stack for your porch or deck. Also, I saw a hanging pole in 2 sizes. Very affordable, I paid $10.00 for mine and got instructions.
http://www.tinntreasures.com/tipsy_pots.html
Reply
Was this helpful?
Helpful?
Yes
Read More Answers...
I am looking for instructions on how to make a flowerpot tree. A rod goes through the center hole of the pot. Then the next pot is slid on and tipped, all made 5 pots high. I thought I saw it here, but can't seem to find it now.
By Polly G from Turtle Creek, PA
Answer
Was this helpful?
Helpful?
Yes
You need a larger pot for the base to support the tree part. Fill with soil then With length of rebar inserted in the larger pot, put the smaller pots on with the rebar thru the holes. As you put them on fill it soil. Lean each one a different direction. when last one is full of soil, fill each pot with different kinds of flowers and plants. Some of them trailing. Your choice.
Reply
Was this helpful?
Helpful?
Yes
Read More Answers...