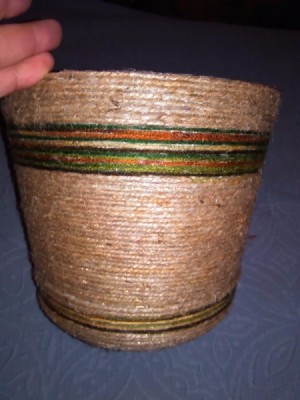 I recently found some flower pots on sale for .50 cents or less, and I just couldn't pass them up! They were extremely plain, just boring plastic pots with no decorations whatsoever. There were several sizes and many of them were scratched up.
How could I decorate them using only leftover crafting supplies that were already laying around the house? Surely I had something useful in all that 'junk'!! Yep, sure enough.
I grabbed my trusty glue gun, some garden twine, and some longer bits of leftover yarn that I'd forgotten all about- and got busy crafting!
Not only did this turn out to be a lot of fun, it was also highly addictive, because the finished product was really nice! I couldn't make just one, especially once my friends saw them. Try it out and see for yourself. Enjoy!