Protecting Seedlings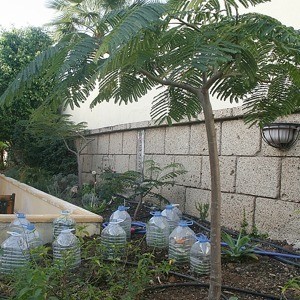 Young tender plants often need support and protection from the wind, as well as, browsing animals and birds. This guide is about
protecting seedlings
.
Solutions
Share on ThriftyFunThis guide contains the following solutions. Have something to add? Please share your solution!
I just planted my garden for this year. I had started the plants indoors, and we live in the Panhandle of Texas where we get LOTS of wind. I planted these small delicate plants on a very nice day. Then, of course, this morning the wind started blowing. I'm concerned the small plants will be blown to death, and I'll be out there with nothing left in my garden.
So, I got some 2 liter bottles that I had in my recycling bin. I also had some water bottles saved for recycling too. I cut the bottom and the top off and slid them down over my small delicate plants to protect them from the wind. They will still receive the light and I can still water them. This is working great for these plants.
By Nana from Panhandle of Texas
May 5, 2010
0

found this helpful
I had trouble with the bottles blowing away and the bottom of the bottles curling up. I used a hole punch to put holes on opposite sides of the bottle and then used earth staples to hold the bottles down. This has made a big difference because I didn't have to push the bottles down so far in the dirt and the plants could grow larger before the bottles had to be removed.
Another use for toilet paper rolls. If you start plants that produce fragile seedlings (like sweet peas) that don't like transplanting, plant them vertically encased in a toilet paper roll. When it's time to transplant, remove the roll and seedling from your medium intact and transplant the whole thing. The roll protects the plant during the transport and after relocating. Then the roll just biodegrades into your soil.
Source: Garden Club info on winter seeding.
By Jeannie from Vancouver BC
Anxious to get our tomato seedlings into the ground, I thought of a way to protect the cute little plants from birds. Grab an old metal cloths hanger by the hook end with one hand and grab the middle of the longer (bottom) part of the hanger with the other hand. Pull with both hands to stretch the hanger so it kind of looks like a big, very odd looking bubble blowing wand. Straighten the hook end out, as it will end up being the post you stick in the ground near the plant. If you like, you can use several "hanger" supports, 8 to 12 inches apart, per plant.
After sticking the post end in the ground, place a piece of bird netting over the top of the newly created support, assuring the netting is touching the ground, by at least 6 inches (more is better) on each side. Tie several pieces of yarn, string or plastic ties to secure the netting to the top of the "hanger" support. You can secure netting to the ground by making "U-shaped" wires from another cloths hanger to push through netting holes, into the ground. Or you could weight down the netting to keep it from blowing in the wind. You can make row covers as well, by using one long piece of netting and strategically placing "hanger" supports in the row. Tie the netting to the top of each support.
When the seedlings become large enough for self-protection from the birds, you can remove the netting. You can save your newly created "hanger" supports for other years. You can tie the hanger supports together, as they will stay better while in storage. It's an inexpensive and easy way to help your seedlings survive. I can't wait to pick that first juicy tomato, can you? And the birds can't wait to pluck those cute little tender seedlings out of the ground. We'll see who wins, as this is the first time I've tried this project. I really think it will work, don't you?
By Susan from Clinton, TN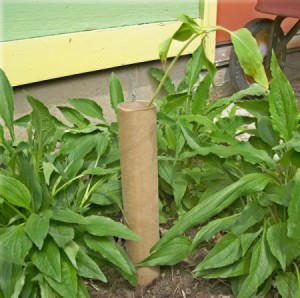 I've always had a problem with critters eating my sunflowers (and other young flowers) after I plant the seedlings out into the garden. This year I'm protecting them with paper towel tubes or even wrapping paper tubes for taller seedlings and TP tubes for smaller ones.
You can cut the tube open long-wise to place it around the seedling's stem. But I just held the leaves together gently and slipped it down over the plant. Be sure to push it into the ground for stability. You don't want it to blow over in a wind and break your seedling. I mounded some soil up around it as well to keep it securely in place.
Once the plant is well established and not such a tasty target for garden varmints, you can remove the tube. After being rained on and watered, it will be easy to tear or cut with scissors. The photo shows a sunflower seedling protected among the purple coneflower plants.
By Gloria from upstate NY
When you want to grow a small amount of seeds, and know exactly where you've planted them, use a toilet paper tube.
Holding the cardboard tube upright, take your scissors and cut upwards about 1 1/2 inches all around the bottom of the roll. You will need to have the strips wide enough to push all of them towards each other to seal off the bottom.
You can also using a small tomato paste can and push newspaper down into the empty can. Cut the paper around the top of the can so it won't hang over the edges, then pop it out of the can and you have another holder.
Just dig holes in the ground, put your growing medium in the container, add the seeds, then I use a plastic knife or something to identify what seeds they are.
Hope you have as much fun as I do making these.
By Tootsiepie from Bay City, MI
It's a universal experience among gardeners, especially in the spring-yanking out a weed only to find out later it was really a "wanted". Weeds will do whatever it takes to survive, even disguising themselves as other plants.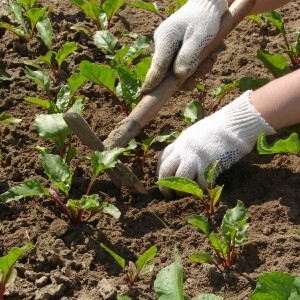 Read More...
Young trees are a favorite snack of hungry deer, especially in the spring and fall while there's still snow on the ground. Most young pines can recover from minor amounts of repeat browsing as long as the terminal bud remains intact.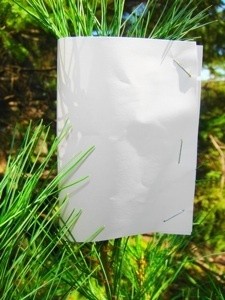 Read More...
My sweet grandson always comes over to weed eat in my yard. He cannot tell a weed from a new plant I've put out and has hacked a few of my plants down by accident. Now I cut the top and bottom out of a tin can.
Read More...
March 15, 2017
0

found this helpful
With some creativity you can protect your young tomato seedlings and get a jump on the growing season. This is a guide about protecting tomato seedlings.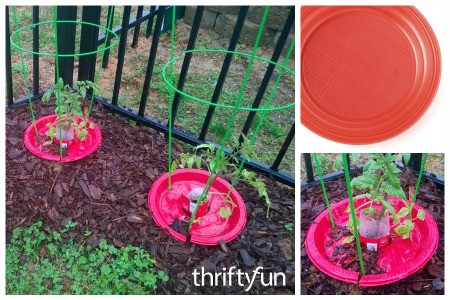 Use the free supermarket plastic carrier bags as small windbreaks for recently planted seedlings.
During hot days, put pinestraw on top of new trees or plants to keep the sun from burning them.
Read More...
Archives
ThriftyFun is one of the longest running frugal living communities on the Internet. These are archives of older discussions.
May 13, 2009
0

found this helpful
Cut off the tops of 2 liter plastic soft drink bottles to use to protect seedlings (and to discourage cutworms). Use the bottoms of the bottles as saucers for potted plants. They work great and will protect surfaces from spills if you over water.

By Laurie from Fairbanks, AK
July 1, 2008
0

found this helpful
My tip for protecting small plants and starters is to cover them with a 2 liter clear plastic soda bottle. I cut off the bottom and discard it. Then I place the remaining bottle over my small or sensitive plants and flowers to protect them from the elements. The great thing about this is that the bottles are clear so they continue to get sun and if I need to water them, I simple unscrew the bottle tops, give them a little drink and air during the day and then close them back up at night. This system has been working very will for me since I started doing it several years ago. Of course I have only a balcony garden as I live in the middle of a large city.
By Lisingreece from Greece
Related Content