Growing plants from seed is relatively easy, but there are some tips that can make this method easier and more successful. This is a guide containing sowing seeds tips and tricks.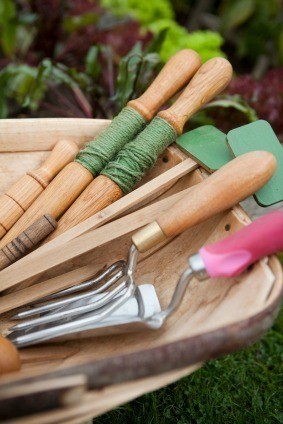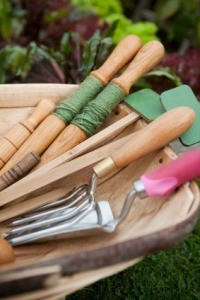 The right garden tools can help make an otherwise tedious job simple and quick to accomplish. Here are some specialized tools to make the task of sowing seeds and planting transplants in your garden a bit easier.
Seed Sowers
These handy gadgets allow you to sow seeds evenly and accurately, creating perfect rows to maximize seed usage and plant spacing. Seeds are held in the tool and deposited onto the soil one at a time. An adjustable outlet controls the flow, and places the seeds exactly where you want them along the row. The three most popular types include seed plungers, hand-held dial sowers, and walk behind wheeled sowers.
Bulb Planters
A bulb planter is most useful when planting bulbs in individual holes instead of large beds. When inserted into the soil and twisted, the bulb planter removes a plug of soil, which can then be replaced on top of the bulb after planting. Models with a claw-like action make it easy to release the plug by putting pressure on the handle.
Dibbers and Widgers
Dibbers: A dibber is a pencil shaped tool, usually made of wood, used for making planting holes of various sizes. The tool is wide at the top and comes to a narrow point at the bottom, which allows you to make tiny holes or bulb-sized holes depending on how far you insert it into the soil. Many dibbers have stainless steel tips to prevent rusting. Look for t-shaped or curved handles for a more ergonomic grip.
Widgers: A widger is a cross between a dibber and a very narrow trowel. They are useful for a variety of tasksplanting seeds, bulbs, seedlingsand work especially well lifting and transplanting seedlings and rooted cuttings with the minimum of disturbance.
Garden Lines
A garden line consists of two pointed wooden stakes connected to each other by a long length of twinean easy tool that you can make yourself. When stretched out and inserted into the ground, a garden line acts as a guide to making straight, level planting rows. Although it is primarily used in the vegetable garden, it is also a useful tool when you are planning and constructing straight edges along walkways and patios, or when designing new flower beds.
Garden Sieves
Garden sieves consist of circular wooden rims fitted with plastic or heavy-duty steel mesh. Depending on the gauge of the mesh, they can be used for separating out coarse materials from the soil (large), cleaning vegetables for storage (medium), or covering seeds with a fine layer of soil (small). Garden sieves with wire mesh tend to be more effective and durable than mesh made from plastic.
Soil Thermometers
One factor crucial to determining both seed germination and the rate of growth is soil temperature. Most people use thermometers to measure the current air temperature, which is often very different from the temperature of the soil. Good thermometers for taking soil readings will have a shape and design similar to a meat thermometer or a tire pressure gauge. Look for models with a dial that is easy to read and sits on the top of the thermometer so that you dont have to get on your hands and knees to get a reading.
Ellen Brown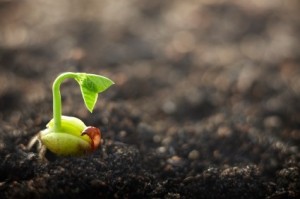 Most vegetable and flower seeds will freely germinate when given water, the ideal temperature, and a loose, well-aerated growing medium. Other seeds, however, need special treatment before they can be coaxed into germinating. These "pre-treatments" may include such things exposure to cold, or a thorough washing from rain.
Why So Fussy?
The types of seeds that benefit most from pre-treatment are those of native plants. These seeds all share a characteristic called innate dormancy. To a gardener trying to germinate seeds this might seem like a bit of an inconvenience, but in the wild, possessing this characteristic is very advantageous to the survival of a species.
Just imagine what would happen if every seed in a given population of plants germinated at the same time and suddenly there was a killing frost. The end result would be disaster. These extra conditions are built-in safety mechanisms that ensure seeds wait out the winter (or in some cases the dry season) before they sprout. And since not all seeds will have their extra conditions met at the same time, germination rates are staggered and the overall risk to the species is reduced.
Native seeds don't necessarily need to be pre-treated to germinate. Pre-treating them just increases the odds of success and helps speed up the process.
Pre-Soaking
Some seeds germinate faster and more reliably (and evenly) if you soak them in warm water for several hours at least 24 hours before planting them. One reason for this may be that the seeds have chemicals in their seed coats that must be washed away before the seeds will germinate. This is a common characteristic of plants native to areas that experience extended dry spells.
Other seeds may benefit from soaking because their thick seeds coats are hard for water to penetrate. In the vegetable garden, seeds like beets, carrots, parsley, parsnips, and spinach can all benefit from soaking. Size has nothing to do with whether a seed should be pre-soaked or not. It's all about the seed coating.
Small seeds can be folded into a biodegradable coffee filter, moistened with water, and placed into a plastic bag. Allow them to dry again before planting (they will stick to the filter), then cut up the filter into small pieces and plant the seeds, filter and all, directly into the soil. Note: If your seed package doesn't direct you to pre-soak the seeds, don't bother.
Scarifying or Nicking
Another way to speed up the germination process for seeds with thick seed coats is called scarification or nicking. This treatment allows water to penetrate the seed coat and initiate the germination process.
For example, Morning Glories seeds can benefit from this process. To do this, gently rub the seeds back and forth a few times between two sheets of sandpaper. With larger seeds, you can also use a nail clippers or a small nail file to carefully chip away a small portion of the seed coat. Be careful not to grind the seeds into dust or cut completely through to the embryonic portion in the seed.
Breaking Dormancy Through Stratification
In colder climates, the seeds of some native plants must be stratified, or exposed to cold temperatures for a certain period before they will break dormancy and germinate. Examples include common bleeding heart and cardinal flower, and native trees and shrubs like birch, dogwood, and spruce. Stratification simulates the natural conditions these seeds would experience in frozen or cold, moist soil during the winter.
Dry Stratification
The process of exposing seeds to freezing temperatures
without moisture
to break dormancy is referred to as "dry stratification". Most prairie grasses and many prairie flowers require simple dry stratification. Seeds can be dry stratified by placing them in an airtight bag or container and putting them in the freezer for 30 to 90 days prior to sowing. Larger quantities of seed can be placed in animal-proof containers and stored over winter in an unheated shed or garage.
Moist Stratification
The process of exposing seeds to cold temperatures
with moisture
is called "moist stratification". This treatment is especially common for native perennial flowers and shrubs growing in climates with very cold, snowy winters.
In a controlled environment, you can mimic moist stratification by placing seeds in a plastic bag or re-sealable container with an equal volume of moist (not wet) sawdust or clean builder's sand. Place the bags in the refrigerator at 34 to 38 degrees F for at least 3 to 4 weeks (do NOT freeze them). Try to time your moist-stratification treatment so that your seeds come out of the refrigerator at the appropriate time for planting.
To sow all those fly away seeds, simply lay paper towels in your flower beds, wet, and then put seeds directly on the towel. Cover with soil and water as needed. Presto! You will have flowers popping up in no time and the paper will simply rot in the ground!
By Debra from Hampton, TN
By littlegamma 7 43
I stopped using peat moss discs for seed starting many years ago when I learned that the peat bogs were being decimated by this practice. Instead, I save my eggshells throughout the year and fill them with my own homemade compost. Here's how:
Take a sharp knife and quickly and carefully wack off the top most narrow part of the shell. Rinse and place back in an empty egg carton. Put the shell top in the compost.
Poke a hole in the bottom with a pen and place a tiny piece of wet paper over the hole so the compost will not leak out.
Fill with compost or potting soil tapping gently but not firmly to settle. Gently water all the filled shells and plant as per seed pack directions.
Place under grow lights or a bright, south facing window till they germinate. If using the window idea, turn daily.
Plant in pot or garden when they have at least their first set of true leaves. Crush the egg shell gently to help the roots spread out into the soil.
Tip: Some seeds may require bottom heat which can be accomplished with placing the carton on top of your refrigerator, water heater, or a heat mat. You can also make a little greenhouse out of a bakery plastic container, so you will not have to water very much.
By littlegamma from Southern, AL
I have been gardening (vegetables and flowers) for nearly 50 years. I can never get Blackberry Lily and Rose of Sharon seeds to germinate for me. How long after planting does it take for them to germinate? Any help would be appreciated.
Hardiness Zone: 7a
By Vadith from Burnsville, NC
---
Most Recent Answer
March 19, 2010
As kffrmw88 suggests - both seeds need stratification (chilling). Try wintersowing for another way of starting blackberry lily & rose of sharron.
---
Should I put a layer of dirt between the seed and the fertilizer or can I put the seed right on top of the fertilizer?
By Bruce R.
---
Most Recent Answer
By likekinds 114 508 Flag
March 12, 2015
Most seeds have their own energy supply and should not be fertilized, particularly if planted in well amended soil. You can start with a small amount of fertilizer, scratched lightly into the soil around the plants after they have developed two true leaves. If you are in doubt about a particular type seed, check with your local county extension agent. The advice is free and the Ag Agents love to help.
---
I always soak my pea and bean seeds 24 hours before planting. I cover them with water in containers and set them on the kitchen counter. They spring up so quickly when planted in this way.
By Anne from Green Bay, WI
Can lawn weed killer be used in flower beds that are not planted with seeds? It has lilies and flowering trees. If so how long before sowing seeds?
By Dotfred
When starting flowers from seed, I mark each hydrated pod with a push pin to identify which pods contain a particular flower. For example, yellow for marigolds, red for zinnias, blue for petunias, etc. After danger of frost is past and I plant them outside, I mark the plants with Popsicle sticks with the type of flower written on the stick, until they grow large enough to identify by sight.
By Ginny from New Oxford, PA