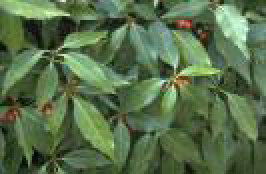 This flowering, shade loving, shrub is a good garden choice, enhanced by its tolerance to both pollution and drought. This is a guide about growing Aucuba Japonica.
Ad
---
Solutions: Growing Aucuba Japonica
Read and rate the best solutions below by giving them a "thumbs up".
Botanical Name:
Aucuba Japonica
Life Cycle:
perennial flowering shrub
Planting Time:
spring
Height:
up to 10'
Exposure:
shade
Soil:
rich, moist, well-drained soil
Hardiness:
zones 7-9
Bloom Time:
late winter or very early spring
Flower:
blue or purple; when a male plant is present nearby, female plants produce clusters of bright red berries in the fall
Foliage:
evergreen shrub with shiny green leaves (sometimes with yellow or white markings)
Propagation:
cuttings
Suggested Use:
foundation plantings, shrubs, accents, seaside gardens, patios or containers
Growing Hints:
Start with purchased plants or rooted cuttings taken from a mature plant in late winter. Shrub grows into a tidy 5' round bush in about 4 years and reaches its full height in approximately 10 years. Care should be taken to avoid digging near its shallow roots. The Japanese Acuba is very pollution and drought tolerant making it a good choice for seaside landscaping. Fertilizing in spring will encourage berry production.
Interesting Facts:
Too much sun will cause leaves to become sunburned. On the other hand, too much shade will cause varieties with variegated leaves to lose their color.
By Ellen Brown
Give a "thumbs up" to the solution that worked the best! Do you have a better solution? Click here to share it!
Questions
Here are questions related to Growing Aucuba Japonica.
I have been getting cuttings from one of these plants and they seem to rot before they get roots. What am I doing wrong that they do this? Can you also tell me where I can buy one of these? I want the one with the speckles on the leaves Thank you.
By Annette
AnswerWas this interesting? Yes No
Ad
---
---
Most Recent Answer
Is the Japonica Acuba (Japanese Laurel) salt tolerant?
Hardiness Zone: 9b
By Judith from FL
AnswerWas this interesting? Yes No
Ad
---
---
Most Recent Answer
By kathleen williams 76 1,661 03/16/2010 Flag
Aucuba are grown for their bold foliage, autumn fruit, and adaptability to shade, dry soil, pollution, and coastal conditions. A. japonica is a rounded, evergreen shrub with small, reddish purple flowers in spring, and red berries (on female plants) in fall. It grows to about 10 feet tall and wide. 'Crotonifolia' has leaves that look like they were speckled with yellow paint. 'Gold Dust' is female with heavy yellow speckling. 'Mr. Goldstrike' is male, more upright, and has gold-splashed leaves. Use as a hedge or specimen, in a container outdoors, or as an imposing houseplant.
Noteworthy characteristics: Very adaptable; glossy, bold foliage; red berries on female plants. Many named cultivars are female and thus bear autumn fruit.

Care: This plant is tolerant of full shade, dry soil, pollution, and salt winds. It's adaptable to almost any soil, except waterlogged soil. Use it in full sun to part-shade, or in full shade in hot summer areas. Protect from winter sun and wind at lower zones. Trim or cut back in spring.

Propagation: Root semi-ripe cuttings in summer. Sow seed in containers in a cold frame in autumn.
Problems: Wet root rot, Southern blight, fungal leaf spots.
Salt will kill most plants, good luck.
My Acuba shrubs have been growing for about 4 years now and they look great however they are very tall. Can I cut them back? If so when and how far can I cut them back?
By Rhonda M
My two Japenese Acuba's leaves are droopy and the new flowers that were coming on top are also gone. Do these plants get root rot and would cutting them down close to the ground help them out?
Hardiness Zone: 8a
By rardinjs1 from Flower Mound, TX