January 23, 2006
0

found this helpful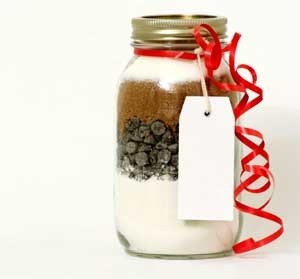 Ingredients:
1 3/4 cup flour
3/4 tsp. baking soda
3/4 tsp. salt
1 1/2 cup chocolate chips
3/4 cup packed brown sugar
1/2 cup sugar
Directions:
Combine flour, baking soda, and salt in small bowl. Place flour mixture in 1 quart jar. Layer remaining ingredients in order listed above. Pressing firmly after each layer. Seal with lid and decorate with fabric and ribbon
Attach to Jar:
Preheat oven to 375*
Beat 3/4 cup Softened butter, 1 egg and 3/4 tsp. vanilla in large bowl until blended. Add cookie mix and 1/2 c nuts (optional) mix well, breaking up any clumps.
Drop by rounded teaspoonfuls onto ungreased cookie sheet. Bake 9-11 minutes or until golden brown. Makes 2 dozen.
By imaqt1962 from Illinois
April 2, 2006
0

found this helpful
For great jars and handmade lids sets for gifts in a jar check out ebay. Great prices compared to stores. Check out NicholeStar007
Kelli Mahoney
0

found this helpful
This is a visually stimulating gift that may make the receiver either run to the kitchen to start baking or put your masterpiece on display. By filling a jar with the dry ingredients needed to bake some chocolate chip oatmeal cookies, you provide almost all the items a person will need to make the delicious snack. But don't forget to give them the recipe!
Ingredients:
Glass jar
1 1/4 cup oats
1 cup flour
6 oz. semi-sweet chocolate chips
1 cup brown sugar
1/4 cup sugar
1/4 teaspoon salt
1/2 teaspoon baking soda
Ribbon
Instructions:
In the order listed above, place the dry ingredients into the glass jar. If you want, you can change the order, as sometimes putting the chocolate chips on the top adds a nice touch. Put the top on the jar and tie with a bow. Give the gift with a recipe card letting the person know how to use the ingredients.
Recipe:
Other ingredients needed - 1 stick softened butter, 1 egg, 1 tablespoon milk, 1 teaspoon vanilla.
Preheat oven to 375 degrees F. Mix wet and dry ingredients in bowl well. Drop onto ungreased cookie sheet. Bake 9 to 10 minutes for chewy cookie or 12 to 13 minutes for crispy cookie. Cool one minute. Makes 32 cookies. 1 cookie has 60 calories, but a lot of love!
November 12, 2005
0

found this helpful
This year is going to be very lean money wise. I have been collecting a lot of recipes this year and I am going to put them to good use for Christmas presents. I am going to bake some gifts and some will be makeable such as the jar gifts. Here are some of the jar recipes I will be using.
Butterfinger Cookie Mix
Ingredients
2 cups all purpose flour
1/2 cup sugar
1/2 cup brown sugar
1 tsp. powdered vanilla
1 tsp. baking soda
Additional Ingredients
1 cup unsalted butter
1 large egg
1 cup Butterfinger bar chunks
(When giving this as a gift, be sure to include the Butterfinger Bars and Instructions.)
Directions
Cookie Mix Instructions:
Combine all dry ingredients in a bowl, mix together and make sure all brown sugar clumps are crushed! Store in an airtight container.
Instructions
(Include these instructions with the cookie mix)
Preheat oven to 350 degrees F and have ungreased cookie sheet.

Use a plastic bag and a mallet to break Butterfingers into pieces, but leave them chunky.

Beat butter until smooth with an electric mixer.

Add egg and beat until well combined and creamy.

Add the cookie mix and blend on low.

Add Butterfinger bar chunks and hand stir.

Form cookies into 1 1/2 inch balls and place 2 inches apart on ungreased cookie sheet. Bake for 10-12 minutes until edges are golden. Remove from oven, let rest 2 min and transfer to wire rack to cool.
---
Hello, Dollies
(Bar Cookies Mix in a jar)
Ingredients
1/2 cup chopped pecans
3/4 cup flaked coconut
1-1/2 cups chocolate chips
2 cups graham cracker crumbs
1. Place first 3 ingredients (in order listed above) into a wide mouth quart jar. Press coconut into jar very firmly.
2. Place graham cracker crumbs in a ziplock sandwich bag. (HINT: it works best if you put the ziplock bag into the jar before putting in the crumbs.) Place bag in jar last, pressing bag in place evenly on top of chocolate chips.
3. Decorate jar and attach instructions:
Additional Ingredients Needed:
1 stick margarine, melted
1 can (14-oz.) can sweetened condensed milk
Mixing Directions
1. Remove bag of crumbs. Empty it into a medium bowl.
2. Add: 1 stick margarine, melted, to crumbs. Mix very well.
3. Press crumb mixture evenly into a sprayed 9x13 inch pan.
4. Take each ingredient one at a time, from jar and sprinkle over crust. (chocolate chips, then coconut, then pecans.)
5. Drizzle the sweetened condensed milk evenly over all.
6. Bake at 350 degrees F for 20-25 minutes. Cool. Cut into 1-1/2 inch squares. Makes 48 squares.
By christi from Paducah, KY
I am looking for a recipe for a sugar cookie mix. This would be the type like a Betty Crocker dry mix which you can purchase. I happened to see a recipe by Sandra Lee which uses the sugar cookie mix, and a few more things to make biscotti. It sounded pretty good. Thank you very much.
By Sandi from Scotland, CT
October 29, 2009
0

found this helpful
You can go to FoodNetworkTv anytime you wish. 24/7, and there you should be able to enter your sugar cookie recipe request, and get all the info you need, including Sandra Lee.
Foodtv is free to anyone on the internet.
October 30, 2009
0

found this helpful
Try searching "home made gifts in a jar" for cookie mix recipes. Also, recipegoldmine.com has some gifts in a jar mixes.