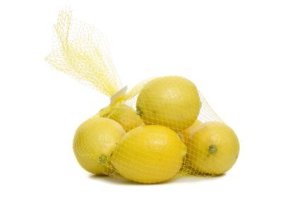 Help the environment and save money by reusing your mesh produce bags. This is a guide about reusing mesh produce bags.
Ad
---
Solutions: Reusing Mesh Produce Bags
Read and rate the best solutions below by giving them a "thumbs up".
Don't throw away the little net bag that your garlic came in! Put all your little chips of soap inside, tie the ends and use it as an exfoliator. You won't believe the amount of suds you will get out of your soap when using your new little bag.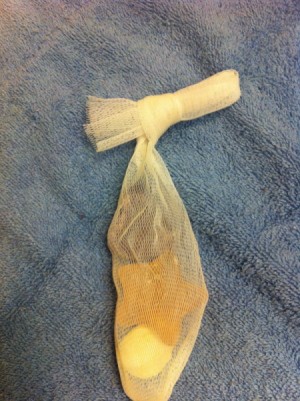 Use body soap inside and it's great for sloughing away dead skin from your elbows, knees and feet.
By attosa from Los Angeles, CA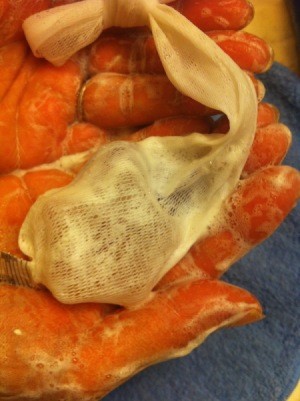 I save the mesh bags from produce items, such as onions and shallots. Use it for small items that would fly around during the dishwasher cycle.
Reuse mesh onion bags as pan scrubbers! Just stuff a few into one bag and then tie a knot at the end of the bag!
By Michele G from Buchanan, GA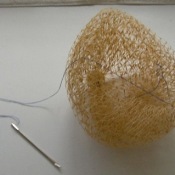 A pot scrubber can be easily made from a mesh vegetable bag.
Plastic mesh bags made from the smaller stiffer mesh can be rolled up and used as a cleaning scratcher, then thrown in the dish washer to cleanup for the next use.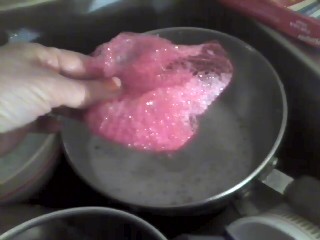 These plastic net bags make excellent dish scrubbers. I cut the paper top off and kind of roll it up like a sock, and it is fantastic!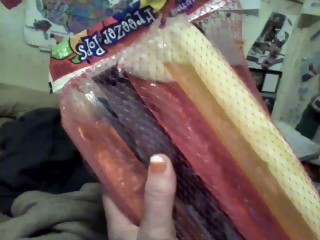 By Robyn [369]
Use mesh produce bags, especially the colored ones, in place of lace for craft projects. It can be easily cut with scissors and adds texture without the expense of using lace.
By Rachel's Mom from Wilkesboro, NC
To save bringing home all those plastic produce bags, I save all the net bags that oranges, onions, etc. come in and take them to the store to put my fruits and vegs in them. They have almost no weight, so don't worry about paying extra at the scale. They wash and dry easy too!

By Barbara from B.C. Canada
Another use for the 'mesh onion bags' is for putting peanuts in and hanging on trees or the eaves of your home. I have been doing this for years and enjoy watching the chickadees and woodpeckers as they cling to the bags and eat away at the peanuts (unsalted of course). The mesh should be the smaller holes but are just as easy to find as the other. Tie a loose knot and put any type of hanger through the knot. This may be used over and over again.
By Willi from Calgary, Canada
I have saved and cut into squares the mesh (plastic) bags that potatoes, onions and some fruits come in.
You can use these to scrub resin lawn furniture. Use dish washer powder or baking soda and warm water paste. Rinse well. Another use is to scrub your garden pots before replanting in them. Also use them in the bottom of the pots to help keep the soil from running out the bottom.
By Great Granny Vi from Moorpark, CA
Give a "thumbs up" to the solution that worked the best! Do you have a better solution? Click here to share it!
Questions
Here are questions related to Reusing Mesh Produce Bags.
Does anyone know of a pattern for these, that is easy and quick?
By Sherry
AnswerWas this interesting? Yes No
Ad
---
---
Most Recent Answer
Archives
Thrifty Fun has been around so long that many of our pages have been reset several times. Archives are older versions of the page and the comments that were provided then.
Ideas for reusing the mesh bags that onions come in. Post your ideas!
Feedback:
Use for Mesh Onion Bags
The mesh bags that onions come in are effective for washing small items in the dishwasher. It will hold all the items in place so that they won't wind up in the bottom of the dishwasher. (08/31/2004)

By ThriftyFun
RE: Uses for Mesh Onion Bags
I got the 10 lb size from my grocery store. In fall, I fill them with the leaves I'm raking and use them to cover my rose bushes, just use rocks to weigh them down. They're still in great condition after 6 yrs.

You can also use the small ones to hang suet feeders in the trees for birds. Roll some shortening into birdseed, put inside the mesh and hang near your window.
I've also thought that you could wash the mesh well, put a sponge inside, weave string around to cinch closed and you have a homemade 'body polisher' for the shower. (I've seen them for sale in the beauty dept.)
Along those lines you could put soap in the mesh instead of a sponge and make soap on a rope. Now if you rinse out an old liquid detergent container (the huge ones with the spigot that sit on their sides), fill with water, hang the soap/mesh bag on the spigot, you have a wash station for camp or the worksite.
(08/31/2004)

By Lee-Ann
RE: Uses for Mesh Onion Bags
My daughter uses those mesh bags to scrub off her bird's perches and ladders. They scrape off the icky stuff and scour the wood without having to use steel wool which might leave bits of metal for the bird. We usually cut them down into pieces if it's a large bag. (08/31/2004)

By rabbithorns
RE: Uses for Mesh Onion Bags
The best idea I have heard is to take a mesh bag, add several used soap pieces, close and hang close to your outdoor water spigot. Great to wash yours, or kis, dirty hands before coming in the house. (08/31/2004)

By leno
RE: Uses for Mesh Onion Bags
Hi, In Australia you can buy plastic sponge type handheld scrubbers for non-stick fry-pans (skillets) and saucepans but they can be expensive. I found myself in a bind once when I wanted to get some gunk of my pan and had nothing to use. I remembered a friend told me that the onion bags scrunched up make good scrubbers. When they wear out just find another. I usually try to keep one or 2 under the sink just in case. Make sure there are no metal clips or tags that might scratch the non-stick surface. It is guaranteed to get off hard to shift burnt offerings without scratching the surface.
(09/13/2004)

By Ozbev
RE: Uses for Mesh Onion Bags
These home made scrubbies are also great for getting Bugs off your windshiled.Keep one in the car in a zipper bag with a little dishwater on it. The bugs come of & any residue can be rinsed off using the rinse button with the wipers or with bottled water. Or even with water left in your cup from fast food lunch. (09/21/2004)

By Linne
Toy Bag For The Car
I wash out the mesh bag that my onions come in and use it to store toys for the car. That way everything is together in the car. Use a bread bag clip or a rubber band to close the mesh bag.

By SK (01/29/2005)
RE: Uses for Mesh Onion Bags
In the garden, I use the onion bags to put in the bottom of flower pots. Helps keep the potting soil in and lets the water drain out. When the plants are ready to be removed to the garden you can rinse them off and use them again. I used some in the bottom of this work boot. LOL
They are also good to clean the BBQ grill. Then just toss in the trash. Some jobs are just to yucky to try to reuse it. (01/29/2005)

RE: Uses for Mesh Onion Bags
I use mesh bags as scrubbies when I am washing dishes and pots (01/30/2005)

By Lois
RE: Uses for Mesh Onion Bags
If you have indoor cats and have trouble keeping them out of your plants, just put the mesh bags around the base of the plant. They don't like it because it gets caught in their paws and you can water as usual. (02/05/2005)

By Leona
RE: Uses for Mesh Onion Bags
Use them to store flower bulbs in. (03/30/2006)

By Carol
I use the plastic mesh bags that contain vegetables and fruit as a scrub pad. I put a folded up old facecloth or a old small hand towel in the bag and tie the open end with a elastic band and voila, a super scrubber for everything you need to clean. When done, take out the rag, wash and use again the next time.

By Marie Rose from Calgary, Alberta, Canada
Feedback:
RE: Recycling Mesh Vegetable Bags
They are also good to put on the dirt in your house plants. Cats won't get into your plants , they don't like the mesh. Their claws get tangled in it. (06/13/2006)

By PICO
RE: Recycling Mesh Vegetable Bags
You can use these bags as bird feeders also. You can buy suet --commercial or at the grocery store. Just place it in the bag and hang from a tree. Woodpeckers love suet. (06/18/2006)

By PeggyLee
I am a firm believer in saving money and recycling when it comes to cleaning products. Take a mesh onion bag from produce and place a round sponge, a rolled dish washing cloth or even a scouring pad inside. Then knot the top of bag leaving a small amount to hang up or cut off the extra if you prefer. I then use it while washing dishes. You can make a lot of extras for other areas of home as well (like the bathroom).

By Lisa from Belle Vernon, PA
Feedback:
RE: Use a Mesh Onion Bag as a Scrubber
Great tip. Thank you. (04/09/2011)

By Daisypuff