Reusing Water Bottles
By refilling or reusing your plastic water bottles you can help reduce the trash in our landfills and save yourself some money. This is a guide about reusing water bottles.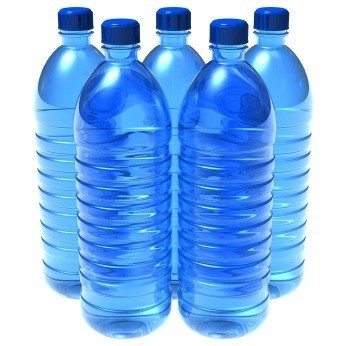 Filter

: All Articles
Sort

: Relevance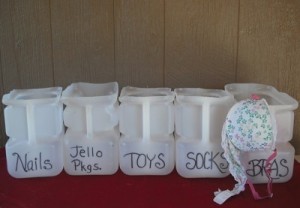 Cut the spigot top off of 2 gallon square water containers, cutting straight across. Do not cut into the handle. Under the handle, you can write names or labels with magic marker, if you like. Put these up on closet shelves, bookcases, or under beds. They are perfect to put underwear, bras, socks, etc. in for extra "drawer" space. They are also good for small toys, crayolas, and coloring books too. Use them for mop buckets, outside buckets and especially in the garage on shelves. Great for families with lots of kids.
By Bebe from Aztec
This is for people who buy spring/drinking water. I like to keep water bottles on hand for convenience, but do not like spending the money to buy the individual bottles all the time. I use either disposable plastic or glass. The disposable ones, I wash and refill a few times then recycle or I reuse glass soda/soft drink bottles. I like to use the glass ones at home, because they can be reused repeatedly, but the plastic ones are easier to transport.
To make refilling these bottles easier, I place the empty bottles in a cardboard 6-pack soda/beer carrier and put into a dry kitchen sink. Using a funnel, I fill the bottles with purchased one-gallon spring water. This keeps the empty bottles from falling over when trying to fill them. If you do spill some, it will go into the sink. Getting the cardboard carrier a bit wet will not cause any problems as long as long as it doesn't get soaked.
I really do not like buying spring water but in our area, the water tastes terrible. Since we rent our home, we do not have the option to filter our water.
By mkymlp from NE PA /USA
I try not to purchase bottled water but sometimes I forget my water mug. I wondered about what I could do with them since the apartment building I live in doesn't have recycling bins and and I have no room to store them.
I have been taking the soda bottles, the little ones, and removing the cap, squeezing them down, and cutting across the top. Then I smooth out the top by cutting it again.
I was looking on the internet at this farming site, I forget what it was, and someone had cut the end off a water bottle and put holes all up and down on the bottle.
I keep small recycled bottles like the ones Sunny D comes in and freeze water in them for when my neck or knees act up. Yesterday, I ran out of ice and couldn't get my fresh brewed tea cold. It occurred to me to put the small bottle of ice right in the tea pitcher.
I hear that plastic bottles are not safe if you use them over and over again as a water bottle. If this is so, then what type of bottle would be best for drinking water out of throughout the day?

Onesummer
February 7, 2009
0

found this helpful
Plastic bottles are fine. Wash them with hot soapy water, or run them through the dishwasher just like anything else.
Check out the Snopes link in the guest post.
February 7, 2009
0

found this helpful
I use stainless bottles that I bought at Walmart.
They are easy to clean, hold about 16 oz. of water
and can be recycled so they are environmentally friendly.
Read More Answers...
I like to use the water from my fridge that comes from the filter system outside the door. If you use a small funnel, you'll have no spills.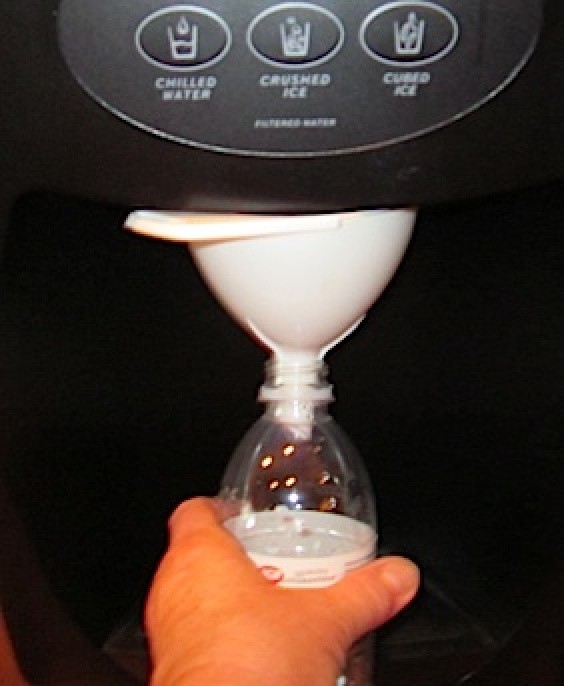 You can crush your empty water bottles and place them in a large pot for drainage. I found this to work wonderfully for all my planted pots and is much lighter than using rocks.
I am looking for any ideas that I can make using 8oz plastic water bottles. Any Christmas ideas?

Sylvia from Hammond, LA
December 6, 2006
0

found this helpful
fill with sand and use as weights when exercising, or as doorstops.
FreeStuffandSamples.com
December 7, 2006
0

found this helpful
They make really good packages for birthday presents or Christmas presents. Slice a hole in the back about 3 inches and then make like shutters so you can get your stuff inside. You can put tissue paper and streamers, confetti, etc. After you get all your goodies inside, tape the hole shut.
I use 2 liter bottles for this all the time.
You can even mail these without putting them inside another box. Just put your return address, mailing address, and postage.
July 26, 2007
0

found this helpful
Can be used for storage containers, nails, screw, bolt, nut, small items. Nail or screw the cap to the bottom of a board overhead, then you can unscrew the bottle or screw it on and fill it up as needed, if you tear off the label, you have a great visual on what's inside, great organizing, nail many bottles side by side.
Read More Answers...
How do you keep the 5 gal. refillable water bottles clean? If you suggest using vinegar, what is the recipe?
March 7, 2007
0

found this helpful
I use a little bit of bleach (take a straw, dip it in the bleach, cap it with my finger) and some hot water, put the lid back on and shake it around. Rinse a few times and then dry in my dishwasher while it's open.
March 8, 2007
1

found this helpful
Vodka.. I use it to clean out my milk jugs...I feel safer with this rather than bleach or vinegar..I also use it when I re-use my water bottles...
Do not reuse plastic spring water bottles for a long time. A substance in the plastic breaks down into the water.
Click to read more ideas from older posts on ThriftyFun.
Related
© 1997-2016 by Cumuli, Inc. All Rights Reserved. Published by
ThriftyFun
.
Page
generated on August 21, 2016 at 10:27:15 PM on 10.0.2.7 in 6 seconds. Use of this web site constitutes acceptance of ThriftyFun's
Disclaimer
and
Privacy Policy
. If you have any problems or suggestions feel free to
Contact Us
.