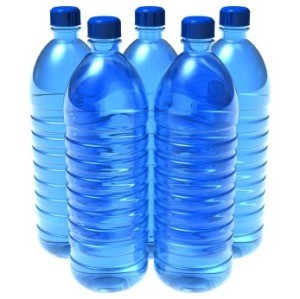 By refilling or reusing your plastic water bottles you can help reduce the trash in our landfills and save yourself some money. This is a guide about reusing water bottles.
Ad
---
Solutions: Reusing Water Bottles
Read and rate the best solutions below by giving them a "thumbs up".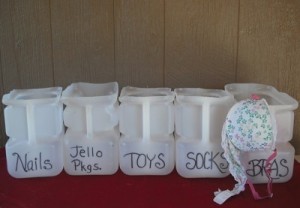 Cut the spigot top off of 2 gallon square water containers, cutting straight across. Do not cut into the handle. Under the handle, you can write names or labels with magic marker, if you like. Put these up on closet shelves, bookcases, or under beds. They are perfect to put underwear, bras, socks, etc. in for extra "drawer" space. They are also good for small toys, crayolas, and coloring books too. Use them for mop buckets, outside buckets and especially in the garage on shelves. Great for families with lots of kids.
By Bebe from Aztec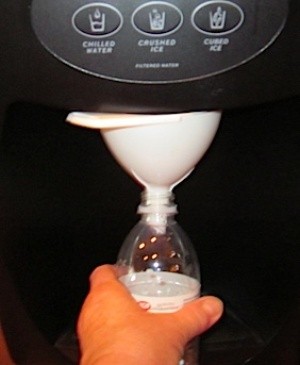 I like to use the water from my fridge that comes from the filter system outside the door. If you use a small funnel, you'll have no spills.
By lnygaard from Billings, MT
This is for people who buy spring/drinking water. I like to keep water bottles on hand for convenience, but do not like spending the money to buy the individual bottles all the time. I use either disposable plastic or glass. The disposable ones, I wash and refill a few times then recycle or I reuse glass soda/soft drink bottles. I like to use the glass ones at home, because they can be reused repeatedly, but the plastic ones are easier to transport.
To make refilling these bottles easier, I place the empty bottles in a cardboard 6-pack soda/beer carrier and put into a dry kitchen sink. Using a funnel, I fill the bottles with purchased one-gallon spring water. This keeps the empty bottles from falling over when trying to fill them. If you do spill some, it will go into the sink. Getting the cardboard carrier a bit wet will not cause any problems as long as long as it doesn't get soaked.
I really do not like buying spring water but in our area, the water tastes terrible. Since we rent our home, we do not have the option to filter our water.
By mkymlp from NE PA /USA
I keep small recycled bottles like the ones Sunny D comes in and freeze water in them for when my neck or knees act up. Yesterday, I ran out of ice and couldn't get my fresh brewed tea cold. It occurred to me to put the small bottle of ice right in the tea pitcher. Worked like a charm, cooled my tea down without watering it down. Once the water in the bottle melted, I fished it out and put it back in the freezer.
By Peg from Cortland, OH
I try not to purchase bottled water but sometimes I forget my water mug. I wondered about what I could do with them since the apartment building I live in doesn't have recycling bins and and I have no room to store them. I also want to remain environmentally friendly by not using/wasting gas unnecessarily to drive five miles away to the recycling center for only a couple of items.
Well, I came up with: Wash them, dry thoroughly and use to freeze chopped veggies and herbs! The bottles are clear so it's easy to see what's in them and they fit beautifully on the freezer door compartment!
I made a funnel with a cone coffee filter but you can use foil, paper bags, etc to easily get the diced and chopped items inside the bottles.
Be sure your veggies and herbs are as dry as possible to prevent freezer burn before funneling ;-)
By Deeli from Richland, WA
You can crush your empty water bottles and place them in a large pot for drainage. I found this to work wonderfully for all my planted pots and is much lighter than using rocks.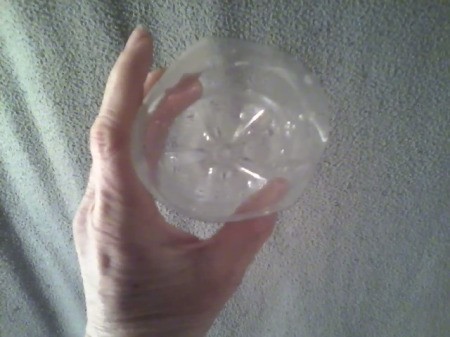 I have been taking the soda bottles, the little ones, and removing the cap, squeezing them down, and cutting across the top. Then I smooth out the top by cutting it again.
This provides me with a lot of plastic drinking cups that are stronger than paper cups and they are larger, and they won't break.
We have been enjoying them a great deal!
Directions:
By Robyn [369]
I was looking on the internet at this farming site, I forget what it was, and someone had cut the end off a water bottle and put holes all up and down on the bottle. The top was out of the dirt and you could pour the water down in the bottle. The water goes through the holes and sprinkles in all directions under the dirt. It is for those hanging baskets that plants hanging at all angles or any big hanging baskets.
By Robyn [369]
Give a "thumbs up" to the solution that worked the best! Do you have a better solution? Click here to share it!
Questions
Here are questions related to Reusing Water Bottles.
I hear that plastic bottles are not safe if you use them over and over again as a water bottle. If this is so, then what type of bottle would be best for drinking water out of throughout the day?

Onesummer
AnswerWas this interesting? Yes No
Ad
---
---
Most Recent Answer
By Barbara Huggins 8 209 02/07/20090 people found this helpful
I use stainless bottles that I bought at Walmart.
They are easy to clean, hold about 16 oz. of water
and can be recycled so they are environmentally friendly.
---
I am looking for any ideas that I can make using 8oz plastic water bottles. Any Christmas ideas?

Sylvia from Hammond, LA
AnswerWas this interesting? Yes No
Ad
---
---
Most Recent Answer
By Zr (Guest Post) 07/26/20070 people found this helpful
Can be used for storage containers, nails, screw, bolt, nut, small items. Nail or screw the cap to the bottom of a board overhead, then you can unscrew the bottle or screw it on and fill it up as needed, if you tear off the label, you have a great visual on what's inside, great organizing, nail many bottles side by side.
---
How do you keep the 5 gal. refillable water bottles clean? If you suggest using vinegar, what is the recipe?
AnswerWas this interesting? Yes No
---
Most Recent Answer
By (Guest Post) 03/08/20070 people found this helpful
Vodka.. I use it to clean out my milk jugs...I feel safer with this rather than bleach or vinegar..I also use it when I re-use my water bottles...
---
Archives
Thrifty Fun has been around so long that many of our pages have been reset several times. Archives are older versions of the page and the comments that were provided then.
My husband who paints cars at home uses our empty single serving water bottles for mixing paint. He cuts the tops off, which he can then use as a funnel, and the bottom of the plastic bottle is strong for the chemicals he needs to mix. No money wasted here, every little bit helps. Thank you.
By Michelle F from Pawnee, IL
Feedback:
RE: Uses For Water Bottles
Just a safety note.
Please remember that while recycling and re-using is good, NEVER use a drink container of any kind [the cut down containers do not seem to fall into this category - I'm not talking about those] for anything other than drinkable substances.
This is a standard poisoning prevention tip. Children see a drink container and automatically think it is ok to drink. As a former EMT, believe me - kids CAN and DO drink the most awful smelling and tasting stuff. (08/28/2006)

By aardvark
RE: Uses For Water Bottles
This is such a good way of using the plastic water bottles more than once. It is now said that reusing these bottles for water, etc. is not safe as the plastic can leak chemicals into the drink. It is good to find other ways to reuse these to reduce the amount of plastic that ends up in our landfills.
I reuse these bottles to make pots for houseplants. Punch holes in the bottom for drainage, then set them into planters that disguise the bottle. You can surround bottles with potting soil or pebbles, or not. This way a plant can be removed or changed as the needed. When using them for pots for resale at bazaars or gift, etc., do not punch holes in bottom and cover with paper, cloths, etc. Tie with ribbon. (08/28/2006)

By CamsCottage
RE: Uses For Water Bottles
Good idea about using for funnel! Thank you! (08/28/2006)

By Bobbie
Do not reuse plastic spring water bottles for a long time. A substance in the plastic breaks down into the water.