Uses for Baby Wipes Containers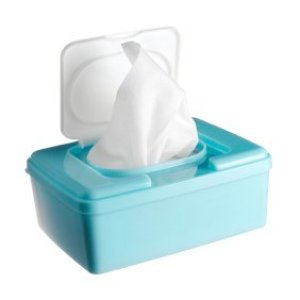 Baby wipes containers can be reused for a variety of things. They are a nice convenient size, have that easily accessible folding lid, and you can remove the top completely to add whatever you choose to store inside. This is a guide about uses for baby wipes containers.
Solutions
Share on ThriftyFunThis guide contains the following solutions. Have something to add? Please share your solution!
I save baby wipe containers and find uses for them. Recently, I came up with a doozie! I always buy 13 gallon kitchen garbage bags in the economy rolls, and have always put up with the aggravation of having to wrangle them out of the package and it rolling around. Well, guess what! The roll fits perfectly in a baby wipe container, and I just fed the first bag up through the opening at the top.
We also use them to store prescriptions - they fit in the nightstand drawer, no pill bottles rolling around, and if we go out of town, we just grab up the baby wipe box and throw it in the suitcase!
They come in handy for all sorts of things:
dog food tote when traveling
dryer fabric softener sheets
jar lids
coupons I have cut out but haven't filed yet
on the sink for sponges, drain stopper, scrubber and detergent
piggy bank
catch-all when emptying pockets every night
personal grooming travel kit (holds razors, deodorant, etc. perfectly)
makeup and jewelry when traveling
extra napkins from fast food places kept in the car
receipts; dishwasher tabs
those little bottles of flavorings and extract that keep falling over on the cabinet shelf
my granddaughter's 'hair doodles'
economy sized boxes of Q-tips (no more spilled Q-tips down the sink!)
a sewing kit
for half-sheet paper towels, moistened with water, in my cleaning caddy, that are perfect for wiping off surfaces in each room
small containers of glitter, clay, and such from crafts, my granddaughter's crayons
Then, my granddaughter's elementary school teachers can always use what I have left over.
By Gloria from Darien, GA
May 2, 2011
0

found this helpful
I love your assorted use ideas and especially for the trash bags rolls! Although I am giving you a thumbs up I beg you to please not put food of any type, including pet food, in those containers though because the containers are not made with food grade safe materials and will leach unhealthy chemicals into the food. :-(
Read More Comments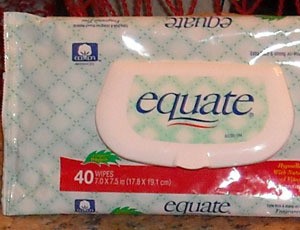 I use these wonderful wipes, then use the container for something else around the house. They are great for flat things. I have zip ties, rubber bands, office supplies for the car, hair ties/bands and makeup for the girls, first aid, spare glasses, and just about anything you want to keep handy yet dry.
They are invaluable for camping silverware, matches, bite medicines, film, snacks, and more. I get them for just $1.12 at Walmart and when the wipes are gone, I have this wonderful little pouch I can use over and over again. If a seam breaks, I tape it with clear strapping tape, or just use the next one that is empty. You can't go wrong with these little gems!
By Sandra from Salem OR
March 3, 2009
0

found this helpful
Hadn't thought about these. Good idea. I always used the bigger boxes of wipes, and reused those containers for storage -- mostly of the kids' stuff. They're great for crayons, legos etc.
Read More Comments
I use a baby wipes container with pop up dispenser to put the lint from my dryer into. It holds quite a bit and when it's full I just open it up and dump into the trash and it's ready to fill again.
Read More...
You can re-use the nice white plastic container that Clorox wipes comes in. Remove the label and the lid and it works well for a lot of things.
Read More...
You can dispense wet wipes from an old baby wipe container.
Read More...
July 6, 2004
1

found this helpful
I get tons of coupons. The place I like to store them is a baby wipes container. There's lots of room and I never have to worry about losing the lid.
Read More...
What do you do with all those baby wipes boxes that you go through while having your children? By using the same brand, but choosing different color packages you can make quite a collection. Then when they are empty, wash them out really clean and take the label off with "Goo-Gone"...
Read More...
October 29, 2004
0

found this helpful
So our kids broke the lid off the diaper wipe box they kept their little toys in. Don't throw it away just yet.
Read More...
Questions
Ask a QuestionHere are the questions asked by community members. Read on to see the answers provided by the ThriftyFun community or ask a new question.
April 7, 2006
1

found this helpful
I use the empty container to cover my electric outlets that my appliances are plugged into. It is extra wide to cover the entire outlet. I used 2 small screws at the bottom and top to secure it to the wall. My grandson was always trying to reach for the plug when he came to visit. Since I could not unplug the refrigerator I came up with this idea. It worked. He no longer reaches for the plugs because he can't see them.
By Patricia from Alabama
Post your ideas below!
April 21, 2006
0

found this helpful
When my kids were small, the containers held crayons, pencils etc.
By guest (Guest Post)
May 8, 2006
0

found this helpful
hi there i am having a brithday party for my son next month
i could not find everything for the themeo f his party
so i took the baby wipes comtainers paper mached them and made treat treasure chest for the kids to take home instead of treat bags
for the boys i put the chocolate coins and some pirate related toys and candy
and for the girls the same thing but topped them with cute little costume jewelery
they got so ecxited when they saw them
i am doing some for my other son the in the theme of jimmy neutron and am making them to match the pinata
which is going to be a rocket ship
fun craft for everyone
and they are a real hit
May 8, 2006
0

found this helpful
Now I reuse the one that came in a gift pack for my youngest (I've used it for 15 months.....that is a lot of wipes!) But when my older one was born, I bought Baby Magic wipes, because I trust their formula, and the box looks like blocks, so we bought the containers and by the time he was walking, had enough blocks to build a fort! We played with them for a long time until we had to move.....then some were used for organizing.
June 14, 2006
0

found this helpful
I used to work for a local preschool as a helper in their kitchen. The school used the wet wipes in the round container. After the containers were empty, they and the lids were washed and dried.
The cook would then fill the container with any leftover spaghetti or other leftovers to be stored in the freezer. It is easy to label the leftovers with a Sharpie Marker.
Read More Answers
November 17, 2011
0

found this helpful
What ideas are out there to reuse snap top plastic canisters like the ones you would have for a disinfectant wipe?
By Laura
November 18, 2011
0

found this helpful
I have one that I use for recipes. Another contains my bottles of nail polish.
Related Content