gem
Bronze Post Medal for All Time! 163 Posts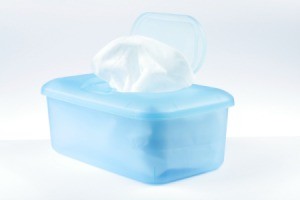 It never fails that just when you think the house is clean you find another spot you've missed. This morning I reached for toilet tissue and noticed the holder looked a little dull. Like a lot of people, I keep baby wipes on the back of the toilet. Well, I pulled one out and wiped off the holder and what a beautiful shine I got. Looking in the mirror I noticed a few toothpaste stains, so I proceed to wipe it away with another baby wipe. I couldn't believe all the pretty lint free shiny areas I cleaned in a matter of seconds with a single baby wipe.
By gem from Gordonsville, VA
Read More

Comments

pam munro
Gold Post Medal for All Time! 519 Posts
I liked the convenience of "Feminine" wipes, but even though I was getting my packets from the dollar store, they were still sort of pricey. When the dollar store supply ran out, I thought I would try baby wipes in a pinch.
Read More...
Baby wipes, i.e. Pampers, huggies, etc. Make great makeup removers, carpet cleaners and work to take off many type of stains, at about half the cost of other cleansers and cleaners
Read More...

Use baby wipes to get crayon off of walls, and scuff marks off of floors. I discovered this when I was at my wits end, and found that it works incredibly well on tons of stains and such.
It even helps to keep grass stains from setting if you get to them early.
Read More...
Useful ways to use baby wipes, other than their intended purpose. Post your ideas.

Answers

November 15, 2004
0

found this helpful
Sudden stain on your carpet? Keep baby wipes handy, they are great in a pinch and it doesn't set stains. Blot the stain, do not rub so as not to distort the carpet fibers. If needed use a few and step on them to help absorb stain. Great in a pinch until you can get the professionals in.
By Suezeecue

November 15, 2004
0

found this helpful
Even now that my children are 10 and 7. I still find myself buying baby wipes. I keep them under my seat in my car for when we have fast food. They work so much better than the napkins the restaurants give you.

November 15, 2004
0

found this helpful
I, too, keep baby wipes in the car. They work well for a quick cleaning of the dashboard or center console.I actually prefer them to the Armor All wipes as the baby wipes don't leave behind an oily residue which attracts dust and dirt.
By Linne Dodds (Guest Post)
November 19, 2004
0

found this helpful
We keep them in the car too. Not just for cleanups. They are very useful if somebody gets hurt.
Mom got a bee sting once while on a road trip. I wiped it gently with a wipe & put ice on it from the soda I was drinking, a cold bottle or can would work just as well. The pain went away immediately,all she had was a Pimple for a couple of days.
& we always have them in the house. We have power outtages & of course with the recent hurricanes the wipes were heaven sent ,just as they are when someone is ill .
I just recently gave Mom one of the old plastic boxes from them for quilting supplies,she loves it.
On a related note,we also always keep Shop Towels[Heavy Blue Paper towels] they are very gentle & make great Ice holders for injuries among their many other uses. These are also good for wiping wounds . Just wet & wipe .
By Sheila (Guest Post)
December 10, 2004
0

found this helpful
I attach baby wipes to my swiffer broom and let the kids go nuts...in no time my floors are clean and it is a safe alternative for the kids. Also works well on walls and hard to reach areas! I also use wipes for dusting my furniture and shining my faucets.

February 26, 2005
0

found this helpful
Baby wipes are great for getting out stuff you spill on yourself so stains don't set. Last night I got some chocolate splatters on my wool sweater that I had just washed.
A baby wipe blotted on the chocolate saved me from washing the sweater over again. They work great!

February 26, 2005
0

found this helpful
Ok - kind of personal but I keep baby wipes under the sink in the bathroom for everyone to use if they need to get extra clean.

March 21, 2005
0

found this helpful
i use them on antique coffee table doesnt dry out wood or leave steaks
By Seaport (Guest Post)
March 22, 2005
0

found this helpful
Although our oldest child is 12, we still keep baby wipes in the car. If you have to change a tire or mess with the car, the baby wipes take care of your oily, greasy hands in a jiffy!

February 9, 2006
0

found this helpful
We have baby wipes in several spots in the house. They are very handy.....also this might be getting a bit personal as well....but if you don't have time for a shower and need to clean up in a hurry, wiping off with a baby wipe or two will do the trick! I've used on my kids as well as myself. They are also nice to use on a hot day to freshen up.
I love the idea of using on the swiffer. I never thought of that or heard of it before! Now I must try! I can put my daughter to work as she loves to help Mommy! Those must be safer than the wet Swiffer wipes you buy because they have big warnings on the label about using around children & pets :-(
Read More

Answers