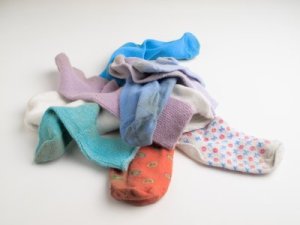 After the laundry is all done, there always seems to be a small pile of socks that the matches never show up for. Instead of throwing out those mismatched socks, find a way to use them in a different way around the house. This is a guide about uses for unmatched socks.
Solutions: Uses for Unmatched Socks
Read and rate the best solutions below by giving them a "thumbs up".
I cut off the bottom of socks just above the heel to put over my kid's water bottles to soak us the wetness from the bottle sweating. It saves papers, shoes, and whatever else your kids put in their backpack or gym bag from getting soaking wet. It also helps somewhat in keeping the water cold longer. I use my husband's tube socks that don't have a match or have a hole in the foot part, or my daughter's knee-high socks that have cute prints or colors on them.
By shelly from Ravenna, MI
When filling the gas tank on my vehicle I seem to always get the smell of gas on my hands. For years I carried a pair of gloves to wear just for this and slipped them in a plastic bag in between fill ups, now and then I would take them in and wash them.
Plastic disposable gloves would be great but you have to buy them. So I now keep those lonely unmatched socks in a bag under the seat in my vehicle, if they get the smell on them I just toss them. For there is always one more waiting to take it's place. Besides they aren't lonely in the sack anymore!
By latrtatr from Loup City, NE
I used to recycle old socks by cutting the toe section off, then sliding the sock over my children's bottles, sippy cups, juice boxes or canned drinks. This helps keep little hands from getting cold. It insulates the drink. It also helps reduce messes. With the traction it provides, there are less slips and spills. The wet spots left on coffee tables, are no more, the sock absorbs the condensation and sops up any dribbles.
By Cblack28 from Walton, KY
Our cat loves to sleep on something that we use or have used. We had a bunch of odd socks and holey socks from years gone by. Originally I was going to make sock puppets but had a better idea.
So I took a old pillow case and stuffed all the socks in it and sewed the top up. Now she has a pillow to curl up on and when it is dirty, I just throw it in the wash.
By Valerie from Rockdale, TX
Single socks in your drawer? Use socks as pot holders. One fits over the handle of any fry pan and two are great for picking up hot casserole dishes from the oven or microwave. You can easily slip them over your hands especially men's size.
By zimexlady from Boulder, CO
I have a great tip for those who don't know what to do with those pesky lonely socks and mittens that we all have. I have 3 fantastic girls but they are always losing their mates. A quick tip I found to keep gloves and mittens together is to tie a few strings to a hanger and place large paper clips on the ends. The pair of mittens easily slide on the paper clip and they are mated and drying in no time.

However for those that have totally lost their mate I pick similar colors or totally different to make a pair. I take some fabric paint or appliques which ever sounds fun. Most of the time I use pieces of fabric left around the house and decorate as loud and flamboyant and I like. my girls think they are just the cutest and want to wear them all the time. Even with the socks.

I took a white and black sock, making sure that they were about the same size. I tied black ribbons all over the white sock and white ribbons all over the black sock. my middle daughter, who is 9, didn't want to take them off. Even my 12 year old thinks they are cool.

I also will use those cute socks with the decorations sewn in such as frogs as patches on my oldest daughters jeans. Most jeans today are stretchy so when you patch them with a non stretchy fabric it just seems to come out. Cut the sock and use as a patch. She now has a pair of jeans with frogs on the knees, and a matching pair of socks, one green, one black, with those buggy frog eyes all over them.

Hope you have fun with this. it is really a treat for the kids and a great friend maker.

Melissa from NY
If you are like me, you are constantly losing the mates to socks in the washer and dryer. Take a pair of your husband's mismatched tube socks and cut it off where the ribbing starts. Slide this on your hand one at a time and then mark where your thumb would come. Take off the ribbing and cut only a small slit on the side. Do the same for the other hand.
Slide the ribbing on your hand with the sewn end facing your fingers.You can pull it down as far as you like on your fingers or as high up off your fingers. My hands get so cold and stiff but this helps my hands stay warm. If you want to get crafty with it, you can sew the other end where it was cut off from the sock and make a hem there. It saves from having to go and buy those expensive gloves that have no fingers or thumbs in them for arthritis.
By Cassie
To keep your frozen water bottle frozen longer during the day, put it into one of those spare socks that have no mate. I was surprised at how much longer the water stayed frozen. I got the idea from remembering that my grandpa used to put his mason jar of cold well water into a wool sock to keep cold while he was harvesting.

By Katz
I was needing to pack some highly breakable items they are very sentimental to me and I didn't want them to break while I have to store them. I didn't have bubble wrap or newspaper but I did have a million old socks so I decided to use them for my packaging.
What I did was take an old tube sock and a teacup. I held the teacup like I was going to drink out of it and I just slipped it into the sock pushing it all the way down to the toe, the part that was left over I just shoved into the cup, I suppose I could have wrapped it back over itself also. With the saucer part it slipped right into the sock and I folded it under when I put the plate in the box. I'm going to use more socks this way I have a lot of them that lost their mate or one has a hole in it and no one wants to mend it. Plus it saved me from having to go buy bubble wrap and saved myself some dough.
By Amberina from Oregon
Little hands seem to have a hard time holding on to and using sponge or other type erasers that come with chalk boards. Slip one of the child's old socks (or new!) over the hand he is not using to write with. This makes a great eraser and so easy for the child to use. And when it is good and dirty, just toss in the machine and wash! You'll never run out of erasers!
By Anne from West Columbia, SC
When your kids go out to play in the snow let them wear pairs of unmated socks, probably more then one to keep warmer. Then when they come in just let them put on the regular mated socks. This way you won't run out of "good" socks.

By Melanie
Give a "thumbs up" to the solution that worked the best! Do you have a better solution? Click here to share it!
Questions
Here are questions related to Uses for Unmatched Socks.
I discovered about a hundred (no kidding) unmatched socks this morning, all of different kinds and sizes. Does anyone have any idea what I can do with them before I'm forced to throw them all away? Most of them are still in pretty good shape, they just lack a partner. Thanks for the ideas! I'm open to anything.
---
Most Recent Answer

By Grandma J [46]04/24/2009
In addition to some of these ideas I have used I cut the foot off and slid the rest of the sock over the crawling baby's legs, up and over the knees. Extra padding for the wee one learning to get into things, also warmer for the legs.
I am the proud owner of a large trash bag of widowed and orphaned socks--all colors, all sizes. Although Erma Bombeck would have known where to search for the mates, we've lost her and are on our own. Does anyone have any suggestions for how to use these single socks--or is there anyone who would like this bag for quilting scraps or something? Thanks.

Kathleen in Dallas
---
Most Recent Answer

By Richard [9]05/04/2011
I get some wool dye usually dark blue and then dye all the socks the same colour. I then get similar looking socks together and wear them in pairs...haha thrifty or what!

Richardpeeej