May 28, 2010
0

found this helpful
I use single socks to dust and clean glass mirrors with. And I let the kids put on old socks and skate around the floors after I wax them and the wax dries it's a
great way to bluff the floor.
June 28, 2010
0

found this helpful
Let the kids have 'crazy sock' days were they wear mismatched socks. You could do it on the weekends.
Not much help.
I wonder, I looked up how to make fire starters the other day and saw that people stuff dryer lint in the paper egg cartons, cut them apart, tie them with some string and dip them in melted wax. I wonder if you could stuff small socks and the bigger ones could be cut in half or thirds, etc, baste and tie up the ends and dip them in wax. Does burning clothing give off harmful fumes? Hmmm....
Melissa
May 4, 2011
0

found this helpful
You can also cut the bottom to the heel off and slide them over the bottle of oil to catch any drips. Also good for holding bandages in place and to keep them clean.
May 4, 2011
0

found this helpful
I always try to buy the same color socks so they always match. Or, you can make mismatched socks a fashion statement.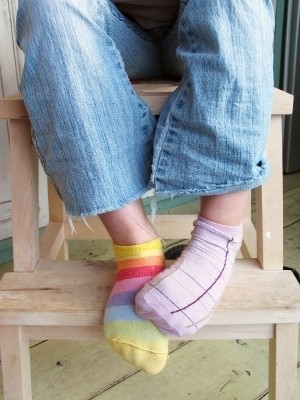 May 5, 2011
0

found this helpful
I would not do the egg carton candles. That dryer lint is flammable. I made candles for many years and can tell you when you add flammable items to candle wax it can cause a spitting type action that could spit flames out of the container and cause fires.
As for the lone socks these are things I have done with them:
- fill it with rice to heat in the m/w and drape over a sore neck or shoulder
- slide it on your hand and use it for dusting, cleaning glass or blinds, etc
- add them to handles on exercise equipment for cushioning
- fill it tightly with polyfill to make a "ham"; a rounded item for pressing
- seams on sleeves and rounded areas
One clean white sock? slide a 3" styro ball into the toe, follow with a roll of TP. Now tie a bow between ball and TP, add a scrap of knit or fabric for a hat and a couple of black buttons down the TP - instant snowman for the bathroom.
I use them when I oil my hands. Once a month I cover my hands and feet with olive oil, cover them in old socks and head for bed. It makes them very soft.
May 6, 2011
0

found this helpful
As a 71 year old pensioner I always purchase 12 identical pairs of sock. I don't often find I have an odd sock!
March 18, 2012
0

found this helpful
With solid color ones you can make little sock dolls. First, stuff the foot and heel with batting. Next, tie it off at the leg of the sock and fold that part down to make a little hat.
Lastly, draw or stitch on a face. They're cute, cheap, and great for little ones to hold.