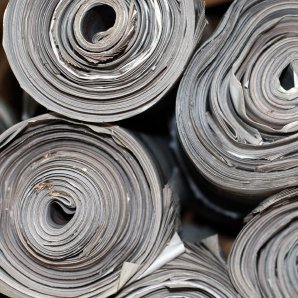 Making your own newspaper logs, is a great way to recycle those old papers and keep warm too. You don't need any special equipment to get started. This is a guide about making newspaper logs.
Ad
---
Solutions: Making Newspaper Logs
Read and rate the best solutions below by giving them a "thumbs up".
When making paper logs for fuel from newspapers, don't bother purchasing a commercial machine. In my experience they don't work very well. (I gave mine away!) All I do now, is:
Tear and soak the newspaper in the usual way. Squeeze it into a largish ball.
Wrap it in an old tea towel or half a discarded T-shirt. Twist the end of the towel until it is the shape of a Christmas pudding.
Leave the end tightly twisted and place it on a paving slab. Place another heavy paving slab on the top and leave for about an hour (longer is better).
Unwrap it and leave the log to dry.
(Of course, you can make multiples in one go and are only limited by the number of tea towels and heavy weights you possess.
Cheers. Hope this works for you, too.
By Chibaton from West Midlands, England
If you have a wood burning stove and receive the daily newspaper you can make your own newspaper logs. Lay newspapers flat and roll it into 3 inch diameter logs then wrap metal wire around the finished log. The tighter you can roll the paper the longer the "logs" will burn.
To make handmade fireplace logs, all you need is a large amount of newspaper, a wooden dowel (or a metal rod, shower curtain rod or closet rod) about 3/4-1+ inch diameter, a few drops of dish soap and some water.
Do not use slick, colored paper from sales inserts and circulars etc. Telephone book pages may be used, though they are small and must be torn out of the book.
Fill a kitchen sink or a large tub 1/2 full with water (warm will be more comfortable for your hands). Add a few drops of dish soap and stir. Run newspapers, folded in half lengthwise, like you are reading the front page, through the water. Wrap the now-wet newspaper around the dowel and smooth paper down as you wrap. Overlap the next piece a few inches over the end of the previous one and continue to add more newspaper until the log is as big as you like it. Wiggle or twist the dowel/rod as you slip the paper log from the dowel.
Stand the 'logs' on end outdoors in a protected area out of the rain. If good weather is predicted they can be left in the sun and they will dry faster. Place them to dry on piles of clean dried leaves, flattened cardboard boxes, or in mesh crates with plenty of space between them so air may circulate around them.
Over the next few days, rotate the logs to place the opposite end up, and move them around to ensure all the sides get dry. When thoroughly dried they may be burned just like regular logs. Store them in a dry location. Cotton or jute twine may be tied around each log to hold them together, if the final edge curls up or you wrapped them loosely.
Newspaper "logs" work great in the fireplace. Instead of buying expensive starter logs for the fireplace, roll and tie with string or twine newspapers. To start the fire, place several newspaper logs on the grate, then smaller kindling scraps, then the real wood pieces. I store mine in a large crock right next to the fireplace during winter. Gets rid of the newspaper mess and I can avoid going into the recycling center each week. The newspaper logs don't create a multitude of extra ash, either.

By Ronsan
Give a "thumbs up" to the solution that worked the best! Do you have a better solution? Click here to share it!
Questions
Here are questions related to Making Newspaper Logs.
I have been looking for a way to convert junk mail, paper, cardboard, etc. into fuel for my open fire. Having discovered the "paper log / brick makers" on ebay and through other searches and finding them too expensive for my meager income, I wonder if there is an effective way to do this by hand.

The beastie I refer to compresses presoaked waste to squeeze out moisture and turn the paper into a "log" which apparently will burn for up to an hour. If there is a simple way to make a device and I mean simple as this girlie is not much good at DIY (lack of tools and skill). I would love to hear it as I have so far not found any info on the 'net.
AnswerWas this interesting? Yes No
Ad
---
---
Most Recent Answer
By Georgia peach [USA] (Guest Post) 02/27/20060 people found this helpful
katrina
I use to make my own logs and it was real easy.take your paper and run it under warm water,lay it flat on the cabinet or table,use the next piece to absorb as much water as you can get out of the first one,sort of like paper mache,roll the log as tight as you can get it.hang it on your clothesline and let it dry. it will burn just like wood.once in a while I'd throw a piece of old candle into the middle for the rainey days when it was hard to get the real wood going.I only made my logs from 1 to 2 inches thick as a fir starter but some of them would be at least 4 inches thick.it takes awhile for them to dry out .
---
Does any one know how to make color fireplace logs or rocks?

Jjwiskus from Omaha, NE
AnswerWas this interesting? Yes No
Ad
---
---
Most Recent Answer
Archives
Thrifty Fun has been around so long that many of our pages have been reset several times. Archives are older versions of the page and the comments that were provided then.
I read once "how to make newspaper firelogs" There was no machine involved in the process. I remember that some of the paper had to be wet, rolled, pressed. I did not try it, I would like more info if possible.
Thank you
Jenny
---
RE: Making Newspaper Fire Logs
Soak the papers in water, roll up, tie up and then allow to dry completely. Drying takes a long time. (01/25/2002)
By kaji1
RE: Making Newspaper Fire Logs
I use newspaper fire logs all the time for my wood stove. I use to do the wet newspaper route but it was very messy and took a long time for the logs to dry. Now I just take the newspapers layout the sections, still folded, alternating the fold from right to left with each additional section and roll tightly. I use paper-coated twist-ties to hold the log in form, once around the middle. This burns just fine. You will have less ink mess, no water mess and no drying time. The wet then dried logs do burn longer as the wetting process bonds the paper closer together. I hope this is helpful to you. Mrs Kathy Cohen Northfield, VT (01/29/2002)
RE: Making Newspaper Fire Logs
Those who are serious about recycling newspapers into fire logs will find "The Newspaper Log Resource Book" full of great instructions! Check out our web page for more information. Thanks, Diane Mountain Starr Publications (weblink)http://www.geocities.com/paperlogs(/weblink) (10/04/2002)
RE: Making Newspaper Fire Logs
I too am interested in making newspaper fire logs but for maybe for different purposes. I remember long ago my mother used to make them for our fireplace and soaked them in some kind of salt solution to make multi-colored flames. I want to make them to burn on our campfires here in Alaska since the colors would not show up in the wood stove. Any ideas on the salt solution issue? (07/04/2003)
By boodiejo
RE: Making Newspaper Fire Logs
My mother use to have a piece of machinery that would make a log. After the log was made, we would secure with rubber bands and soak in water. We would then dry them for use in the fireplace. Please let me know if this simple machine still exist (12/03/2004)
By deborah payne
RE: Making Newspaper Fire Logs
Here's the link to a newspaper log roller at Lehman's http://www.lehmans.com/jump.jsp?itemType=PRODUCT&iProductID=2863 They say the stock is low so I'd order soon if you want one. Susan (12/03/2004)
By ThriftyFun
RE: Colored Logs
I purchased a duraflame colored log, and the ingredient that was used to make the colors was copper. Perhaps thats what was in the solution that was used? (02/06/2005)
By lisa
RE: Making Newspaper Fire Logs
Look up newspaper logs, paper fireplace logs on Google and you will find several instructions for different methods. (03/18/2005)
By Wendy Asbell
RE: Making Newspaper Fire Logs
I noticed that someone wanted to know the "recipe" for some kind of salt solution to make multi-colored flames, this site might help: http://ks.essortment.com/firelogs_phq.htm (07/05/2005)
By Queenlilady
RE: Making Newspaper Fire Logs
There is a great book with digital photos and step by step instructions available at: www.geocities.com/paperlogs (10/23/2005)
By Diane Brown
RE: Making Newspaper Fire Logs
I was just making some of these newspaper fire logs and have been making them for years, Just roll and tie, soak & dry, that's it Go to ABOUT the site is http://frugalliving.about.com/od/woodstoves/a/newspaperlogs_p htm from PAT VERETTO, YOUR GUIDE TO FRUGAL LIVING the title is FREE FUEL FROM YOUR DAILY NEWSPAPER (08/26/2006)
By EVY
RE: Making Newspaper Fire Logs
I use to make these a s a child for our wood stove we only used newspaper logs no wood we never soaked them and we held them together with masking tape (10/17/2006)
By slug800
RE: Making Newspaper Fire Logs
I have the book mentioned below. "Newspaper logs Made Easy". It is quite detailed with photos for each step. The logs are tight, wrapped like a "deli sandwich" then tied with a paper "tie" to make them more secure. When they burn through the log still stays tight. They are best to burn with wood. We had fun as a family making them. (09/22/2007)
By Mrs Brown
Does anyone have directions for making homemade newspaper logs without a commercial log roller? Also suggestions for making them burn well? Thanks.