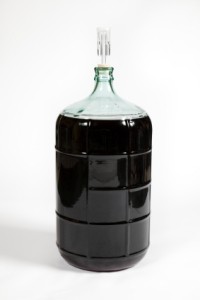 Making wine at home is a fun and rewarding hobby. With the cost of some wines on the market, it's easy to save money while enjoying an excellent wine that you made. This is a guide to making homemade wine.
Ad
---
Solutions: Making Homemade Wine
Read and rate the best solutions below by giving them a "thumbs up".
You will need one pound of sugar, one gallon of water, and a 1/4th packet of regular yeast. Heat water in a pot till boiling and add sugar to melt, then pour in a gallon jug, such as clean milk container or other kind of jar.
Let cool, then put in yeast, cover with aluminum foil and let set for 2 weeks, then strain and bottle. You can then add flavor if you want, such as tea, or whatever you want.
Don't close tops too tightly on the bottle, wait until it stops working the yeast off, or it will explode. It should be ready in about 2 more weeks, add more sugar if not sweet enough.
By Barbara G from Statesboro, GA
This wine is best made in the summer months and left to mature for the following spring. Shred the heads of the flower petals and place them in a large pot. Cover them with 2 quarts of water on the boil.
Have you ever thought of making your own wine or beer. Do it yourself kits are out on the market. For wine, either grow your own grapes or buy some from someone nearby. In advance, gather as many bottles with lids, wash and sterilize them, allow to dry completely. My parents made wine once when I was a teenager. It was an experience to say the least. Interesting gifts to pass out for the holidays! Not everyone can brag about making their own beverages!
By Terri
Give a "thumbs up" to the solution that worked the best! Do you have a better solution? Click here to share it!
Questions
Here are questions related to Making Homemade Wine.
Anyone have a simple wine making recipe? We have many grapes.


Barb from CA
AnswerWas this interesting? Yes No
Ad
---
---
Most Recent Answer
By L O'Brien 5 21 11/17/20070 people found this helpful
http://winemaking.jackkeller.net/

Here is a good site. I had tons of plums on our tree this year and have made loads of wine. If you need the equipment try eBay as a lot of shops don't stock homebrew/wine making equipment these days. My friends mum bought a load of secondhand wine making equipment at a Boot-Sale and she gave it to me. I should manage to get at least 44 standard bottles of wine for under £10 (UK Pounds Sterling). The main tip I would give anyone - make sure to steralise everything thouroughly, and try not to expose the wine to the air. Also don't have bowls of fruit nearby when you are working with the wine - as it is those little fruit flies that can infect your wine and turn it to vinegar. Also there are two ingredients that you can add to wine to help it clear - called AMALAYSE and PECTALAYSE - AMALAYSE is for vegetable wine and PECTALAYSE is for fruit wine - it helps to stop it being cloudy. For you wine bottles - make friends with a local pub or restaurant and ask if you can have their empty bottles. Again - make sure to steralise them properly. NEVER USE OLD CORKS! invest in a proper airlock as well.
Kind Regards - Borasic Lint
---
I'm searching for recipes to make homemade wine. My dad made elderberry wine when I was a little kid. I barely remember him making it, but it was in a big crock. Anyone have some old time recipes for homemade wine? I would love to give it a try. Dad is gone, but the memories linger on. Thanks everyone.
By Clarann
AnswerWas this interesting? Yes No
Ad
---
---
Most Recent Answer
By PL Leong 1 16 10/17/20110 people found this helpful
Hi Meg,
Is it possible to share the cranberry liqueur recipe as I can't find it in the website anymore.
Thanks.
---
I am just beginning to learn to make wine. I tried to make it once, but failed badly. Any tips on how to start if you don't know anything about the subject?
By Dawn L. [1]
AnswerWas this interesting? Yes No
---
Most Recent Answer
Could anyone help me with a recipe for chilli wine? I was watching a cookery programme that used chilli wine. I have phoned around but nowhere in South Africa can I find someone that stocks this product. I then thought it would be great fun if I could try to make some myself.

Thanks,
S Hatting from South Africa
AnswerWas this interesting? Yes No
---
Most Recent Answer
By neil (Guest Post) 05/06/20070 people found this helpful
Here are 2 recipies for the elusive brew that you seek.

recipe 1; Chilli Wine

Ingredients :

100 g red & green chillies (about 6 chopped, I removed the seeds, I might try it with the seeds at a later date)
125 g raisins (sliced)
4 pints (2.2 litres) water
1 tsp pectic enzyme
1 tsp citric acid
1/2 tsp tannin
2 tsps yeast nutrient
2 tsps general purpose wine yeast
500 g sugar

The chillies and raisins were put into a bucket.
Then the boiling water poured into the bucket.
When cool the pectic enzyme was added.
The mixture was then left for 6 days, and stirred daily.
The liquid was then strained through a sieve into a demijohn.
The specific gravity was 1015.
The citric acid, tannin, sugar, yeast nutrient and yeast were then added.
A fermentation lock fitted and the demijohn left in a warm place.
After 1 day the fermentation started.
After 4 weeks, the fermentation ceased. The wine was racked and 1 campden tablet added.
Bottled after another 3 weeks, the quantities above gave enough wine for 3 bottles.
The alcoholic strength was calculated to be 14%.

Colour : clear, golden
Aroma : interesting mixture of freshly chopped chillies and white wine.
Taste : first is a rather smooth and faintly grapey taste,
then a sudden burst of chilli.
Certainly keeps your mouth tingling for a while.

recipe 2; Peach & chilli wine

Ingredients
2 tinned peaches in syrup (411g cans)
Chilli peppers (finely chopped) - I used about 1/2 tea cup (strength at your discretion)
1.2 Kg caster sugar
1 teaspoon (5g) high alcohol wine yeast
200ml orange juice
Tip teaspoon of Epsom Salts (optional)
1/2 teaspoon marmite
Yeast Food (as directed on packet)
water
Campden tablet
2 teaspoons Pectolyse
2 teaspoons Citric acid or the juice of two lemons
1 teaspoon of strong black tea

Equipment

3 demijohns (not all at the same time, though!)
stainless steel spoon (or ladel)
nylon sieve
long-handled plastic spoon (or similar)
Teatowels
Airlock and bung
large Stainless steel pot(s)
small saucepan (not copper or aluminium)
milk bottle (or similar)
Cotton wool
large funnel

This recipe makes 1 gallon of wine.

Method

Sterilize everything you use thoroughly

Prepare the yeast at least 20 min before required but I find 24 hours gives the wine a flying start. Make up the orange juice to 1 pint with water and transfer to a saucepan. Add the marmite and the Epsom salts (if used). Heat the mixture to boiling to drive off preservatives and then pour off contents into milk bottle. Add yeast nutient. Agitate. Leave liquid to cool (cheat by standing bottle in cold water if you're too impatient). When about 21 deg c, introduce the yeast, and plug the bottle with cotton wool.

PLace five pints of water in a large stainless steel pot and bring to the boil. When the water is boiling add 800 g of the caster sugar and stir to dissolve. Open cans of fruit and discard the syrup into the demijohn. Plug demijohn with cotton wool. Dump the fruit and the chillies into a fermentation bucket and bash with a stainless spoon (or ladel, like me). Pour the boiling syrup over the fruit and leave to cool to about 21 deg c. Introduce the citric acid, the campden tablet, the pectic enzyme and the tea to the contents of the bucket and stir. Cover with a teatowel.

The following day transfer the must to the demijohn containing the syrup. Pour in the yeast starter. Agitate the demijohn well and cover the mouth of the vessel with a teatowel. Leave for 24 hours and then fit an airlock.

Thoroughly shake the must every day to disperse the fruit through the liquid.

After ten days, remove airlock, and strain the must through the nylon sieve (balanced on the funnel). At this stage the fruit and chillies are discarded, and the wine is made up to the gallon with a syrup made from 400g of sugar dissolved in 2 1/2 pints of water (cooled). Give a stir and refit airlock. Leave to ferment in a warm place until wine has cleared (about a month) and then rack into a fresh demijohn, top up with syrup to the strength of 1 oz per 1/2 pint (cool). Leave to continue ferment out for at least two months. Then rack for the third time, this time topping up with water, or bottle.
I'm making dandelion wine and the fruit became moldy. Is this part of the fermentation process? The recipe I used was from a fundraiser cookbook and only called for dandelion blossoms, lemons, oranges, sugar. Can I just skim off then strain or should I compost it and try again next year?

Thank you,
Lori from Atlanta, NY
AnswerWas this interesting? Yes No
---
Most Recent Answer
By Francoise 1 06/08/20060 people found this helpful
I am also making dandilion wine. My recipe said to take the blossoms and pour hot water over 1 gallon of blossoms, let sit over night and use only the water to continue the wine. If your fruit has molded your wine will taste it.
I would like to hear from folks that make wine and would not mind sharing their recipes on how to make different types of wine such as: apple, blackberry, strawberry, and others they would be willing to share.
Thanks!
By Debbie