Videos
Watch and rate the videos below.
How to Organize Your Makeup
In this video, makeup artist Aisha Alves explains how to organize your makeup and keep it that way. Be sure to watch the related videos for more tips about organizing your makeup and more.
Solutions: Organizing Your Makeup
Read and rate the best solutions below by giving them a "thumbs up".
Do you go to discount or department stores to find a make-up bag to carry your make-up in your purse but don't want to spend an arm and a leg? Try an office supply store and you can find decorative pencil pouches with zippers and other compartments to fit your lip gloss, lotions, contact lens case, comb/brush, foundation compact or anything you carry to keep looking good.
I found one for $0.50 and it was very cute and had four pockets (2 zipper pouches and 2 mesh pouches) and keeps all of my cosmetic items organized and easy to find! It folds too and is easy to keep in my purse.
By CJ from Indianapolis, IN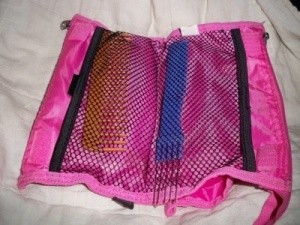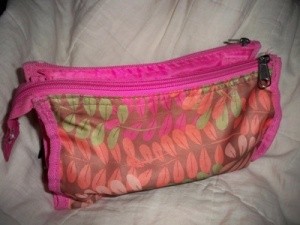 I rush through my mornings and have found several ways to save time on makeup application.
The first is: Do not wear any. It's actually freeing.
But if you do want to wear it, I have my makeup in a little drawer under the sink that is removable. I can carry it into my room before our kids overtake the showers, and I have learned to apply makeup while holding the curling iron. It only takes a little practice to put on mascara with your right hand during the 10 seconds you are holding a curl with your left.
I have a mini-makeup bag in the car (NOT for while driving) for after I run carpool, in a parking lot, while my hubby is driving, and occasionally at stop signs. :)
Let's just say I do not read magazines in the restroom.
By Lori L from Minneapolis, MN
I found a way to organize my make-up that really works for me. Use a straight sided container the size you need, like a baby wipe box, and hot glue or duct tape small bottles and/or jars inside it. I used prescription bottles without the lids, one for my mascara, one for my eye liner and eye brow pencil and to hang my tweezers on the edge, one for cotton balls or Q-tips and ect..
By Linda
Organize Makeup Upright
I am always bothered that it takes me so long to put on my makeup, and realized finally that it was because it takes so long to find my items among the pile. Lip liners often look similar to eyeliners, the new slim lipsticks and the handles of brushes look similar to mascara containers, etc.
While trying to find something better to hold my most often worn articles upright and SEPARATED, I found a bag of poly-pellets (for making weighted stuffed dolls). You can fill any size container you have, depending on your own needs. Long thin items stand upright best in this, and it's easy to place matching items together. Now my morning routine takes about half the time.
I've used a plain container in the photo, but to hold only the thinner articles or your brushes, a single pretty stemmed glass would be nice for just liners or brushes, or maybe a grouping of different height glasses from the thrift store. My own un-decorated rectangular bin looks a lot better than my messy old flat makeup tray did, but you could really get creative!
Share Your Feedback:
Once you try any of the above solutions, be sure to come back and give a "thumbs up" to the solution that worked the best for you. Do you have a better solution? Click "Share a Solution" above!
Questions
Here are questions related to Organizing Your Makeup.
Makeup Storage Advice
It's everywhere! Makeup storage in a female house is a problem. Any suggestions will be greatly appreciated.
By MC
---
Most Recent Answer

By ana_nest
04/06/2013
Well, depending on the amount of make-up everyone has, and the storage space available, there are multiple options. One of my favorites, however; is the good old, common tackle box. They come in a good variety of neutral shades, and are easily stored. Best of all, they come in just about every size you could need. The interior fold out racks are fantastic for sorting say, brushes from eyeliners, from lipglosses. They also come in a wide price range, but even the largest ones at 'big box' discount stores are rarely more than $30 or so, usually much less.

Now that warmer weather is arriving, and fishing is getting going, many stores put them on sale, so it's a great time to purchase one (also look for ones in sale around Father's Day). It's also fun that they can be customized with permanent markers, so each member of your household can decorate their own to their liking, avoiding confusion, and better yet-no sisterly squabbles over the rightful owner of that lip liner!
Making a Wall Mounted Makeup/Cosmetic Organizer
Any suggestions for a makeup organizer that can hang on the wall? I've seen the acrylic ones that have drawers and are very large, but they're so expensive, well over $200! That's insane. I have a couple of small 5-drawer organizers that I use, but I can't hang those on the wall. Any ideas? I have so much makeup that I just want to be able to reach on the wall, because they take up precious counter space. Thank you.
By Pamela
---
Most Recent Answer

By frugalsunnie
01/08/2012
I've seen commercially made make-up and toiletries bags that hang from a shower curtain or hook on the wall, and I've seen people improvise with the less expensive see through wall hanging shoe bags.

I'm thinking about using some salvaged clear vinyl from bedding sets to make something like the shoe bags. One for me, one for my husband, to clear the clutter and get some organisation into the little bathroom we share:)