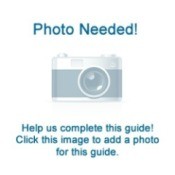 Make your own inexpensive holder for keeping your magazines organized and handy. This is a guide about making magazine holders.
Ad
---
Solutions: Making Magazine Holders
Read and rate the best solutions below by giving them a "thumbs up".
I'm sure I'm the only one who drinks boxed wines, but in case there are others of you, here's a great idea. I had the box laying on the dryer waiting to be torn down for the recycle bin when I noticed the size is just about the same as a cardboard magazine organizer.
I grabbed a flimsy organizer off my craft shelf, lined it up on the box, marked a few lines, and cut away. Not only is it a money saver, but the re-purposed wine boxes are much sturdier than the magazine boxes you can buy. I just covered it with some leftover contact paper and waited for the next box to empty!
By DannieB from Seattle, WA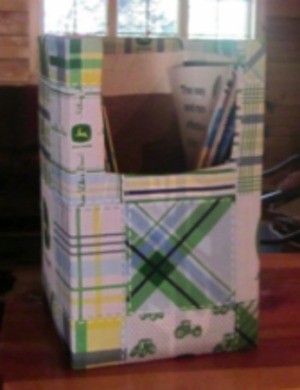 Bottled beer comes in very sturdy boxes. I used this one as a magazine holder.
Approximate Time: 1 hour
Supplies:
cardboard beer box
spray adhesive
cloth of choice (1/2 yard)
scissors
colored duct tape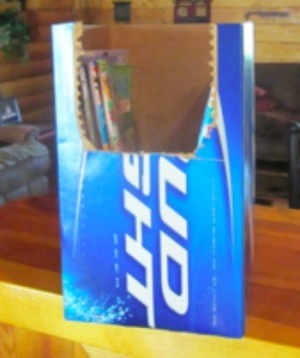 Instructions:
Get yourself and empty beer box, one for glass bottles as these are more sturdy. Find the one perforated opening and break open. This is an already U - shaped opening needed to slip in your magazines.
Trim off about 3 - 4 inches from the top or the shorter side of the box.
Reinforce the handle hole on the other short side with duct tape.
Take your box outside and generously spray with adhesive, only the four sides that will be covered.
The top will be open and the bottom will not need glue. Eyeball or measure how wide you'll cut your fabric leaving about 1 inch overlap for the opening on the top.
Lay your fabric in place and smooth with your fingers. This glue is easy to reposition so you can get it right. It's much like contact paper. Trim any long edges.
Coordinate your duct tape so it will not be too noticeable. Tape down all the raw edges until it looks like the picture. I put a heavy book in the bottom on its side to give stability to the whole box and now it is ready for your magazines for the bathroom, garage, living room, or man cave.
Enjoy!
By Louella from Billings, MT
Make magazine holders by covering cardboard cereal boxes with material and/or contact paper, then labeling them by name and dates.

By Anne from Fernley, NV.
Make your own magazine holders from empty cereal or cracker boxes. Measure up 4 inches from the bottom. Place a mark at 4 inches. Draw a line from the 4 inch mark to the top of the box. (Will be at an angle.) Do this to both sides. Cut off marked part. Presto, you have a magazine holder, paper organizer, etc. You can cover with wrapping paper, unused wallpaper to coordinate with a room decor or your kids can decorate kraft paper. It is a simple craft and fun to decorate.
By Rockinr from Pittsburgh, PA
I save my empty laundry detergent boxes to make cheap magazine holders. They can be cut on an angle like the ones seen in office supply stores or just left uncut. I then spray paint them or cover with contact paper and plop my magazines inside.

By Tori
Give a "thumbs up" to the solution that worked the best! Do you have a better solution? Click here to share it!
Questions
Here are questions related to Making Magazine Holders.
How do you decorate your own magazine holders?
By Nancy from USA, NY
Ad
---
---
Most Recent Answer

By tazfan [4]12/02/2010
I copy two or three really nice cover pages of the magazine that will be in the holder (usually a holiday issue) and then decoupage it to the box. I use one copy to put a title on the edge of the box and put cover pictures on both sides. This provides extra strength to the box and let's me know which magazine is inside.
Archives
Thrifty Fun has been around so long that many of our pages have been reset several times. Archives are older versions of the page and the feedback that was provided then.
While looking for a new magazine holder and trying to decide what we needed: something strong, able to see the magazines and not expensive, I had an idea. What about the wire basket from the shredder that wore out? It not only works perfectly but it looks nice. In fact, friends visiting recently commented on how nice it looked and wondered if we purchased it at Ikea's! So you can see, it's really not only something recycled, but also very decorative.

By Melody from Auburn, CA
I would like to decorate the inexpensive cardboard magazine holders so that they look better and match the colors in our office. I am clueless about craft projects so I do not know where to begin. Any suggestions are greatly appreciated. Thanks!
SassyGirl from Sumner, GA
---
RE: Decorating Cardboard Magazine Holders
The easiest way would be contact paper. You can get it in the housewares section of Walmart and stuff. It will make it cleanable too! (11/19/2007)
RE: Decorating Cardboard Magazine Holders
You can also use wallpaper other than Contact. It should be easy to find something in keeping with your decor. There is also spray paint. It won't hurt the cardboard. (11/19/2007)
By MartyD
RE: Decorating Cardboard Magazine Holders
You could try decoupaging pictures or old receipts or invoices, etc. using thinned with water white glue or the specially made product for decoupage. Add things one at a time, overlapping and cutting as needed to fit the shape. Tearing tissue paper or a single printed layer from napkins and gluing it on then coating top with decoupage medium works too. I did mine with office cartoons that I had clipped from various sources and pictures from magazines. (11/20/2007)
By thriftmeg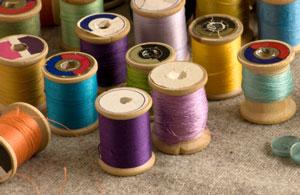 RE: Decorating Cardboard Magazine Holders
With all of the beautiful scrapbooking papers that are available, you could probably find something that coordinates with our office. (11/20/2007)
By Momof1
RE: Decorating Cardboard Magazine Holders
Find some light weight fabric you like enough to do one or all of your magazine boxes individually. This, of course, can be an old curtain, sheet, even a piece of clothing, like a full skirt you no longer wear.
On newspaper, lay down your box repeatedly, drawing the surface to be covered with a half inch to spare all around each piece.
Buy a bottle of inexpensive liquid starch (laundry products section at the store). Pour some into a bowl. Dip each piece into this, squeeze out excess and smooth onto the appropriate part of the box. Use a table knife to stuff fold part into creases. When another part overlaps that crease as you work, fold under the excess and press down firmly. When all covered, let dry very well. If any edges are loose, glue down with common Elmer's white glue. Glue on any braid, rick rack, or other trim you might like.
The same method can be used to make gift boxes for Christmas or any time of the year. They, like bags, are reusable (say within a family) and they can be well trimmed with glued on ribbon and bows! I covered several to save newspaper clippings in in my office, using an old couch cover's good parts. It is in a plaid design and I love 'em! (11/20/2007)
By Janetl
RE: Decorating Cardboard Magazine Holders
Thank you all for your suggestions. I will see what works best for me. (11/23/2007)
By SassyGirl