Organizing Your Book Collection
Have you ever not been able to find a book that you knew you had? Books are a great addition to any household, but they do take up a lot of space and require organization. This is a guide about organizing your book collection.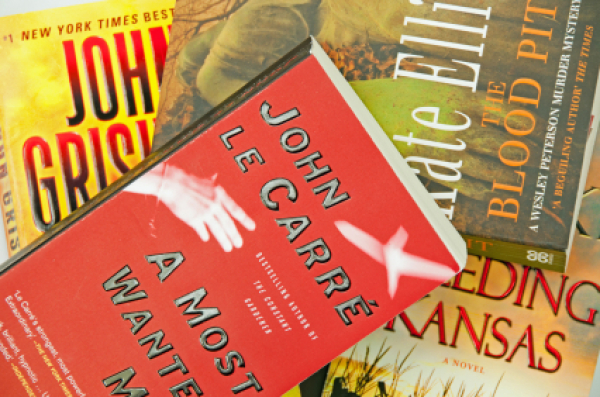 Filter

: All Articles
Sort

: Relevance
I have moved a number of times and have found through experience that when moving my many books it is best to use a smaller box, when possible. A good choice for me is one that is 1 foot square. This will require the use of more boxes, but has saved my back and the consistent size makes stacking easier.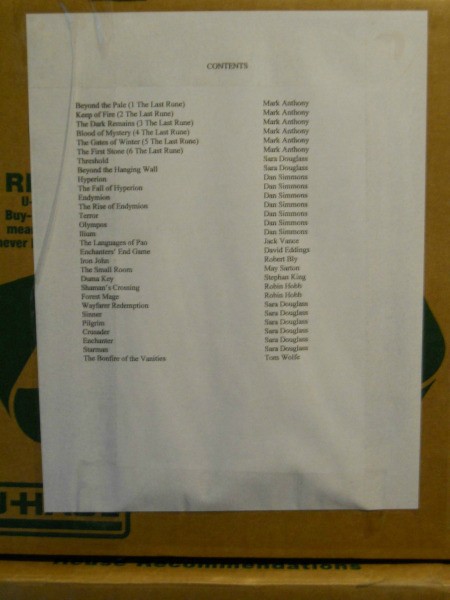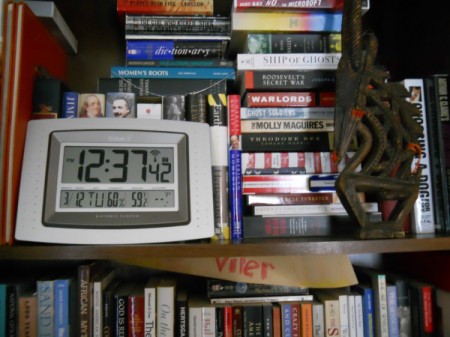 Similarly, I currently have a small house and can not have all of my books out on shelves. When I recently packed up some boxes with books that I had read I added a printed contents label to the outside. Now it is easier to find a specific book when I want to share it with a friend.
As an old person with an arthritic neck I have dreamed up a better way to shelve some of my books. I place the ones whose titles can be read while the book is lying flat on the shelf in that position. I can stand there and read my titles without leaning to the side or craning my neck. I realize this won't be for everybody but maybe someone can use if.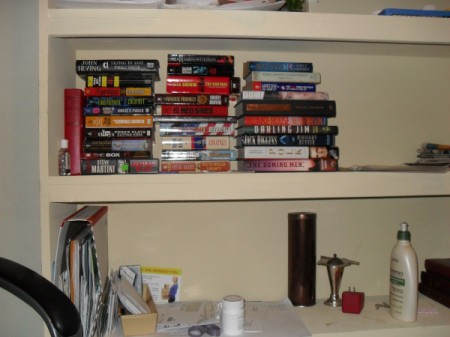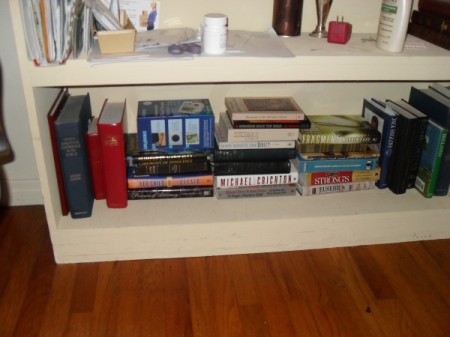 I have purchased quite a few books over the years. I spent so much money on the books themselves that I didn't have enough leftover to buy shelving, and that's where I got the idea for this helpful little tip
Books are among my most valued treasures! I believe they are part of what makes my house a home. As a senior citizen, I'd like to share with you what I have learned.
Recently, we got rid of many of our DVDs and video game cases so we no longer had a use for these tall narrow shelves. However, they are just the right size for paperbacks.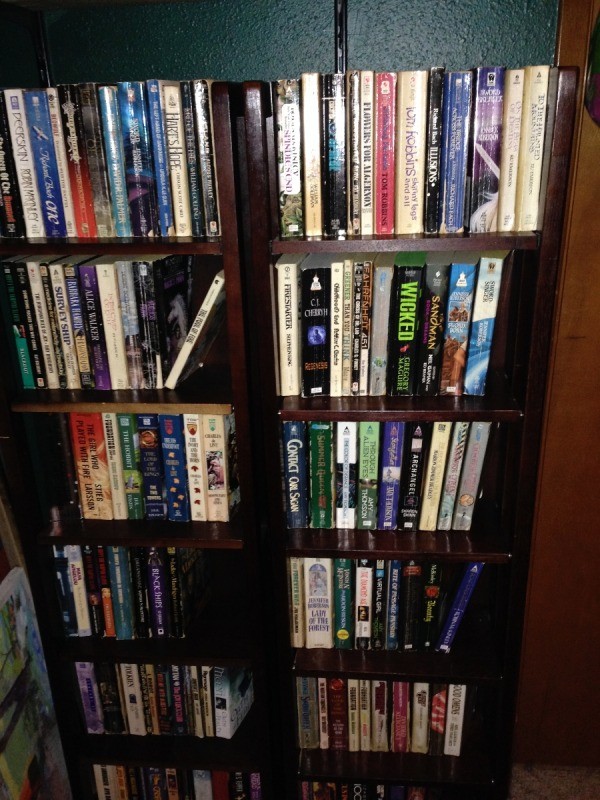 My problem is that I don't know how to organize my books. I have alot of them and lots of shelves. Am I supposed to do them by author or subject or something?

Thanks for your advice!
January 26, 2009
0

found this helpful
My bookshelves 'rotate' by interest. The centre two shelves hold my current study/interest, and on those two shelves, the books may loosely be grouped by field or author. For example, I give workshops using the MBTI personality instrument, so my central shelves have the topic with the groups of (roughly) workshop materials, spirituality and personality, HR/Career, and general MBTI. Prior to this I was sorking on some history projects. When I changed fields to MBTI, I moved the History shelves to a different bookcase, keeping the same order.
What I like about this is that I can still 'browse' my collection of books, because sometimes inspiration comes from seeing something you don't expect.
One of the things I don't like about electronic library systems is that most all of them don't have a browse mode that is loose like the above. With an old-time card catalog, you look for what you want, and you browse the cards before and after it, and often you will find something else helpful, even if you did not have the 'key words' to look for it directly.
Bottom line, choose whatever organizational form you like, but if it is too tight, don't forget to browse a bit, too.
June 13, 2011
0

found this helpful
I organize my books by subject. (Animals, health, cookbooks, herbs, etc.)
July 3, 2016
0

found this helpful
I too have an extensive library, and finally have shelves to put (most) of them on. I have found the best way for me is to alphabetically by authors. All the A's together, B's etc. .. . Then If I am looking for a specific book. I can go to the a, b, c, . . section and find it. But then I also have other catagories. I put all my poetry books in one section, Mythology in another, Fairy tales in another. If I have biographies, I put them with the author. For instance, I have a biography of Charles Dickens so it is put with his books. I hope this helps. It has me.
Read More Answers...
I am looking for an inexpensive way to store all my daughters books. She is 2, loves books and has SO MANY! At first, I used a jumbo diaper box, but since she has accumulated more, it is overflowing and she can't see what books she has. Any ideas would be greatly appreciated!
July 14, 2007
0

found this helpful
I have done the same thing as u, and so now i have three -four cereal boxes, diaper box etc, and have picture labled them as fairy tale book, animal book, alphabet books, and so on... so she has learnt to sort also as she chooses to read one by one and the bins remain clean atleast for 10-12 days, after that i need to reshuffle them and tidy it a bit.Hope this is helpful to u..happy reading time.
June 20, 2008
0

found this helpful
I had the same problem and I got two wooden crates (like the ones peaches come in), attached wheels to the bottoms, painted them and labeled them books. That way he can move the boxes easily and also easily flip through the books to choose what he wants to read. When I want to we can also roll the book boxes into the closet for a neater look. Good luck!
December 16, 2008
0

found this helpful
Buy plastic wash basins in different colors. Different colors for different kinds of books. Tubs slide onto book shelves very easy and neatly.
Read More Answers...
My solution has four facets. First, go through and alphabetize your books according to title, laying them on the shelf flat with one pile for one or two alphabet letters. If the pile gets too large, start another one.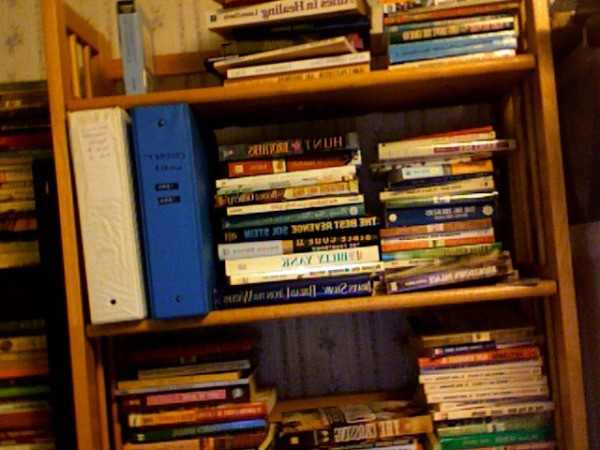 I have organized my books first by subject, for example: home improvement, health, autobiographies, gardening, true crime, Oprah collection, spiritual, fiction, and non-fiction.
If you have a computer, for the simplest way to organize your book would be to list them in alphabetical order. With that list, place them in a book shelves, starting from left to right (directional reading).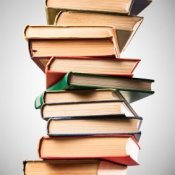 Most book lovers eventually encounter the same problem sooner or later: how to organize their book collection. If you have a few books then this might not be such a problem. When you start entering the triple digits, however, organization becomes essential when it comes to finding the book that you are looking for.
There are different ways of organizing your books and they don't all have to center around the card catalog. Although categorizing them by genre, author, and title is one way to go about it, it's not the only way.
The first thing you want to consider is the type of books you have. Do you have any special ones? Are there ones that are signed or first editions? If so, then these should be separated from the other ones. Are there books that you often need to get to at a moment's notice? If there are books that you need for your work or that you just enjoy reading over and over then find a special place for them that's near your desk, bed, couch, or wherever you are when you tend to read them.
When you are in the mood to read something do you generally tend to think of your books by genre or author? If you think of them by author then this is the way that you should organize them. Group all of the books together by the same author and then alphabetize those books. In this method, organizing your entire collection alphabetically is a good idea.
On the other hand, when you're in the mood to read something and you choose your material by genre then you might want to consider separating your books into genre first and then by author. For instance, on one shelf you might have romances and include your Nora Roberts and Danielle Steele books. On another shelf you might have your horror genre with your Stephen King and Peter Straub books. Organizing your books this way will help you find the book that you want depending on the mood that you are in.
You can also organize by size. If you're placing them on a shelf then start with the largest and work your way down to the smallest. Or, you can lay the largest one down and stack the others on top of it, largest to smallest.
Some people are fortunate enough to have large spaces and can fit lots of nice, big bookshelves into their homes. Others have smaller spaces. So how can you organize your books in a small space? Try using flat boxes that can slide under your bed. You can also try stacking your books rather than placing them side-by-side which is actually better for the books anyway!
I was getting overwhelmed with paperbacks, they would be 2 deep on my shelves and I would have trouble finding the one I wanted.
Related
© 1997-2016 by Cumuli, Inc. All Rights Reserved. Published by
ThriftyFun
.
Page
generated on August 24, 2016 at 4:27:04 PM on 10.0.2.178 in 3 seconds. Use of this web site constitutes acceptance of ThriftyFun's
Disclaimer
and
Privacy Policy
. If you have any problems or suggestions feel free to
Contact Us
.