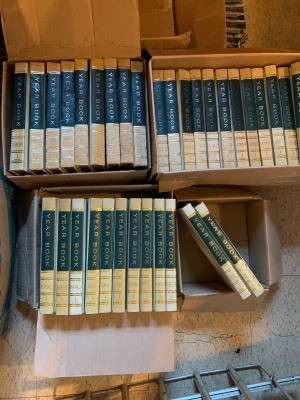 I have moved into my grandparents home after both of them passing. I'm responsible for going through all of their belongings and either selling for the estate or keeping for members of the family. They have a collection of The World Book Year Books 1968-2001. It is missing 1978 which is my birth year (weird). I'm just wondering what the collection may be worth. Thank you

Answers

poehere
Bronze Post Medal for All Time! 105 Posts
August 12, 2020
0

found this helpful
Best Answer
The only issue with trying to sell off books like this is the value you will receive. Nobody is currently interested in any of this information because it is outdated and currently online. If the books were over 100+ years old and in great condition a collector might be interested in them. You will be really lucky if you can get a few dollars for every book there is. Considering one is missing this could decrease the value you receive.
I would not suggest putting them online because if they do sell you'll need to box all these up and ship them off to the buyer and they are very heavy and will cost more to ship than what you make. If you are selling off the estate and have other things to sell add these books to the pile and ask $20-25 for the set. That is the normal price people are getting right now for such a collection.

August 13, 2020
0

found this helpful
Best Answer
As a general rule, year books sell 'better' if sold by individual years but any method of selling may take a long time and many may never sell. Book sellers usually put books up for sale, store them and let the listing run months/years - some sell but usually not quickly.
There have been some lots of year books such as your sold on eBay but when averaged out the seller was actually clearing less than $2 a book. A lot of trouble for that amount of money.
Some sellers list their year books individually and it seems some may be making a little more money but how long before a sale??
here are a couple of examples of their methods:
www.ebay.com/.../224039102912?_trkparms=aid%3D1110006...
www.ebay.com/.../174088067253?hash=item28887518b5...
Some of your books do not look in very good condition so you may have trouble selling those individually - maybe sort some in a group.
Shipping media mail is not costly for a few books but still a pain.
It is difficult to donate these as thrift stores and book sales will usually not take them but if you decide to have a yard sale you may be able to make a few dollars per book.

Pghgirl40
Bronze Feedback Medal for All Time! 196 Feedbacks
August 12, 2020
0

found this helpful
Condolences on the loss of your grandparents. May their memory always be a blessing!
Looks like someone sold 10 of them from 1962-1971 for 34.00 seller paid shipping. So that is about 3.40 a book GROSS, then it costs a fortune to ship, so the seller probably netted between 50 cents and 75 cents a book.

www.ebay.com/.../174360060690?hash=item2898ab6312...
A lot of junk journal artists and collage artists like these so that may help you with key words for your sale.

Ana
Bronze Post Medal for All Time! 140 Posts
August 12, 2020
0

found this helpful
Unfortunately this set will not bring more than $50 ,on todays market. Typically a set like this would bring in more if over 100 years of age. It would take a special collector to retrieve more in perfect condition. You could donate to a woman/children's shelter or Goodwill, the information inside is still valuable learning.
Read More

Answers