Organizing Ribbon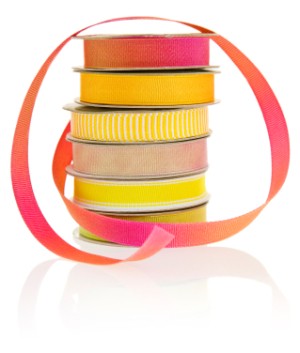 Even a few spools of ribbon can easily become a tangled mess if they aren't kept organized. Keep your ribbons organized and easy to access for your next craft or project. This is a guide to organizing ribbon.
Solutions
Share on ThriftyFunThis guide contains the following solutions. Have something to add? Please share your solution!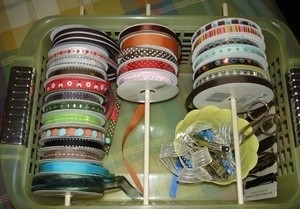 Create your own ribbon holder for less than $2 using leftover materials: use an old wire basket (it is OK if some of the slats are broken) and several 12 inch long dowel rods (or pant hanger cardboard) cut to length.
Slide the dowel through one end of the basket, place the ribbon spools and then thread the other end through the basket. VOILA! A ribbon holder for less than $2. The craft stores sell these for $20 or more. Now you have more money to purchase those adorable patterned ribbons.
By Diana from Prospect, KY
Instead of using tape or pins to keep you rolls of ribbon from unwinding, I found that rubber bands are easier, quicker, and leave no holes or stickiness on the ribbon.
With scissors, I simply clip a tiny slit in the side of the round cardboard ribbon spool, then clip another notch or slit directly across from the first slit. These tiny cuts give the rubber band a place to catch so it won't slide off the round cardboard spool. If you like, you can also cut a notch in the back of the spool and again at the back of the edge that's opposite the first cut.
Now instead of removing a pin or tape whenever I need to use my ribbon, I simply remove the rubber band and it's easy to replace. I bought a large bag of rubber bands at the dollar store and I use them for all kinds of things. I keep rubber bands on various door knobs all around the house just like my mom did when I was growing up. This way, I always have one available when I need it!
By Cyinda from near Seattle-Tacoma
I love using ribbons for all kinds of projects so when there is a sale or an end of the season clearance, I will be there stocking up. To keep my ribbons and my other craft projects organized (not easy!), I purchased an inexpensive white four drawer dresser to use as my craft central. Because I had so many spools of ribbon, I needed a way to keep them organized in my ribbon drawer.
I found that by using the tops from the boxes that reams of paper come in, I am able to stand the spools upright side by side; very similar to the way you would see them in the stores. Then I sort them by color, season, occasion, etc. Two lids will sit one on top of the other in the drawer for easy access. You can just lift out and pick which one you want to use. For the larger spools, I have enough space on the side of my drawer to place a shoe box for these. This method helps keep my ribbons dust free, organized, and easily accessible.
Here are two other tricks I use to keep my ribbons organized. I snip the outside of the cardboard spool to make a small notch and slip the end of the ribbon over this. This prevents your ribbons from becoming loose and tangled. I am a big believer in recycling and reusing so if I receive pretty ribbons I will use empty spools to rewind the ribbon for use later on. Hope this helps!
By Marnie from West Simsbury, CT
To keep the ribbon from falling around the spool, cut a slit in the cardboard in the same manner as sewing thread spools have a slit in them to contain the end of the thread. As you finish using it, "thread" the end of the ribbon into the slit. Also, a paper towel holder that is vertical is a good way to hold several spools of ribbon.
By Vicki from Dallas, TX
Use a metal dowel mounted on the wall in brackets to store craft ribbon and lace. A metal dowel works better than a wooden dowel at keeping them straight. For loose ribbon and lace, store in clear candy jars on a shelf or table.
Source: The DIY Dish
By duckie-do from Cortez, CO
I hung 2 chains from my ceiling 2 3/4 feet apart and 3 feet long. Then I took a 1/2 inch pole that is 3 feet long and filled it with the ribbons that were on their original cardboard spools. These have a hole that is usually at least 1/2 inch or more; I try to put the same color and types together.
When the poles have about 6 inches of space left, I push the rolls into the center of the poles, then find the same space on both chains and place filled poles through the holes on both chains. You space each pole as far down on the chain as needed depending on how wide the cardboard spools are. Leave enough space between each row of spools so the ribbon can easily be unrolled when you are in need of some ribbon.
I have had my ribbon like this for almost 10 years; it has worked really well. If you do need to remove a roll of ribbon or one becomes empty and you want to add a new one, you will need to very carefully remove just that pole with all the rolls on it. Be sure and not pull the chain so far apart that all will get loose or you will have a mess to clean up and reorganize. I have put a roll of ribbon on the part of the pole that is put through the chain. I use one that seemed to be really tight. This way it will not slide off of the chain as easily.
By Cora from NC
May 23, 2017
0

found this helpful
The hole at the top of a sugar dispenser is just the right size for many types of small ribbon to fit through. This is a guide about sugar dispenser for ribbon.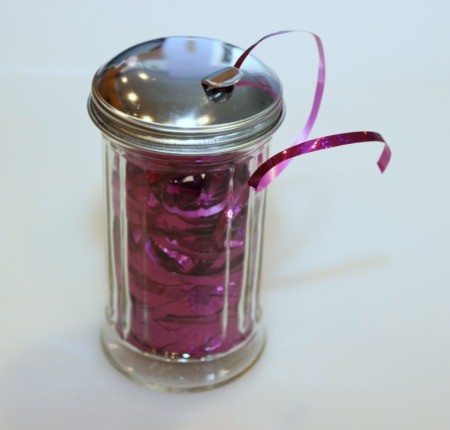 June 17, 2017
0

found this helpful
If you have a place to install it, a tension curtain rod works well for organizing and storing ribbon and wrapping paper. This is a guide about tension rod crafting ribbon and wrapping paper holder.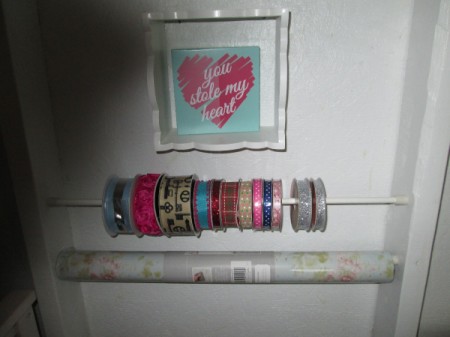 You can use the empty spool and container to store craft ribbon. It keeps the dust out nicely.
Not all your holiday paper/ribbon has to be put away. Red, green, gold, etc. can be used by themselves for other occasions throughout the year.
Read More...
Related Content