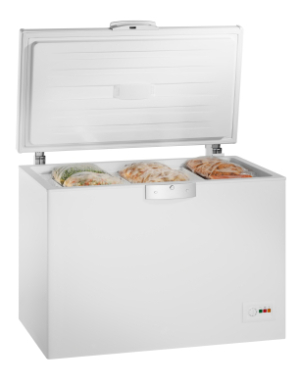 A chest freezer is a great way to store a lot of food, but it is easy for it to become disorganized. Storing frozen food only saves you money if you can find it when you need it. This is a guide for organizing your chest freezer.
Ad
---
Solutions: Organizing Your Chest Freezer
Read and rate the best solutions below by giving them a "thumbs up".
I make a list of items that I store in my chest freezer, and keep in taped on the inside of a kitchen cabinet door. As I use the items, I cross the item off the list. As I add more to my chest freezer, I add the item to the list.
I have the items listed under sub-titles, such as:
Meats
Breads
Snacks
Ice Cream
Misc.
I leave room under each sub-title for items that I need to add at a later date. Every 6 months or so, I'll re-do the list as it does get a bit messy looking. But, that's easy, I make the list on "Wordpad" on my computer and save it, so I can easily go back to delete items and add items.
By Kathy from Beaumont, CA
I must admit that I read these tips and I don't remember where. (It may have even been on this site!) The article I read suggested using small baskets for different categories of food. The categories were as follows: beef, chicken, pork, prepped foods, and prepared foods.
I have a garden and don't consume that much meat so my categories combine beef and pork and add veggies. Prepped foods would include things like chopped peppers, onions, etc., prepared sauces such as marinara, or perhaps shelled nuts. Prepared foods would include casseroles ready for the oven, meatballs ready to cook, etc. This seems to work for me. I purchased my small plastic baskets for around $1.50 at the dollar store. Of course these are just suggestions. Each of us have different tastes and needs. However you choose organize it, the baskets seem to do the trick!
I also have quart size canning jars for small packages of chopped nuts, ginger nubs, nutmeg, etc. This prevents the small packages from falling into cracks and getting lost. Gallon size resealable bags would also work great for these small items.
When I freeze in plastic bags, I try to make them as flat as possible and place on a cutting board in the freezer. (Remove cutting board when packet is frozen.) The flatter the better for storing!
By Mom L from Graham, TX
To organize my chest freezer, I use plastic grocery bags. I put like things in a bag and label it. It's easy to pick up the bags on top and move them to get to the things underneath.
By quilterj from NE
Out with our chest freezer I have an old chalk board, I have marked it down in sections: right side, middle, and left side for both top and bottom sections. One part is fruit, another meat, another frozen meals, etc.
Also everything has a label or it is written on the package what it contains. It makes life so much easier than digging through all that's in there for what you want.
By Elayne from Dalhousie, Nova Scotia
If you live in a cold climate, save even more freezer space at this time of year by simply putting things outside (in sealed containers, of course)!
By Brenda
Give a "thumbs up" to the solution that worked the best! Do you have a better solution? Click here to share it!
Questions
Here are questions related to Organizing Your Chest Freezer.
I just bought a Kenmore 5.0 freezer chest. It is the first one I have ever owned and I am just looking for tips. I want freeze as much as I can for reusing. I guess I should ask what not to freeze too?

Joyce from Danvers, MA
AnswerWas this interesting? Yes No
Ad
---
---
Most Recent Answer
By cettina 78 392 08/15/20080 people found this helpful
ive had a chest freezer for about 10yrs now and i find it pretty useful. i put what i use daily(peas, ice cream etc.) in the freezer compartment(which is small) of my refridgerator and the rest goes into my chest. i have backup supplies for everything so as soon as something is finished, i go to my chest and replenish from there. one tip i could give you is to purchase a couple of largish square or rectangle plastic baskets with a handle or side handles and fill those up with what u want to freeze. then instead of delving around your chest freezer all u have to do is lift out a basket and look inside to get what u want. any leftover spaces at the sides between the freezer wall and of the basket can be filled up with larger(ready boxed) stuff that u can easily see and get to.
---
How do I keep my cube freezer organized?
By Theresa from Aston, PA
AnswerWas this interesting? Yes No
Ad
---
---
Most Recent Answer
By cckarl 6 01/02/20110 people found this helpful
I want my $$$ worth, so found just too much valuable space being wasted by using asst. boxes and fancy containers in my freezer. Plastic bags eventually became brittle from the cold and ripped at the wrong time. Nobody knew where the spilled contents went, so they just tossed it back onto the pile. Grr.

Someone suggested using different color pillowcases for freezer foods. Stopped at the local thrift shop to pick up a variety of cheapie pillowcases, washed them thoroughly and tried it. It worked! No more brittle broken plastic bags, more room. Pillowcases can be moved around to fill in the chinks, are more sturdy, easy to clean, and most of all easily identified.

Tan-breads; yellow-dairy; dk green-summer veggies; lt. green-winter veggies; purple-chicken; orange-pork; white-fish; red-beef; blue-boxed foods (onion rings, tater tots, etc.); plaid-precooked meals; stripes-fruits & nuts; flowered-to be canned/sundry. Now even hubby & kids find anything we need-no excuses! The pillowcases hold less but are easier to lift out of the freezer for those with bad backs, easy to just grab and go/clean out, and no more cold hands!

We keep a running contents loose leaf tab notebook nearby for easy reference. Hubby was fascinated by the freezer dividers at a store once, and whipped up some out of sealed pegboard for airflow. Fantastic! So much easier to find things now. Plus they stay where you put them. Ahhh.
---
Archives
Thrifty Fun has been around so long that many of our pages have been reset several times. Archives are older versions of the page and the comments that were provided then.
I have a large chest freezer. I have lots of frozen vegetables in quart plastic freezer containers. These tumble over frequently and get all mixed up. I have some baskets that slide on the uppermost part of the chest. The quart containers sit on the floor and stack up to the baskets. I need something that divides the rows. Any advice?
By judygu from Warrior, AL
Feedback:
RE: Organizing Chest Freezer
I use the re-useable shopping bags and group the different foods in each one. Sure is easy to find stuff with the handles there to lift the bags. (07/27/2009)

By 2ndhandroz
RE: Organizing Chest Freezer
Some freezers come with dividers, made out of the vinyl coated wire, like the baskets. You may be able to buy such a thing someplace. I have these in my freezer. If you cannot find the exact thing, perhaps you can find something like a shelf from an old frig or an oven rack that will work as a divider. (07/30/2009)

By louel53
RE: Organizing Chest Freezer
I use plastic crates (like milk crates) to separate categories. I mostly keep meat in my chest freezer, so I have one for pork, one for chicken, one for seafood, and one for beef (and venison). I also have one basket that came with the freezer and one little shelf on which I put "miscellaneous" items.

You can fit 4 of the crates in my freezer. I just lift out the one I need. (08/30/2009)

By lilee2k
RE: Organizing Chest Freezer
My parents have a huge commercial type chest freezer from the restaurant they used to own. It holds tons of meats and veggies, but keeping everything organized was a nightmare. They had several of those 12 oz. soda can crates from Pepsi and Coca Cola left from their restaurant just laying around.

Since my parents buy a lot of their meats and veggies in bulk to save money, my mom invested in a vacuum food sealer. She labels the packages before adding the food and sealing them. Then she places the packages in those crates and stacks them in the bottom. She keeps each type of food in its own crate (pork in one, chicken in another, veggies in another, etc.), but there may be two or three crates of each type of food.

She got tired of searching for exactly what she wanted so, she cut some index cards in half to make tags and wrote down the foods from each crate on them (like pork chops, pork fingers, pork roast, pork ribs, etc.). Then she covered them with clear packing tape, trimming off the excess, punched a hole in the corner of the tags, and tied them to the crate handles with twine. Now when she wants something, all she has to do is read the tags and she can go right to the food she wants in seconds. She uses the baskets that came with the freezer to store loaves of bread, packages of pecans (she has three huge pecan trees and spends her winters shelling them for pies and candy), and pie shells. (04/14/2010)

By cajow