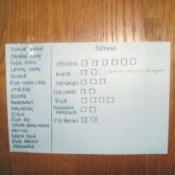 Step 1:
Take out all your items in the freezer and put them into a large black bag (heavy duty bag). Wrap a duvet around it to keep the cold in.
Step 2: Fill large bowls of steaming hot water and place on the shelves inside the freezer. Place a thick towel on the floor to catch drips.
Step 3: Wait.
Step 4: Once the ice is loosened use a plastic scraper to remove the built up ice. Never use a metal implement as this can puncture the walls releasing the CFC's.
Step 5: Once cleaned, with a cotton cloth liberally smear Glycerin all over your freezer walls. This makes a clean-up the next time a lot quicker. Ice won't stick to the walls so easily.
Step 6: Pop back all your foodstuffs back in the freezer. Close the door. Done!
While I was defrosting I counted all of my portions of meats and main meal type items and made a list to keep on my freezer. Now I just tick them off once I use a portion and that way I can see, at a glance what I have and haven't got when I next go shopping!
By Monique from Somerset, U.K.