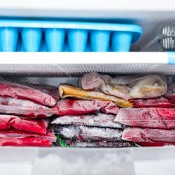 Many years ago, my son unplugged my well stocked freezer to plug in his stereo. Unfortunately, he did not plug the freezer back in when he finished listening to his CD. I didn't realize the freezer was unplugged for close to a month. You have no idea how sickening the smell and sight was when I opened that freezer door that morning. It was absolutely horrible! I had just bought a hind quarter of beef and had frozen tomatoes and other vegetables for the winter. Everything was gone.
It wasn't easy, but somehow I was able to clean out and dispose of everything. Cleaning with bleach, baking soda, ammonia, and vinegar did nothing to rid my freezer of the horrible odor. We finally gave up and decided to just take it to the dump.
The very day our friend was due to come over and help load the freezer into the truck to go to the dump, my dear aunt told me she knew a way to rid freezers of smells, use 'pure' vanilla. She said to take a large bottle of 'pure' vanilla and put it in a bowl and then put the bowl in the freezer and close the door. Leave the freezer closed without opening it for 3-4 days.
I was skeptical, but figured why not. I had nothing more to lose. We canceled the dump run and purchased the largest bottle of pure vanilla we could find. Four days later, I opened up the freezer to find absolutely no smell lingering from the rotted meats or vegetables. Absolutely amazing. It was just as fresh as ever.
We lost a ton of meat and produce that day, but we used the freezer for another 5 years.
Source: My dear aunt
By Bayliner from Perry Hall, MD
Read More

Comments

If you have ever had a freezer lose power and have had the stench of rotten meat; here's a tip I learned from my grandmother. Not sure why, but their freezer shut down. They always bought their meat in later year, in halves.
Read More...

Our freezer was left ajar for several hours, but not enough to completely thaw the food. Several days later it started to have a sour smell in the laundry room where the freezer is.
We've cleaned everything in the room, but can't locate the smell. I don't see any evidence of spilled blood or anything like that. Help!
Answers

November 30, 2017
0

found this helpful
Best Answer
Under most freezers is a drain for defrosting purposes. Under an upright there is actually a drain pan that can slide out for cleaning. Deep freeze freezers usually have a plug at the drain hole. I would check this drain for the smell source first and clean if necessary. If you are unable to find the source, then use the other measures.
Here are a couple of things that I use for odor in my fridge/freezers: A couple bricks of charcoal placed nearby or in the freezer will absorb smell. Also I have cleaned my appliances with borax or baking soda and water to remove smell.
Answer

this Question

I just a few minutes ago purchased a used freezer from a girl who had no clue. It was nasty. This freezer truly smells like something was dead in it! I have never smelled anything like this and I work in surgery and smell a lot of things. I have cleaned it with straight bleach, then Clorox Clean Up and just rinsed with vinegar. It is awful! It still stinks like something rotten or pet urine. What can I do to get rid of this smell? Thanks.
Sam
Answers

DCA
Bronze Answer Medal for All Time! 220 Answers
August 10, 2015
0

found this helpful
My experience buying used freezers and fridges has not be great! Assuming a smelly freezer can be cleaned is the wrong way to buy it! An easy online search will produce many ideas for washing. However, when the smell is really bad and not helped by cleaning, the problem may be that the freezer has a biologic film on the surface from spoiled meats that is extremely difficult, if not impossible, to remove.

August 11, 2015
0

found this helpful
It doesn't hurt to try tossing in a few charcoal briquettes and closing it up. Check it the next day, if the smell has indeed lessened take those briquettes and toss them in a sealed baggie in the outdoor trash and use a few new ones for the next 24 hours.
Some people report having good luck with wadding up several sheets of newspaper and putting them inside as well. With either option the freezer does not need to be turned on.

August 11, 2015
0

found this helpful
I have had good luck with this method. Turn the freezer on it's side and look to make sure nothing crawled under it and died. Then, if you have to, unscrew the outer shell from the insulation which is often Styrofoam. If something melted and got into that...you can replace it but it's hard to win the day with a very big or very old stain.
The best thing to remember also is that a day or two in the direct sun is the only thing that cures a stinky sponge so you may want to just air it out.
Good luck!

August 15, 2015
0

found this helpful
Look for a dead mouse in the insulation.

August 16, 2015
0

found this helpful
leave baking soda in several small containers sit in the fridge overnight with door closed & next day also wipe all interior surface with diluted baking soda with water, dry.
Kitty litter may help as it its known to absorb odors.
Answer

this Question

I am currently a freshman in college and my roommate put ice cream in our freezer about five months ago. While we were on break, the ice cream somehow melted in our freezer. The melted ice cream has now frozen to the freezer and no one can open the freezer without it smelling terribly! I wanted to know if anyone has suggestions on the best and most painless way to get rid of the smell and clean the freezer.
Thanks so much in advance!!
Answers

May 29, 2015
0

found this helpful
You're pretty much just going to have to knuckle down and do this.
Remove all the food you want to keep to coolers, if there is any other food. Unplug the freezer.
Put on a mask if you have to. Wait until it gets slushy on the inside. Use warm water and a plastic (NOT metal) putty knife to remove everything from the freezer.
Clean the freezer with warm water and a little dish soap. Be sure to wash the door gasket. Then deodorize by leaving a tray of fresh coffee grounds in the freezer for a few days.

June 1, 2015
0

found this helpful
I have used warm water mixed with baking soda , then rinse & dry. 1 quart of water/1 tablespoon baking soda. I also clean the entire inside with this mixture, great for cleaning & removing odors.
Answer

this Question