Spices can quickly take up more space in your kitchen than you may have intended. Keeping your spices organized helps to reduce their storage footprint and makes them easier to locate while you are cooking. This is a guide about organizing spices.
I was at my friend Erin's house for dinner over the weekend and I noticed she had her spice tins displayed in this super creative way. She bought rare earth style magnets at Fred Meyer and stuck all her spice tins to the side of her fridge using 2 magnets per tin.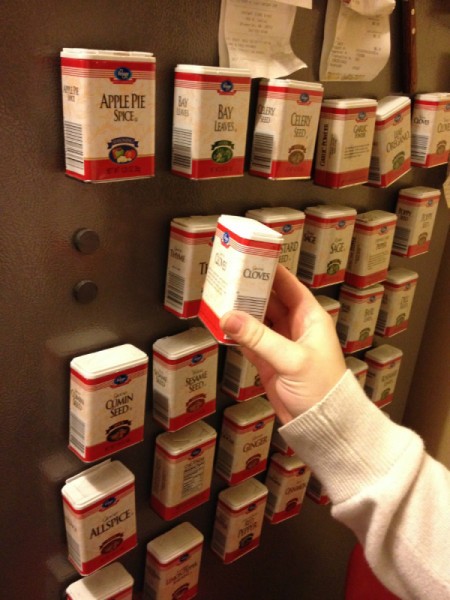 Magnetic spice tins are really popular right now, but require buying a whole new set. Erin said she really liked the idea and had been thinking of purchasing them until she realized all her spices were all ready in tins.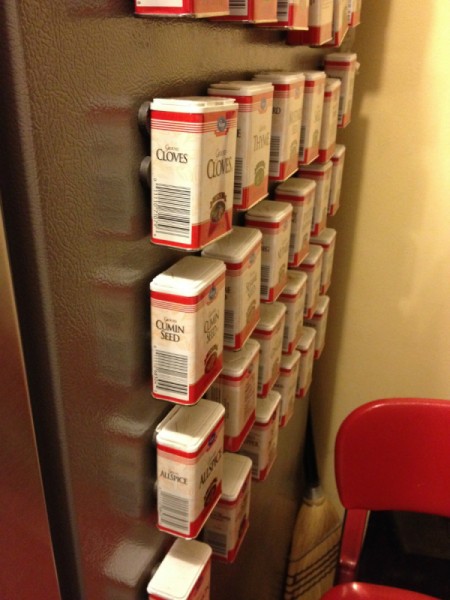 Another great tip she shared with me is that she turns the tins around when they are empty so she knows to buy more of that spice to fill the tin back up.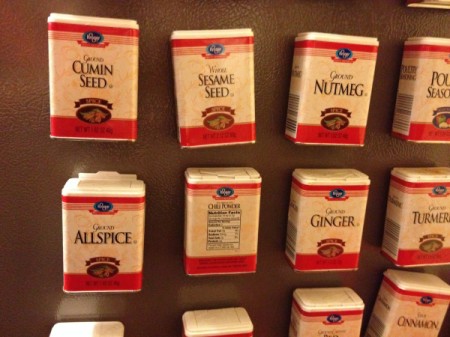 This is a great way to organize your spice tins up and out of the way. I also love the way they look displayed on the side of the fridge.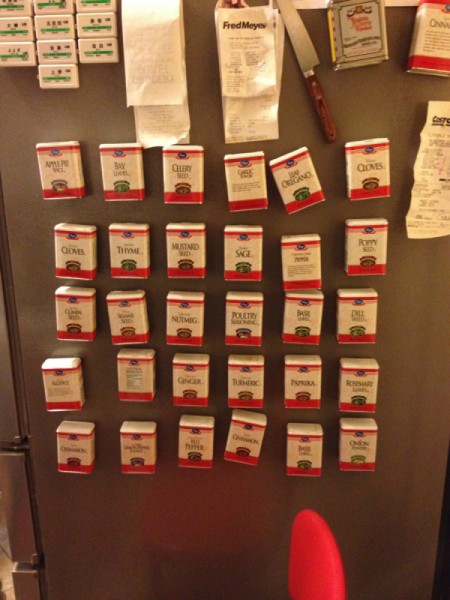 By chellammal 5
Keep all the spice bottles in the cabinet drawer which is very close to your stove. The upper left side drawer is a really convenient place to keep all the spices. When you are cooking it is easily accessible and visible. No need to search in wall cabinet which has one behind the other and can be time consuming.
By Geetha from Alpharetta
My family thinks I'm a bit of a psycho because I alphabetize my spices! However, you wouldn't believe how much time this saves when cooking! It cuts the time previously spent looking for a certain spice, down to next to nothing. Not to mention how many times I used to go out and buy another container, only to find several amidst the pre-alphabetized spices! Happy cooking!

By Pam from Storm Lake, IA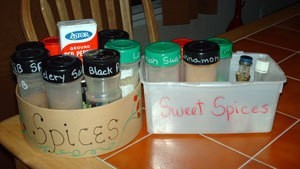 I like buying those plastic spice bottles that are so inexpensive, $0.48 to $0.99 each. They come in so many choices for all your baking and cooking needs. But they are so easy to roll over or hard to see when mixed in your cabinets with other items of height. I always try to reuse items I have finished with in some way.
Here I took two different size containers and used them to house those spice bottles. The round one is the hard cardboard type you buy at Wal-Mart in the craft section for $0.99. The other is the bottom part of a baby wipes container. I used a fabric paint marker to write the name of each spice on the lids rim so they are easy to see when I need them. No more hunting or turning the bottle to see what the label front product is.
I also take off the paper label completely. I find that when I use them while baking, they always get food from my hands on them. Now, I keep a damp cloth handy and just wipe them off as I return them to their storage case.
The round box takes up a bit more space but it's easy to turn around to read the lids caps for the ones I need. I labeled the box with the word "spices" and put inside it ones like lemon pepper, rib sauce, pepper, etc.
I used the other one for spices like cinnamon sugar, red sugar, etc. And I wrote "Sweet Spices" on it so I know which one to reach for when doing certain types of baking. I used permanent fabric markers to write the names of the spices, which are permanent and will not wash off.
The empty baby wipes containers are so useful for so many other uses as well. I use them after I have opened up a box of spaghetti and break up my spaghetti to fit, or things like dried beans, rice, etc. You can even place a plastic measuring spoon inside to keep there for easy measurement each time you reach for the food staples inside.
Use them to put your facial Kleenex inside. They pop up through the tops better than the cardboard box ones and they do not get crushed in your car or get wet because they are concealed. Use them for crayons, decorative craft scissors, dry cereal, etc. Most of the tops flip open when you use the tops, so you can easily add more of that same item when needed. They organize your pantry in such a helpful way.
When your spice bottles run empty and you buy new ones, just keep your already labeled lids to switch with the empty ones but do not toss out those empty ones. You'll now have a new empty bottle to use for storage of other items; like raisins, nuts, or croutons for taking to work in small amounts, buttons for crafts, etc. And use them for housing many items that come in messy bags after being opened.
I saved an old tin foil or a plastic wrap box and put it in the back of my spice cabinet. That way I can put some of the spices at a higher level and they don't get pushed into the back of the cabinet. You can make more than one level and you can even decorate the box with contact paper if you desire.

By SharonP
My brother gave me a spice rack which holds nearly all my spices. I used a label maker and labeled the top of each jar. This particular rack hangs on the wall with the jars at an angle, so I can read the labels.
I keep them alphabetized for easy access. Prior to getting the spice rack, I had layered shelves in my cupboard that I used, still alphabetizing them. I have found that keeping them in order, is a huge time saver. No more hunting through many jars to find the one spice I need. It also cuts down on duplications!
It initially takes a little time to organize them (and discipline to return them to the right spot!), but it is a huge help to me in the kitchen. My kids think it's funny on occasion to mess with me, and they'll turn them all upside down, or swap a few to see how long it takes for me to notice! Ha!
Source: I was a secretary for 15 years, and alphabetizing is a part of life! I'm sure many people do this, but it's just something I came up with for my own use.
By Pam T from Storm Lake, IA
Watch the video to discover a simple way to organize your spice tins.
By hopeful 27 135
When spices go on sale, I buy extra and store them in the little shelves in my freezer. I have also discovered that the little jars/bottles of spices are the best buy, as the larger bottles of spices lose their strength. The short bottles take up less room, as you can store on shallow shelves. The spices stay fresher.
By hopeful from Salem, Oregon