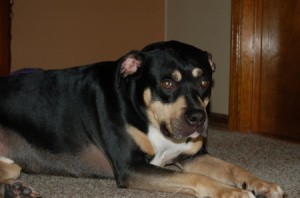 Get an old Parmesan cheese shaker and fill it with Borax laundry powder then just sprinkle all over you yard. All the fleas will leave your yard and go to neighbors. As for the inside of your house do the same to all carpeted rugs, let it set for a couple of hours, and then vacuum. It is safe for your dogs and children. Go to the Borax website for many other uses for your home.
Source: www.borax.com
By Cynthia S. from St. Cloud, FL
April 7, 2014
0

found this helpful
Borax: They do NOT recommend their product to kill fleas. From their website: U.S. Borax does not sell any product into the borate/borax flea control or carpet application businesses. In keeping with our product stewardship commitment to our customers, we recommend against the use of borate products for carpet applications. These applications include boric acid, borax or other borate-containing products intended for use on carpets as deodorizers or flea control agents.
These carpet-use patterns are different from all other borate product uses in that they present the opportunity for small children or pets to ingest borates directly from the carpets. It is not feasible to assess the extent of exposure to children and pets under all possible scenarios, due to the variety of parameters that determine exposure from carpets (e.g. variation in carpet type, borate product type, application method and rate, vacuum efficiency and frequency, and individual behavioral patterns of children or pets). Without adequate exposure information, U.S. Borax cannot determine the level of risk that may result from carpet-use patterns; therefore, we do not support the use of borate products for carpet flea control applications by anyone, especially consumers.
What is a good home remedy to kill fleas in the yard?
April 30, 2017
0

found this helpful
Here are a few things you can try in the yard for fleas. Water mixed with apple cider vinegar (50/50), orange oil, dawn dish washing liquid mixed with water, borate powder.
May 1, 2017
0

found this helpful
From fleabites.net:
5 effective ways to get rid of fleas in the yard. Now the real challenge begins. ...
Flood the yard with water. ...
Spray the yard with insecticides. ...
Use nematodes to get rid of fleas. ...
Use cedar chips to keep the fleas out of your yard. ...
Get professional help from pest control experts.
May 2, 2017
0

found this helpful
i would use a pro. You don't want them in your home and many home remedies will kill your grass.
April 10, 2013
2

found this helpful
First, I do not have any pets, but for some reason I have an embarrassing problem in that fleas are attracted to me! I asked my PCP doc and she said it's probably the meds I'm taking because I've never had this issue before.
I've tried about everything for the yard off the porch where I sit; pyrethrin insecticides, IGRs, DE, dishsoap, lime, cedar oil, mothballs, and others that I've tried through the years. Nothing seems to work! I live in Florida where it gets very hot, humid, and rains a lot in the summer.
Note: there is wildlife like squirrels, coons, and stray cats that walk through the yard and apparently drop fleas. I've even gotten into essential oils for my hair/body, which helps a little, but not totally. I've found that mixing 1 part lemon juice to 1 part water in a spray bottle helps those little suckers stop, but I want to keep them totally off of me! Please help.
By REN
April 14, 2013
0

found this helpful
I went to the dollar store and got flea bombs and got boric acid and sprayed my carpet and left it for a few days fleas are gone thank god
July 24, 2013
0

found this helpful
I live in Florida and this past May applied beneficial nematodes to my yard. I had research this for a while before I took the leap and applied them to my yard and very happy to say No Fleas! This saves me a ton of money on flea treatment and allergy treatments for my animals. You can order them on Amazon.
January 8, 2015
0

found this helpful
Fleas are very disgusting! There are a lot of ways to get rid of them but not all are effective, depending on how badly your home, yard, or animal is infested. What I'd suggest is actually looking through the information presented here [ http://www.onli et-rid-of-fleas/ ] and try to apply methods that equate to your situation or at least the ones that show more results.
November 11, 2015
0

found this helpful
Very sorry about your problem.. I've had a lot of experience with flea infestations, and my opinion is it's at times nearly impossible to control :/ Your best option is to wait for them to die out in the winter, then start applying flea prevention measures. Fleas in the yard are a huge problem for many people, but there is a way to stop it while it's managable.
Good luck to you, Ren :)
March 3, 2016
0

found this helpful
perhaps a granular combined with an Insect Growth Regulator would be more effective treatment.
July 22, 2016
0

found this helpful
We tried everything for fleas finally bought lice shampoo and spray and bomb it worked
Read More Answers
September 26, 2011
0

found this helpful
I just completely flea treated my house, only to find that my yard has fleas. Does anybody know of any household products I could use to get rid of them as money is tight. I just spent a fortune on flea products.
By Lisa
September 27, 2011
0

found this helpful
A good product to use to rid fleas is D.E. Powder. It can be purchased at any of the big box stores. It can be used in doors on carpets also. The powder can be used in a big basin for birds to dust them self with. It also kills lice, and many other kinds of pest. Pool workers also use this same product for the back wash in the pools. It is very reasonable prices also. Jeannette W. Palm Beach, FL.
September 28, 2011
0

found this helpful
The best non expensive and safe product you can use indoor or outdoor is white vinegar (alcohol vinegar). It will do as good as chemicals: I use it this way. I put 0.4 to 0.6 inches of white vinegar in a large and flat recipient like a large tart mold it has to be either metal shiny or white. At night I put a small led candle in the middle of the recipient.
It works better at night if it is the only spot of light in the place but if the recipient really shines it works also in the daylight without the led candle. Fleas are attracted by light they jump for the light and fall in the vinegar which kills them in less than a minute. The power of the white vinegar last for a long time. In the morning I filter the vinegar with a funnel and a tissue or a coffee filter to get rid off the dead fleas. I use it every day and night until there aren't anymore dead fleas caught in the vinegar in the morning.
Indoor the other non expensive and safe killer is a powerful vacuum cleaner. Vacuum cleaner does not just capture the fleas in its bag it actually kills them (http://www.reut 1952863920071219) and it works ! The trick is that you have to treat outdoor and indoor at the same time or else the fleas will go from one place to the other.
Hope this helps, Catherine
September 29, 2011
0

found this helpful
If you can squeeze out the money, liquid Sevin is the best flea killer for in and out of doors. Apply it on the interior perimeter (baseboards, cabinet backs) and then mix another canister and go right out to apply another round on the exterior perimeter of the house (along the foundation).
It can (and should be for maximum control) applied to carpets and floors inside the house, and to the lawn and beds outside. Use the 'fan' nozzle sprayer tip.
Follow the label directions for application strengths and timing, it needs to be reapplied after a rain or other wet weather event.
It is well worth the money, you end up saving money if you follow the directions carefully. It is safe if used as directed, and after about a month you'll have a flea free home, garden, pet, and people. :)
January 17, 2013
0

found this helpful
If you get D. E. make sure it is food grade. This is VERY important. Otherwise it could make your pet sick or worse. I use an old flour sifter and do our dog yard. There are a few draw backs it washes away after a good rain so you have to reapply. It also will kill just about anything outside, like bees, ladybugs etc.
Google Diatomaceos Earth, it will explain how it works. I have dusted my horses, goats, and chickens with it for lice, mites, horse flys etc. I also use it for wormer for my animals, it can also be put in flour and such to keep bugs out. It's very inexpensive and has so many uses. I do not use it in my flower garden because it will kill bees. I also spend the money and buy Advantix for ticks as we live in a high tick area. It is well worth the money and having multiple dogs, it sure beats getting Lyme disease.
July 2, 2016
0

found this helpful
FOOD GRADE D.E. ONLY
Since when is Sevin okay for animals?
By glo
April 18, 2012
0

found this helpful
Liquid Sevin and Sevin Dust have been used for decades. Growing up on a cattle ranch in Southern California, it was the dust of choice to run our cattle through (dispensing hoop) to protect them from pests-you would be shocked and amazed to see how much pain a pest infested cow or steer endures without it.
The key is: READ and FOLLOW label directions
Used correctly, Sevin in either form is one of the safest (and most reliable) pesticides on the market.
I do not work for the company or any of its subsidiaries. I've just always found it to be the least dangerous, and the most effective thing out there.
I have fought the fleas for 40 years. I treat the house, dog, yard, and dog's bed. We pick up poop and put it in the trash. I have used liquid and granules, but still fleas. I have also used the diatomaceous earth stuff. I buy dewormer for tape worms from the feed store.
By Pam M.
May 28, 2013
0

found this helpful
How do I get rid of fleas out in a sandy yard? We live out in the country and our yard has no dirt, nothing but sand. I have tried using soap mixed with water. Also have used some flea control medicine, but didnt work. Please someone help.
By zulema