One of the main sources of fleas coming in on your pets is your yard. Keep fleas out of your home by removing them from your yard. This is a guide about getting rid of fleas in your yard.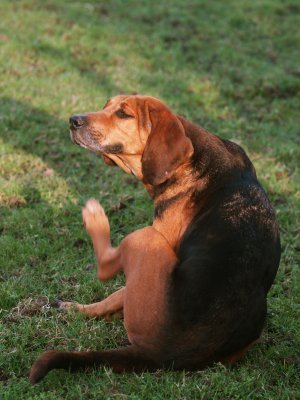 By Cynthia S. 1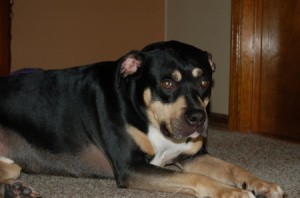 Get an old Parmesan cheese shaker and fill it with Borax laundry powder then just sprinkle all over you yard. All the fleas will leave your yard and go to neighbors. As for the inside of your house do the same to all carpeted rugs, let it set for a couple of hours, and then vacuum. It is safe for your dogs and children. Go to the Borax website for many other uses for your home.
Source: www.borax.com
By Cynthia S. from St. Cloud, FL
First, I do not have any pets, but for some reason I have an embarrassing problem in that fleas are attracted to me! I asked my PCP doc and she said it's probably the meds I'm taking because I've never had this issue before.
I've tried about everything for the yard off the porch where I sit; pyrethrin insecticides, IGRs, DE, dishsoap, lime, cedar oil, mothballs, and others that I've tried through the years. Nothing seems to work! I live in Florida where it gets very hot, humid, and rains a lot in the summer.
Note: there is wildlife like squirrels, coons, and stray cats that walk through the yard and apparently drop fleas. I've even gotten into essential oils for my hair/body, which helps a little, but not totally. I've found that mixing 1 part lemon juice to 1 part water in a spray bottle helps those little suckers stop, but I want to keep them totally off of me! Please help.
By REN
---
Most Recent Answer
November 11, 2015
Very sorry about your problem.. I've had a lot of experience with flea infestations, and my opinion is it's at times nearly impossible to control :/ Your best option is to wait for them to die out in the winter, then start applying flea prevention measures. Fleas in the yard are a huge problem for many people, but there is a way to stop it while it's managable.
Good luck to you, Ren :)
---
I just completely flea treated my house, only to find that my yard has fleas. Does anybody know of any household products I could use to get rid of them as money is tight. I just spent a fortune on flea products.
By Lisa
---
Most Recent Answer
By Rebecca H. 1 Flag
January 17, 2013
If you get D. E. make sure it is food grade. This is VERY important. Otherwise it could make your pet sick or worse. I use an old flour sifter and do our dog yard. There are a few draw backs it washes away after a good rain so you have to reapply. It also will kill just about anything outside, like bees, ladybugs etc.
Google Diatomaceos Earth, it will explain how it works. I have dusted my horses, goats, and chickens with it for lice, mites, horse flys etc. I also use it for wormer for my animals, it can also be put in flour and such to keep bugs out. It's very inexpensive and has so many uses. I do not use it in my flower garden because it will kill bees. I also spend the money and buy Advantix for ticks as we live in a high tick area. It is well worth the money and having multiple dogs, it sure beats getting Lyme disease.
---
Since when is Sevin okay for animals?
By glo
---
Most Recent Answer
By Frugal Sunnie 11 1,695 Flag
April 18, 2012
Liquid Sevin and Sevin Dust have been used for decades. Growing up on a cattle ranch in Southern California, it was the dust of choice to run our cattle through (dispensing hoop) to protect them from pests-you would be shocked and amazed to see how much pain a pest infested cow or steer endures without it.
The key is: READ and FOLLOW label directions
Used correctly, Sevin in either form is one of the safest (and most reliable) pesticides on the market.
I do not work for the company or any of its subsidiaries. I've just always found it to be the least dangerous, and the most effective thing out there.
By rpmmeme 1
I have fought the fleas for 40 years. I treat the house, dog, yard, and dog's bed. We pick up poop and put it in the trash. I have used liquid and granules, but still fleas. I have also used the diatomaceous earth stuff. I buy dewormer for tape worms from the feed store.
By Pam M.
How do I get rid of fleas out in a sandy yard? We live out in the country and our yard has no dirt, nothing but sand. I have tried using soap mixed with water. Also have used some flea control medicine, but didnt work. Please someone help.
By zulema