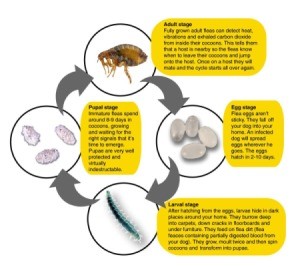 8 weeks ago I my scalp started itching. When I combed my hair out over the bathroom basin these black things come out. I assumed they were lice, so over the following 2 weeks I spent a lot of money on different products. However I still had them. I went to a lice specialist who had one of those special head covers, but she couldn't find anything.
So I came home thinking OK, perhaps they've gone, but just 3 hours later the itching started again. I do have a dog, but she has had so many baths and treatments for fleas. I did take her to the vet to have her checked out. He confirmed she didn't have fleas.
Anyway the more research I did online the more I've become convinced they are no lice but fleas as I recognised all 4 images from the life cycle of fleas image I found online. I have tried cider vinegar, tea tree oils, medicated shampoos, salt you name it I've tried it. I shower twice a day washing my hair and putting lots of conditioner on to comb though my hair with a nit comb. Yet the little so and sos are still with me. For the 1st hour after my shower my head feels fine, then it starts to itch and I find little black dots all around my neck and chest area. So I go upstairs and wash them away with a flannel, whilst at the same time combing my hair over the wash basin where more come out, sometimes long straight things. Embarrassingly once when I was showering one came from my crotch area too.
When I go to bed I'm no longer putting a duvet or sheet over me so I can see what the back sheet looks like in the morning. It's usually got white specks all the sheet, which I'm presuming are eggs. Once in a while I'm woken by something biting my legs and when I look there is one of this white spots under my leg or foot.
This is us seriously wearing me down mentally and reduces me to tears on a regular basis. I don't know what else to do hence why I'm asking if amybody has a solution as I'm seriously thinking the only way to get rid of them is to cut all my hair off as I am desperate, but as a woman that would be drastic measures.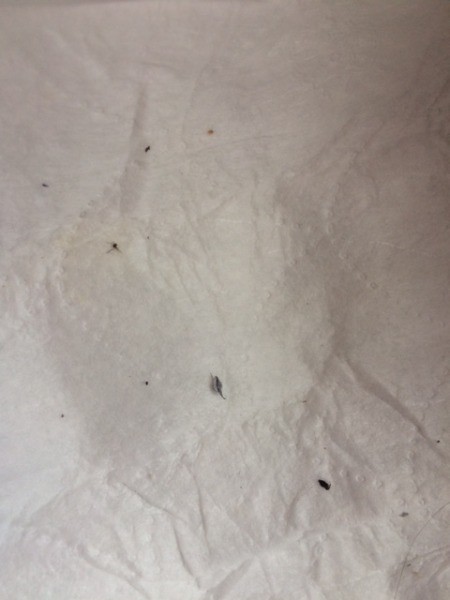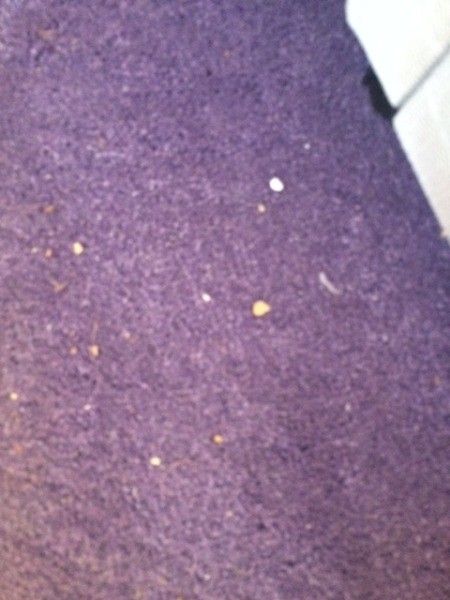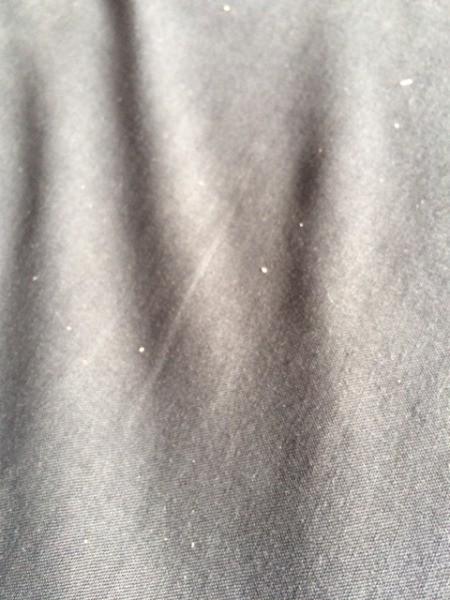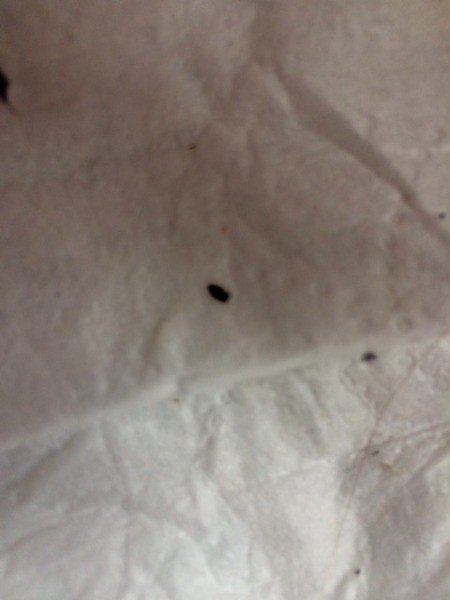 November 13, 2016
22

found this helpful
Best Answer
Check with a doctor before taking this advice. I don't know your health status-meds.
I took 2 tbs of unprocessed Braggs Apple Cider Vinegar. 1 tbs in am. &1 tbs before bed. Put it in juice to mask the taste. I use apple or grape juice. Rinse mouth out with milk so acidity doesn't ruin tooth enamel. I did this and starting seeing a huge difference after 3 days.
I vacuumed every day, and purchased a spray with an IGR, (This is an insect growth Regulator). IGRS stop the flea life cycle. IGRS are strong enough to kill all stages of life including larvae, pupae, egg, adult. I purchased Armor & Conquer. Just google it and purchase it online. I sprayed it on my couch, under my couch, under my cushions, basically on floors. Be careful not to get on humans or pets.
Vacuuming every day is key. I did downstairs 1 day, and upstairs the next.
* For dogs: Bathe in Blue Dawn Liquid Soap. Lather and rinse after 15 minutes. Keep pets head and mouth above water so they don't drowned(had to say it). Blue Dawn Soap removes the oil from fleas and suffocates them. Obviously keep out of pets eyes, and soap around the outside of ears 1st to avoid fleas from going in the ears.
Use warm water, not hot. Bathe every few days so not to dry out their skin.
* For humans: The ACV will up your blood PH, and lower any current infection that the fleas maybe drawn to.
* Bathe daily using Selsun Blue Anti~Dandruff Selenium Sulfide Shampoo.
Use a nit comb and comb through Pantene Conditioner removing eggs,fleas.
* You can also Blue Dawn& lather for 15 min.
Put Epson Salts in very warm Bath Water for humans. I use Doctor Teal's with Ginger and Clay. This removes toxins and the salt kills fleas.
* Wash bed sheets every day, wash and bag toys. Steam or wash window dressings.
* Spray 100% natural cedar oil in hair after shower-bath. 5 ml cedar oil, to 16oz water, and 8 drops lemon grass essential oil. Put solution in spray bottle for hair. Fleas hate this.
I sprayed thud in my hair during day, and then put it in a bun.
* At night, or whenever you can attend candles: get a bowl of warm water, make suds w/ Blue Dawn, place floating tea lights or candle in center and light it. Fleas will be attracted to the light, jump in and drowned. I had a bowel in each rm.